This post may contain affiliate links. If you use these links to buy something we may earn a small commission. Thanks.
Buying a new kitchen faucet is a big decision. Whatever you buy will last 10-20 years and will get used every single day.
My wife and I have been renovating different parts of our house and have done an insane amount of research into faucets.
Picking a faucet seems easy until you start researching and then you get overwhelmed with all the different variables: how many holes, what kind of mount, different brands, technological features, finishes, blah blah blah.
I'm going to walk through the 13 different types of kitchen faucets you can pick from.
There are seven I recommend and six faucet types I'd avoid.
I've written in depth guides on almost every kitchen faucet type if you want to go a bit deeper or see more pictures and design ideas for each one. This mega post is really a summary of the different styles of kitchen faucets so you can see them all in one place.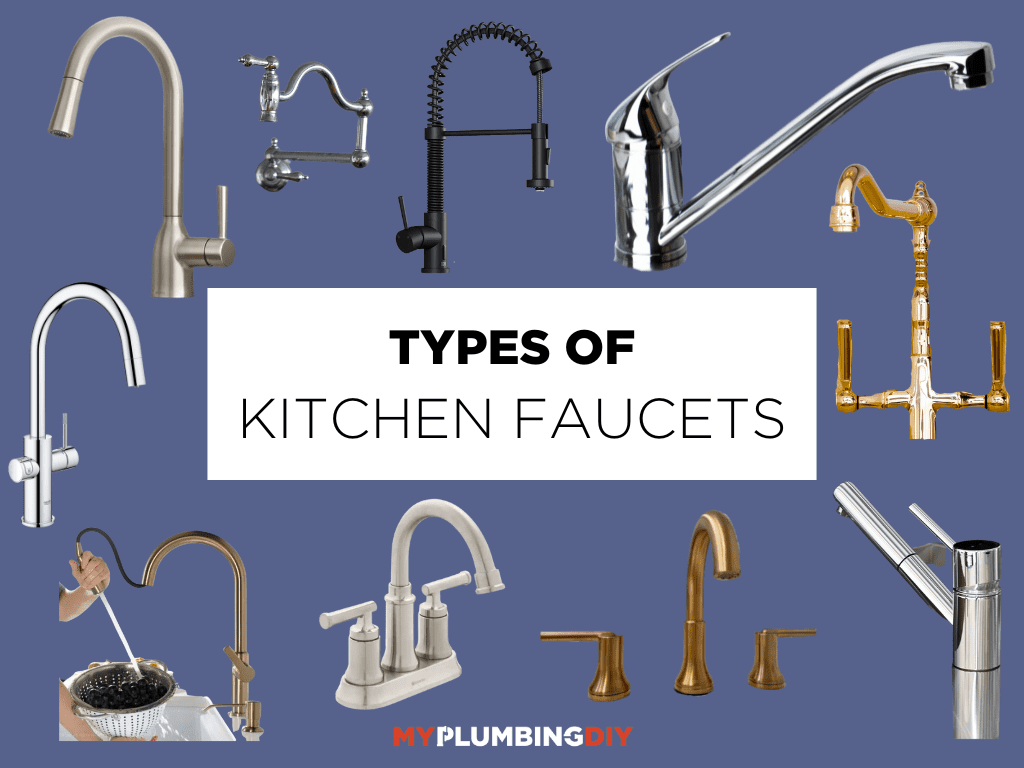 ---
Comparison Chart: 13 Different Types of Kitchen Faucets
Here are a few of our high level takeaways on the different types of kitchen faucets after countless hours of research:

People on a budget – If you're on a tight budget, go with a simple single or two handle faucet.
High end kitchens – If you're getting a new faucet for a luxury kitchen, go with a touchless pull-down faucet. In my opinion, this is the best type of kitchen faucet.
High quality + medium budget – If you want a great faucet at a decent price go for a pull down faucet. Skip the touchless technology, but get a beautiful faucet that will impress people.
Want to make a statement? Go with a bridge faucet. Bridge faucets are unique and can be a showstopping touch in your kitchen.
Avoid the following: Pull out, touch, pot filler, straight faucet, stationary faucets, and swivel faucets. These faucets aren't bad, but the other options are just better.
There's no absolute "best" type of faucet, but rather each one might be the best for certain people or kitchens.
Once you know what type of kitchen faucet you want you need to check out our full list of the top faucet brands. Getting a great right brand is critical to getting a great faucet.
---
Deep Dive On The 7 Best Types Of Kitchen Faucets
There are 13 different types of kitchen faucets that I've researched, reviewed, and tested. There are 7/13 worth recommending, but there are 6 that honestly didn't make the cut. We'll talk about those in the next section.
1. Touchless Kitchen Faucet – Overall Best Type of Kitchen Faucet
Touchless kitchen faucets are one of the most popular trends right now in higher end home kitchens. They are incredibly easy to use – just wave your hand underneath and it'll turn on!
Most touchless faucets need a high arching design for the sensor to work so they usually have the same design as pull-down faucets (#3 on this list). Touchless faucet are almost always single handle + single hole faucets.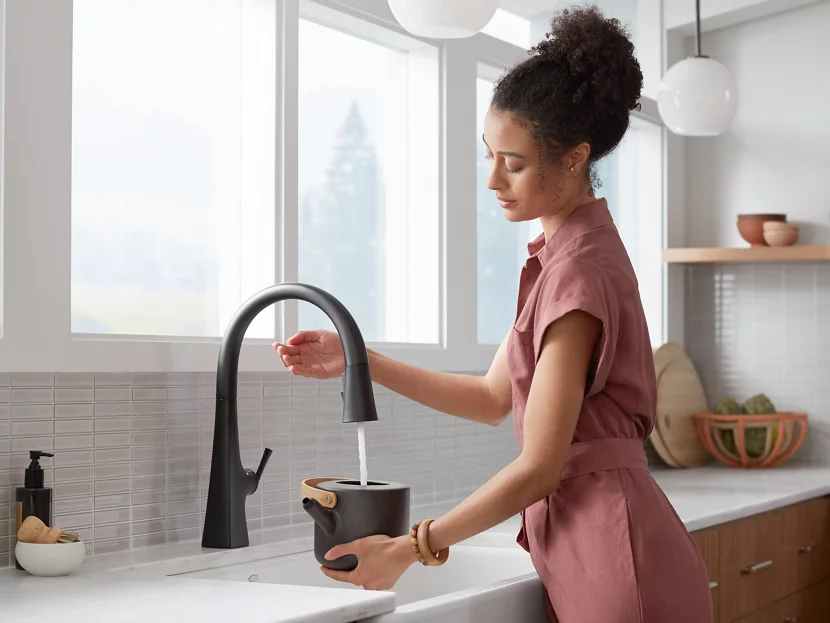 The main difference is that they have motion-detect technology so they are super convenient to use whenever you've got your hands full.
Touchless faucets come with either infrared or ultrasonic technology that picks up movement under the faucet spout. If you want to know more on how exactly these work you can check out our deep dive on touch vs touchless faucets.
Pros
High-end look – Touchless faucets are a truly high-end feature you can add to your home kitchen. This will instantly make your kitchen stand out. If you want to impress people or increase your home's resale value, go touchless.
Incredibly easy to use – Touchless faucets are the the easiest faucet to use. All you have to do is wave your hand, bowl, plate, or anything else under the faucet and it'll turn on.
Super low maintenance – Because you almost never have to touch this faucet it will stay cleaner than any other type of faucet.
Cons
Expensive – Touchless faucets are the most technologically advanced and can require more advanced installation. This makes them almost twice as expensive as standard faucets.
Can have issues turning on – If your faucet is battery powered then you might have issues turning the faucet on. You almost might accidentally turn the faucet on if you're just putting dishes in the sink.
Requires a power source – Touchless faucets must have a power source to operate. Some faucets are battery powered while others can be plugged into an outlet.
---
2. Two Handle Kitchen Faucet
Two handle kitchen faucets are obvious because they have… two handles. This just means that instead of a single handle that controls both hot and cold water, they have two handles, one for each.
Two handle kitchen faucets can come in a variety of styles and mounting types. These overlap with other styles of kitchen faucets on our list. You can find two handle faucets that have a pulldown faucet head or are connected to make a bridge faucet.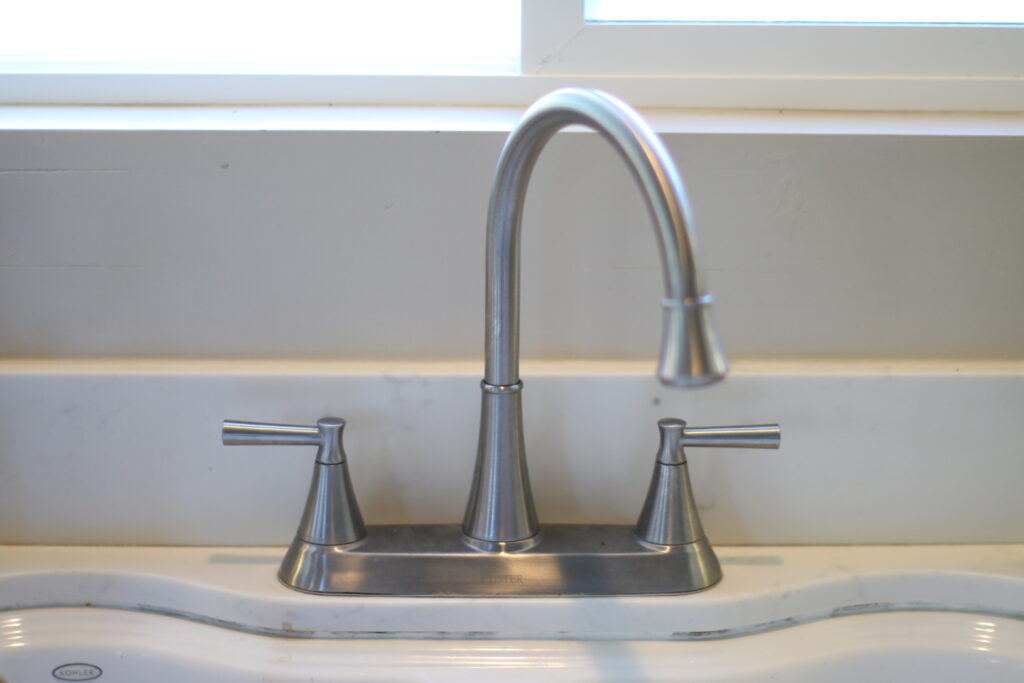 Most two handle faucets come with either a widespread or centerset faucet arrangement. Centersets are more common in kitchens so that you can have more countertop space by the sink for soap, brushes, etc.
Pros
Wide selection – Two handle faucets are incredibly common. All of the major faucet brands will have plenty of faucets to pick from and you can likely find something that you like!
Affordable – These are some of the more affordable types of kitchen faucets on the market.
Cons
Less touchless options – The vast majority of touchless or touch faucets are single handle so it's unlikely you find a touchless, two handle faucet.
Basic – These faucets look nice, but they are super common. If you want something with a bit more appeal, consider something like a touchless or bridge faucet.
---
3. Pull Down Kitchen Faucet
Pull down faucets have a high arching faucet spout that is aimed downward into the sink. The faucet hose runs through the arc and the faucet head can be pull downward and then is flexible to use.
The high arching design of pull down faucets make them the perfect faucet for many kitchens. You can layer on additional features like touchless or touch faucet technology and you can get them in a variety of different faucet finishes.
These are one of the most popular styles of kitchen faucets. We personally think pull down faucets are better than pull out faucets.
Pros
Very durable – Pull down faucets have less twisting and turning of the faucet hose once it is pulled out of the spout. This means that it's less likely to have issues leaking or getting loose from the hose.
Easy to aim – These faucets are already aimed down into your sink, which makes it easier to wash dishes and plates.
Great for big pots and pans – The high arching design of these faucets make them the perfect faucet for filling up or washing big pots and pans in your sink.
Best for deep sinks and bigger kitchens – The size and shape of these faucets make them ideal for deeper sinks and bigger kitchens.
Cons
Potential for less water pressure – The taller spout means water has to travel further before it comes out of your faucet. This can result in lower water pressure.
Not good for small sinks – If you have a shallow sink then you'll have a harder time using a pull down faucet to clean your dishes.
More expensive – Pull down faucets tend to be larger and have more materials and parts. This can make them more expensive than single handle faucets that are static (no pull down function).
---
4. Bridge Faucet – Most Unique Style
A bridge faucet has two handles – one for cold water and one for hot. These handles are connected by a horizontal pipe that is a few inches above the counter creating a bridge appearance between the faucet handles.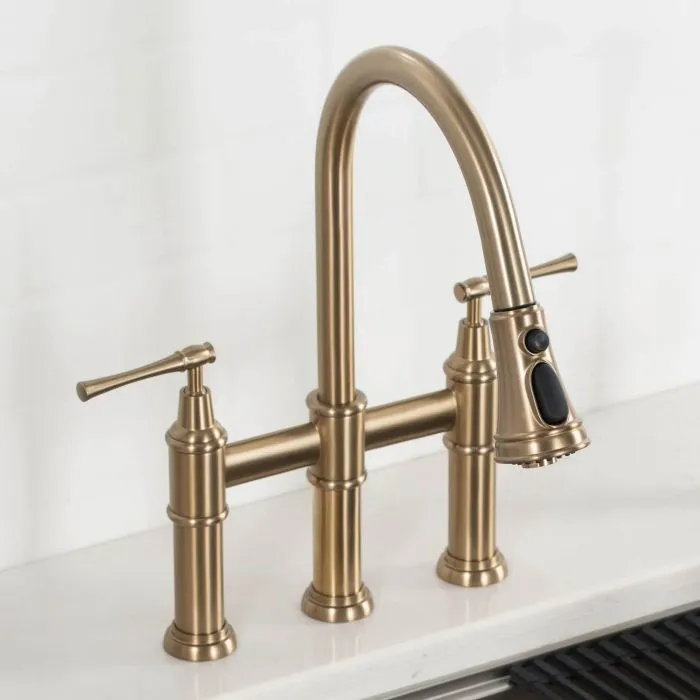 Bridge faucets usually come with three faucet holes and the whole faucet comes in one big piece instead of multiple smaller faucet parts. Some bridge faucets, especially kitchen faucets, may come with an additional faucet sprayer off to the side that would require an additional hole.
Bridge faucets can be wall or deck mounted on the counter giving you flexibility in how you position it. Most are deck mounted because it's an easier installation.
Pros
Unique style – Bridge faucets are super unique! You don't see them super often so they can be a creative addition to your next remodel.
Variety of handle & spout designs – Bridge faucets have a lot of variety in style and models. Some are super sleek and modern while other faucets are ornate and more traditional. We've got another post with bridge faucet design ideas.
Easier installation – Bridge faucets come in one whole unit so they are much easier to install. No issue trying to get holes and parts to line up.
No deck plate – The lack of a deck plate can make it easier to install and provide a cleaner looking aesthetic.
Higher faucet reach – Bridge faucets often have a spout handle that arches high up from the counter. The extra space is great if you're trying to wash big pots and pans in your kitchen sink.
Cons
Takes up more space – The design of a bridge faucet often takes up more space. It's similarly to a widespread faucet, but the bridge connection and spout are typically bigger.
Harder for kids to control temp – Having separate handles for hot and cold water can be slightly more difficult for kids to control their water temperature.
More likely to splash water – The extra height of the spout can lead to a longer distance between spout and sink. This added height can make it more likely to splash water.
Expensive – Bridge faucets tend to be more expensive than regular deck mounted faucets.
More intricate designs are difficult to clean – Bridge faucets with a more intricate design can be harder to clean than standard faucets.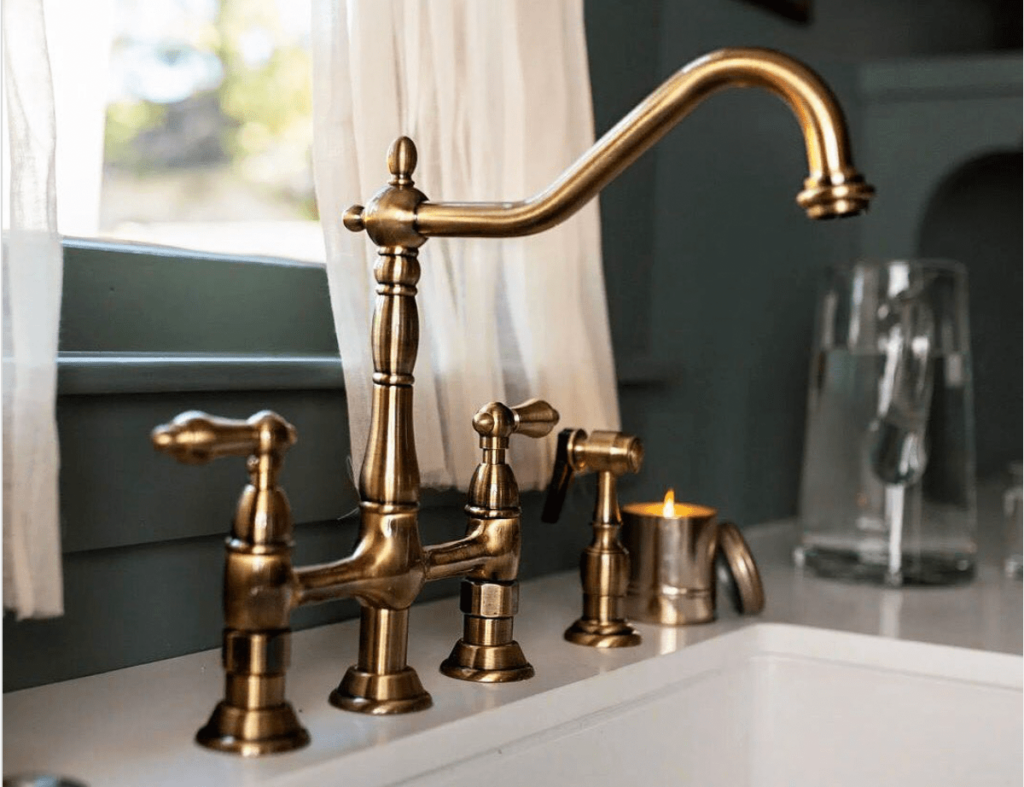 ---
5. Single Handle Kitchen Faucet
Single handle kitchen faucets are super popular. You can get either single or double handed faucets. Single handle faucets have one a single handle that controls both hot & cold water.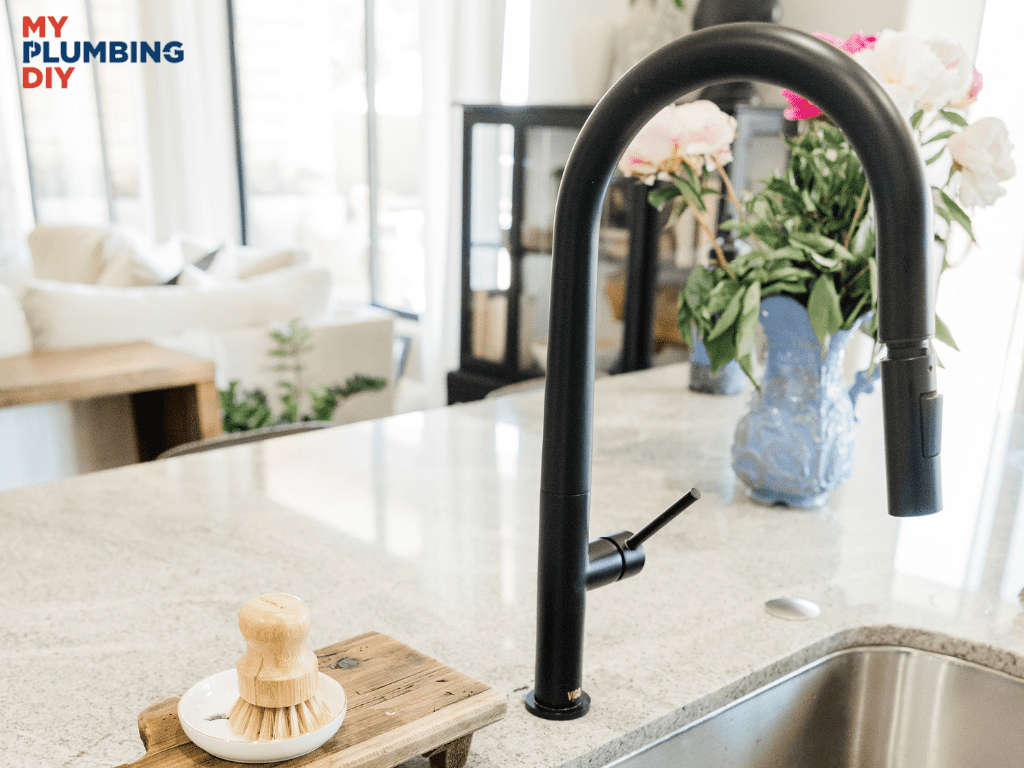 Most single handle kitchen faucets are single hole faucets. It's pretty rare to have a single handle faucet with multiple faucet holes.
Single handle faucets can actually come in a variety of styles, but they all function very similarly. These faucets probably have the most range in terms of style and cost.
You can get a single handle touchless faucet that's going to run you $600-800. You could also get a single handle pulldown faucet in the $400-600 range.
Single handle faucets can also be the cheapest! You can get a standard, single hole faucet with no extra functions for super cheap.
Pros
One handle – Provides a more simple design. Some of these can still look high end, but some look boring.
Easy for kids – Kids could have a difficult time figuring out how to balance cold and hot water from two different faucets. The single lever can make it easier to find the right temp for kids.
Good for small kitchen – Single handle faucets take up the least amount of countertop space which makes them perfect for smaller kitchens or sinks.
Easier install – You only need one single hole in your countertop or sink while a centerset faucet will require three.
Cons
Boring design – These faucets aren't particularly well designed or impressive to look at.
Can look cheap – Single hole faucets can sort of look cheap if you aren't careful.
---
6. Pre Rinse Kitchen Faucet – Best for Low Water Pressure
Pre rinse kitchen faucets are used to rinse plates and dishes before they go into the dishwasher. Pre rinse faucets are high-arching and have a detachable faucet head that is perfect for spraying down dishes. These faucets are known for being high powered.
Pre rinse kitchen faucets are incredibly common in commercial kitchens, but they are becoming more and more popular in home kitchen design. These are also single hole and single handle faucets, just with the pre-rinse function.
These faucets have three primary purposes: rinsing, soaking, and washing dishes before they get loaded into a dishwasher or washed by hand in the sink.
Pre-rinse faucets are super similar to pull down faucets (#3 above!). They are the best type of kitchen sink faucets if you have lower water pressure.
There are environmental regulations that limit what the max faucet flow rates can be, but the pre-rinse is designed to spray that water harder than other faucets.
Pre rinse and pull down faucets are both high arching faucets with detachable handles. Pre rinse faucets have much more flexibility with the detachable head and can be moved all around the kitchen sink. Pulldown faucets have a narrower range of how the faucet head can be moved.
Pros
Industrial design – If you like industrial design, then installing a pre rinse faucet will be perfect for you. The snakelike coil around the faucet handle is perfect for people who like the industrial look.
High water pressure – The main advantage of pre rinse faucets is their high water pressure. The water stream is super narrow making it more powerful than most kitchen faucets.
Great at cleaning – The high water pressure of these faucets makes them excellent for cleaning dishes and rinsing them before you wash them.
Tall height – The tall height of pre rinse faucets makes them a show stopping addition to your kitchen design. It also makes them great for cleaning bigger pots and pans.
Cons
Cost – Cost is the main disadvantage of a pre rinse faucet. They are usually more expensive than regular kitchen faucets.
Space – If you have a smaller kitchen then a pre rinse faucet may not be the best fit. The high arching faucet takes up more space so you won't be able to have any cabinets over your kitchen faucet.
---
7. Gooseneck
Gooseneck faucets are designed with a high-arching faucet neck. The gooseneck is really just a small nuance in the style of the faucet spout/neck.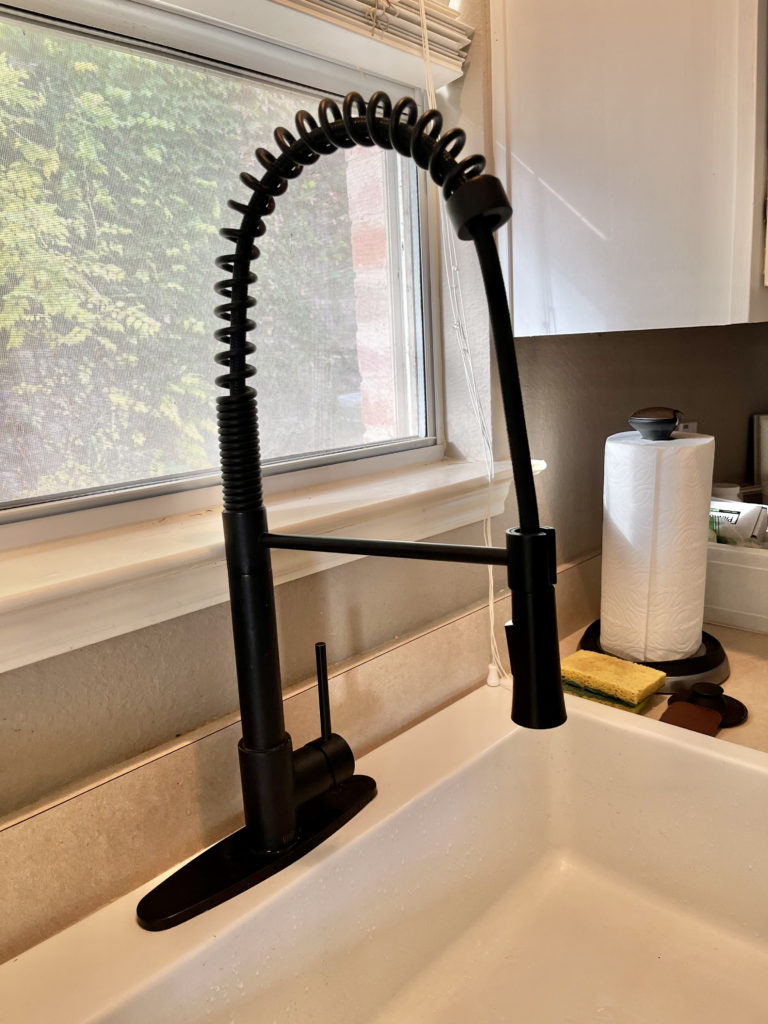 Gooseneck faucets can be combined with other types of kitchen faucets on this list. You can get a pull down or touchless faucet that has a gooseneck faucet neck.
If you have a bigger kitchen, especially one that is open and airy, a gooseneck faucet can be a great touch. The high-arching design can make a statement in an open concept kitchen.
---
6 Types of Faucets We Don't Recommend
Unfortunately, not every type of kitchen faucet made the cut on our list. Most of these are not actually bad – they just aren't worth recommending. For example a touch faucet could be decent pick, but a touchless would be better.
1. Touch Kitchen Faucets
Touch faucets can have the same kitchen faucet style as other options, but the function is different! Touch faucets are turned on by simply tapping the top or side of the faucet.
The faucet sensors are incredibly sensitive to changes in electrical current and even the slightest human touch can turn them on. When you touch the faucet, the static electricity will send an electrical charge, which activates the sensor and turns on the faucet.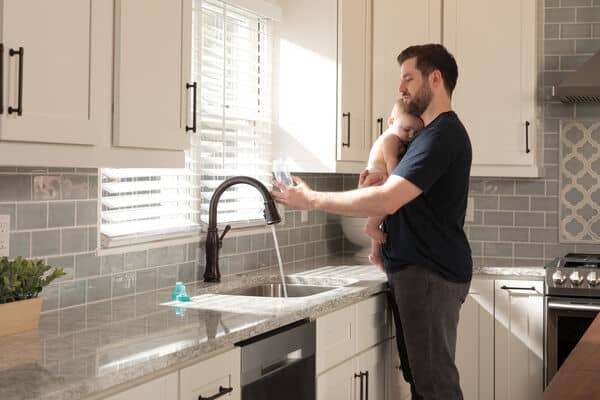 Touch faucets are cool, but we don't recommend them.
If you're going to drop money on a fancy faucet, you're better off with touchless. The technology is more reliable, you have more options to pick from, and the function is more unique.
Why we don't recommend touch faucets:
Difficult to install – Many touch faucets require an electric outlet, which makes it more difficult to install.
Cost – Touch faucets have more technology built in which makes them quite a bit more than a standard faucet.
2. Pull Out Kitchen Faucet
Pull out faucets are similar to pull down faucets. The faucet head is attached to a hose that you can pull out of the "neck" of the faucet. Pull out faucets have a straight spout that aims upward. The faucet head actually pulls out towards you, which can give you the flexibility to use it to spray your plates and dishes.
I'm honestly not a fan and I think these are outdated.
My parents house growing up had one of these and it was a hassle. The hose didn't always pull out well and even though it seems like they'd give you flexibility to clean, it always felt like it was working against you.
Pull out faucets can be a decent choice if you have a smaller kitchen/sink and you really want the functionality of a detachable sprayer.
Why we don't recommend pull out faucets:
More constricted – Pull out faucets can have a hard time being aimed at the back of your sink because you have to pull the faucet out and then aim it backwards.
Less aesthetic – This is my opinion rather than fact, but I just don't think pull out faucets look good. They seem very simple and like something you might find in a cheap apartment or someone's laundry room.
3. Pot Filler Faucet
Pot filler faucets actually aren't a type of kitchen sink faucet.
Pot filler faucets are installed above your stovetop, normally on the wall. They are designed with an extendable arm that pulls over your stove so you can easily fill up a pot of water. Hence, the name!
The problem with pot fillers are that they are expensive to buy, expensive to install, and aren't that helpful.
I mean, let's be real. How often do you really need to fill up a massive pot of water?
Why we don't recommend pot filler faucets:
Expensive to buy & install – Pot filler faucets are the most expensive type of kitchen faucet on this list.
Need lots of cleaning – Pot filler faucets are positioned above your stovetop so they get dirty from smoke, grease, and splatter. You'll need to wipe these down regularly to maintain them.
Lack function – Pot filler faucets only have one function – filling up a pot with water on your stove. I just don't think pot filler faucets are worth the money.
You can read our full post on the pros and cons of pot filler faucets if you want more insight. We also have a guide on pot filler installation if you decide to go this route!
4. Straight Spout Faucet
Straight spout faucets have an incredibly simple design. Most faucets have an arching faucet design because it creates more space under the faucet. Straight spout faucets are… straight. They stretch out at 45 degree angle from the sink and are in a straight line.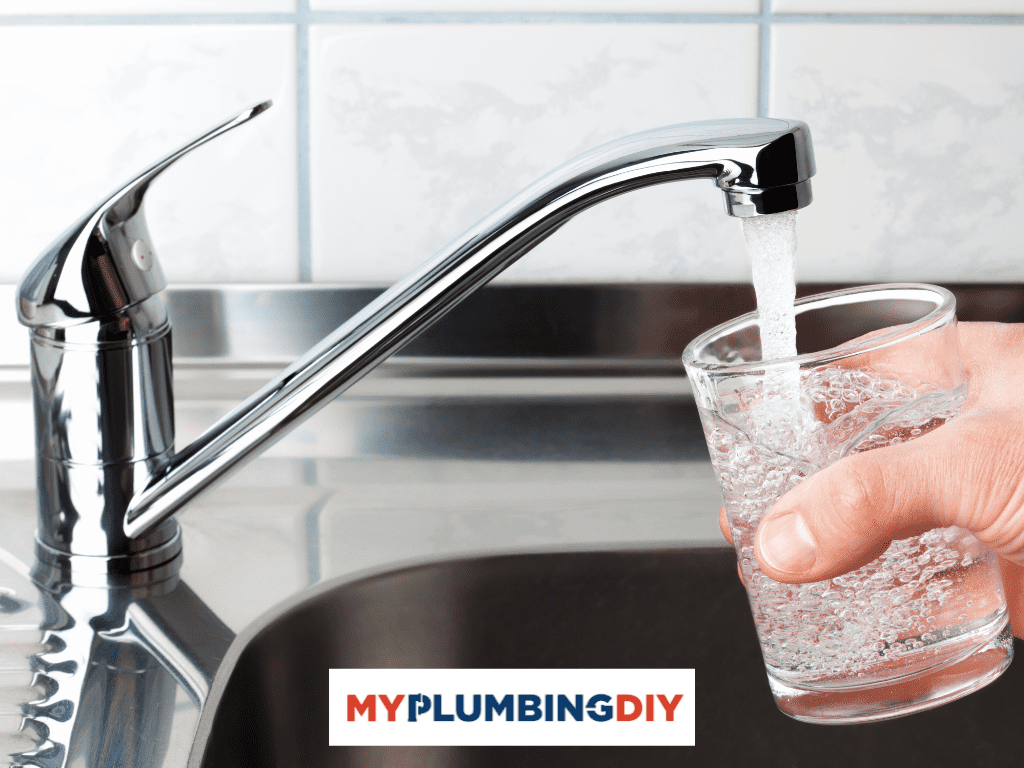 You can get them in a variety of sizes, but these are typically better for smaller sinks. There are also different types of faucet cartridges: Stem faucets and cartridge faucets. Most straight spout faucets are one of these.
Why we don't recommend straight spout faucets:
I honestly don't love the design. It's a bit boring and these faucets don't have the height or flexibility to wash dishes very well.
This can be a great type of kitchen faucet if your sink is tucked under cabinets. The typical high arching faucet won't work. These are great for laundry rooms that are cramped, but not kitchen faucets.
5. Stationary Faucet
Stationary faucets are some of the most basic and plain faucets out there. They don't move, they don't swivel, they don't pull out. It's simply a faucet that aims water in the same spot.
The only thing good about these is the price. They're super cheap.
Why we don't recommend stationary faucets:
These are boring and they don't work well for cleaning pots and pans. I'd never buy a stationary faucet unless it was a rental in a super cheap apartment.
You can do better than this.
6. Swivel Spout Faucet
Swivel spout faucets are only slightly better than the stationary faucets. These faucets don't have any technology like touch or touchless and the faucet head can't pull out.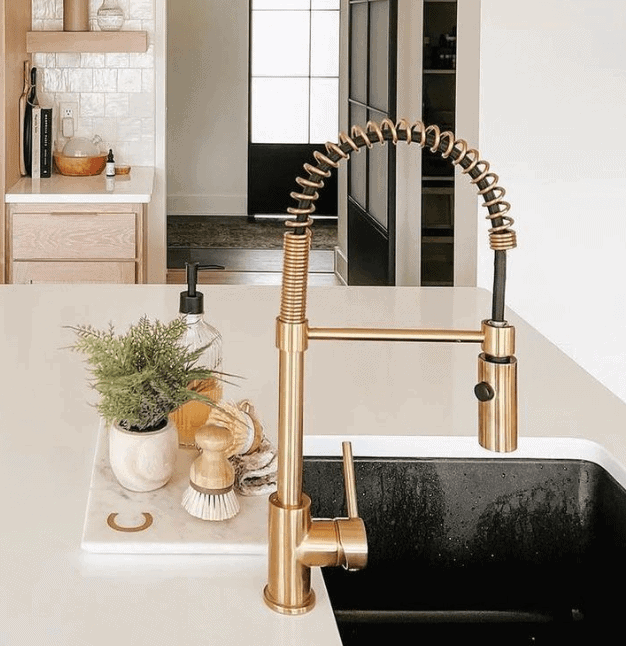 Why we don't recommend swivel spout faucets:
The only advantage they have over stationary faucets is that you can swivel them to change where they are aimed. These faucets can work well for two-sided sinks, but you have way better options on this list.
You can get a pull-down faucet that also swivels and has way more flexibility for cleaning dishes.
---
Decision Guide: How to Pick the Best Type of Kitchen Faucet for you?
If you can't pick which type of kitchen sink faucet is right for you then read through these five factors. Some faucets will be a better fit for certain people or kitchen setups.
1. Existing Installation: Faucet Holes and Mounting Type
The single most important factor in deciding which type of kitchen sink faucet to buy is your existing installation.
If you are replacing a kitchen faucet, then you are much more limited in your options. You need to figure out what kind of faucet you have and buy a replacement that's the same type. Take a look at your existing faucet hole sizes and find a faucet that matches.
You could replace your whole sink or countertop, but that's a lot of work + money.
Compatibility tip! You can always drill more holes into your counter, but you can't fill them in once they are there. If you have a single hole faucet, you can drill two more and add a widespread faucet (3 holes).
Read more: Single hole vs Centerset faucets
If you have the opportunity to design your kitchen exactly how you want it, then you've got flexibility. The next factor that matters most is the size of your kitchen and sink.
2. Kitchen Size
The size of your kitchen and sink are the next most important factors.
Certain styles of kitchen faucets are a better fit for smaller kitchens while others are better suited for larger kitchens.
Pull down, pre-rinse, and bridge faucets will look best in larger kitchens! Some of these can come as single or two handed faucets.
If you have a smaller kitchen, you might want to get a smaller single handed faucet or a swivel spout faucet. You could still get a pull-down faucet that has a smaller arch.
3. Design & Style Preference
You need to make sure to pick a kitchen faucet type that aligns with the rest of your design aesthetic.
Most faucets are universal and can be a good fit in most kitchens.
Pre-rinse and bridge faucets are the most unique. Pre-rinses can look more industrial which may not be a fit for farmhouse or traditional kitchen styles. Bridge faucets are versatile, but can also look more industrial and ornate.
4. Price
Any time you design a kitchen or remodel an existing one, cost is always a factor. There are two costs you need to factor in when you get a new faucet: 1) the cost of the faucet and 2) the cost to install it.
The cheapest faucet on our list are single handle faucets. These are both the most affordable to buy and the easiest to install yourself.
Wall mounted faucets are more difficult to install so we don't recommend them.
Higher tech faucets like the touch or touchless will definitely be more expensive.
Bridge faucets are more expensive because there is more material used to make the bridge.
5. Technological & Additional Features
Faucets can come with a range of different features. As we've discussed, you can go high tech with a touch or touchless faucet. You can get faucets with side sprayers, built in soap dispensers, water filtration systems, etc.
We've tried to focus on the appearance and style of kitchen faucets in this guide, but you should consider what kind of other features you might want.
Most faucet brand websites will let you filter by tech or extra features that you might like.
---
Common Questions About Different Kinds of Kitchen Faucets
What are the different kinds of kitchen faucets?
There are fourteen different kinds of kitchen faucets you can pick from that range from single handle to double handle, single hole or three hole, touchless and touch-on, and more!
Is a single hole faucet better than a 3 hole?
Single hole faucets are not better than 3 hole faucets. They are more difficult to install and clean, but offer a more unique design and more functionality.
What is the best kind of kitchen faucet to buy?
The best kind of kitchen faucet is different for each person, but single handle touchless kitchen faucets are growing in popularity.
What type of kitchen faucet is easiest to maintain?
The easiest type of kitchen faucet to maintain are single handle faucets. There are less parts, faucet holes, and handles that can get messed up.
---
Final Verdict: Which Type of Kitchen Faucet is Right for you?
There are 13 different types of kitchen faucets and it can be tough to know which one to pick!
There isn't one single kitchen faucet style that's better than all the others. But there are faucets that are a better fit for different price ranges, bathroom sizes, or style preferences.
If you want our final recommendation go with one of these three:
Touchless pull down – The perfect combo of design + function.
Bridge faucet – Perfect for a high end look that will make a statement
Two handle – Great if you're on a budget