This post may contain affiliate links. If you use these links to buy something we may earn a small commission. Thanks.
Trying to find a new faucet for your kitchen or bathroom has never this difficult
You used to be able to just drove to your local hardware store, find a faucet that you like, and go home and install it.
Now you have to sort through all the different criteria: # of holes, faucet spread, brands, mount types, tech features, etc.
It's way too much work these days.
Our in-house team has done a ton of work to research, compare, review the faucet industry. We've shared all of our findings along the way. We want to simplify your faucet buying experience so that you can find the perfect faucet for your home.
Today we'll do a quick dive on single hole faucets. I'll show you the different types and the pros and cons of single hole faucets.
---
What is a Single Hole Faucet?
A single hole faucet for the bathroom or kitchen are both installed using just one singular hole. The handle or handles are attached to the spout which runs through the single hole to connect to the water pipes.
There are various faucet hole sizes and spreads for kitchen or bathroom faucets. You can have anywhere from 1-4 holes and you can have centerset or widespread faucets.
Single hole faucets will normally come with one handle that controls both the hot and cold water. Instead of trying to balance the water temperature with two handles, you just use one handle to find the sweet spot.
---
Different Kinds of Single Hole Faucets
Technically, any faucet that only requires one hole to be installed is a single hole faucet. Centerset faucets normally require 3 holes, but occasionally they'll drill one big single hole and those would qualify here.
Single hole faucets can be used in both the bathroom and the kitchen.
1. Lever bathroom faucets (single handle)
Lever bathroom faucets are what most people picture when they think of single hole faucets. They have one handle that is a lever that can shift left or right, from hot to cold water.
These faucets take up very little space so they are great for small bathrooms. The single lever is easier for kids to use rather than having to use two different handles for hot & cold water.
The best thing about lever faucets? They're cheap. They're actually the cheapest option for bathroom faucets.
2. Single hole kitchen faucets
Single hole kitchen faucets are super popular. Tons of kitchen faucets are installed with only one hole and a single handle that controls both hot & cold water. Single hole kitchen faucets can come in all kinds of different styles, shapes, types, etc. But they all have a single hole drilled.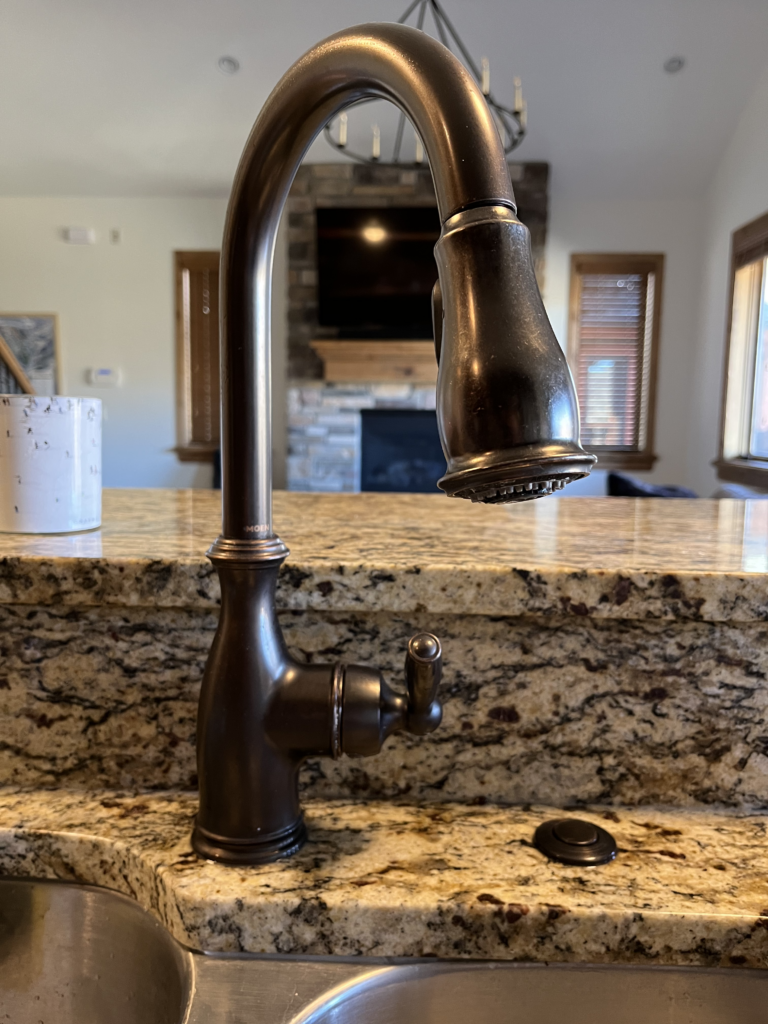 Kitchen faucets can also come with three holes and those typically have a hole for the spout in the middle of the sink and a hole for each handle – one hot and one cold.
---
Pros and Cons of a Single Hole Bathroom Faucet
A single hole bathroom faucet is one of the smallest designs you can find. They are the ideal for kids or if you don't have enough room for a full-sized widespread faucet. The vast majority of these are lever faucets which we describe above.
Single hole kitchen faucets are pretty common for bathrooms.
Pros
One handle – Provides a very minimal aesthetic.
Easy for kids – Kids could have a difficult time figuring out how to balance cold and hot water from two different faucets. The single lever can make it easier to find the right temp for kids.
Good for small bathrooms – Single levers take up the least amount of surface area which makes them perfect for smaller bathrooms or sinks.
Easier install – You only need one single hole in your countertop or sink while a centerset faucet will require three.
Cons
Boring design – These faucets aren't particularly well designed or impressive to look at.
Can look cheap – Single hole lever faucets can sort of look cheap and that's because they are cheap. These are the most affordable kind of bathroom faucet you can buy.
---
Final Verdict: Is a Single Hole Faucet Right for you?
Single hole faucets are super common because they're the easiest type of bathroom sink faucet to install.
If you are looking for a compact faucet installation for a small bathroom then a single hole would be perfect for you. If you have a bit more room, I highly recommend going with a centerset faucet instead.