This post may contain affiliate links. If you use these links to buy something we may earn a small commission. Thanks.
Buying a new kitchen faucet is a big decision! Faucets can last anywhere from 10-20 years and you use them every single day.
I'm a big fan of investing more in home appliances like faucets because of this. It's worth spending more on something that you'll love, that will last, and that you'll use a lot.
Pre rinse faucets are high arching faucets with a detachable sprayer that are known for being super powerful. They are super common in commercial kitchens are becoming way more popular in home kitchens.
Today I'm breaking down what a pre rinse faucet is, the pros and cons of using one, and some unique insights we've picked up along the way.
Our Mission
I've done a ton of work to research, compare, review the faucet industry. I've reached out to experts in every field: plumbers, interior designers, home builders, realtors, and architects. I'm sharing everything I learn along the way.
My goal is to make it as easy as possible for you to find a buy the perfect faucet for your home.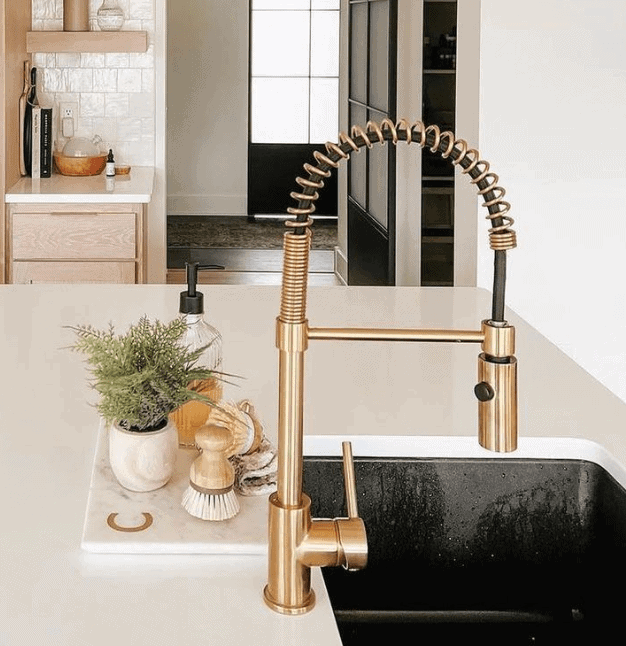 ---
What is a Pre Rinse Kitchen Faucet? What Do Pre Rinse Faucets Look Like?
Pre rinse kitchen faucets are used to rinse plates and dishes before they go into the dishwasher. Pre rinse faucets are high-arching and have a detachable faucet head that is perfect for spraying down dishes. These faucets are known for being high powered.
Pre rinse kitchen faucets are incredibly common in commercial kitchens, but they are becoming more and more popular in home kitchen design. They are installed using a single hole faucet design.
These faucets have three primary purposes: rinsing, soaking, and washing dishes before they get loaded into a dishwasher or washed by hand in the sink.
If you want to check out another high-end kitchen faucet style, be sure to check out our full guide on bridge faucets.
---
Pros and Cons of a Pre Rinse Faucet
Pre rinse kitchen faucets are growing in popularity, but does that mean it's the right faucet for you?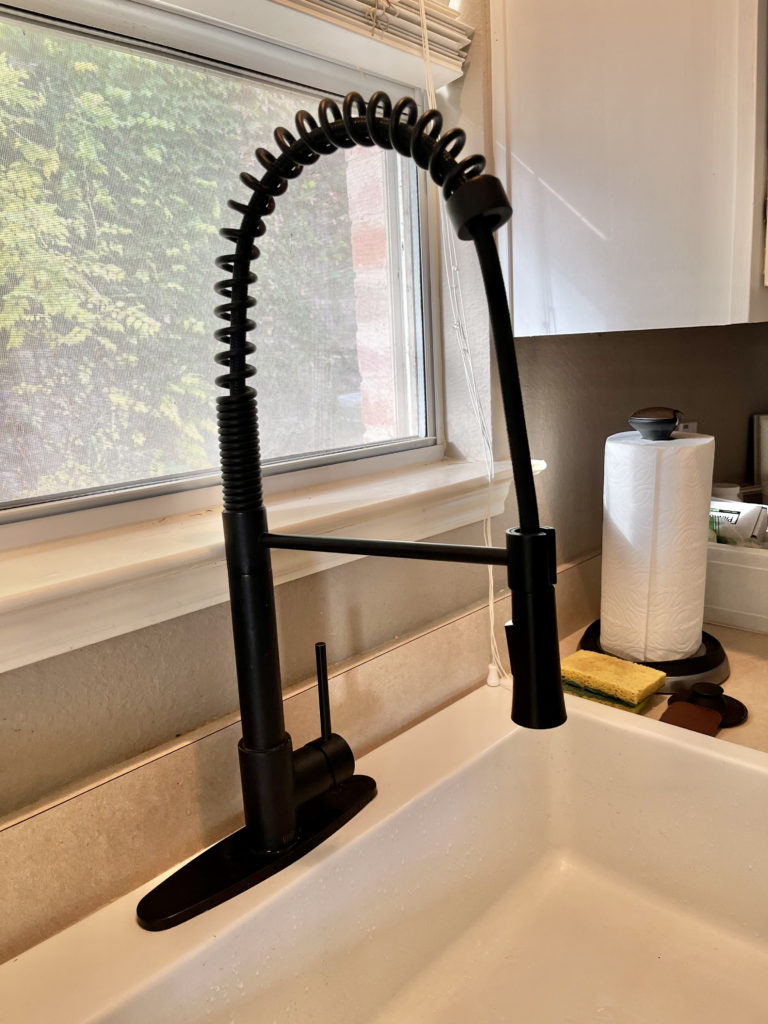 Here are the pros and cons of pre rinse kitchen faucets.
Pros
Industrial design – If you like industrial design, then installing a pre rinse faucet will be perfect for you. The snakelike coil around the faucet handle is perfect for people who like the industrial look.
High water pressure – The main advantage of pre rinse faucets is their high water pressure. The water stream is super narrow making it more powerful than most kitchen faucets.
Great at cleaning – The high water pressure of these faucets makes them excellent for cleaning dishes and rinsing them before you wash them.
Tall height – The tall height of pre rinse faucets makes them a show stopping addition to your kitchen design. It also makes them great for cleaning bigger pots and pans.
Cons
Cost – Cost is the main disadvantage of a pre rinse faucet. They are usually more expensive than regular kitchen faucets.
Space – If you have a smaller kitchen then a pre rinse faucet may not be the best fit. The high arching faucet takes up more space so you won't be able to have any cabinets over your kitchen faucet.
---
What's the Difference Between a Pre Rinse and Pull Down Faucets?
Pre rinse and pull down faucets are both high arching faucets with detachable handles. Pre rinse faucets have much more flexibility with the detachable head and can be moved all around the kitchen sink. Pulldown faucets have a narrower range of how the faucet head can be moved.
Pre rinse faucets are also designed to have much higher water pressure than standard pull down faucets.
---
Factors to Consider When Buying a Pre Rinse Faucet
1. Style / Design
Pre rinse faucets can come in a number of different designs and styles. You need to make sure that whatever faucet you pick is a good fit for the rest of your kitchen aesthetic.
Some pre rinse faucets have taller faucet spouts (the bottom part coming out of the sink). Others have a second faucet handle that comes off the side. And some pre rinse faucets come with a side sprayer as well for extra dish cleaning power!
2. Cost
Cost is always a determining factor when you're renovating your kitchen. Replacing a faucet isn't cheap and pre rinse faucets are on the expensive side. They tend to be 25-50% more than standard pull down kitchen faucets.
3. Finish / Color
If you're trying to pick out a pre rinse faucet you'll want to make sure it matches your bathroom or kitchen aesthetic. These faucets tend to be more commercial looking so there aren't as wide of a variety of finishes and colors yet.
4. Your plumbing system
Pre rinse faucets have the highest kitchen faucet flow rates and the added water pressure might be too much for old plumbing systems. T
5. Height of faucet spout
Pre rinse faucets are taller than standard faucets so you'll need to make sure you don't get one that's too tall. The design of your kitchen cabinets, windows, and ceiling heights will all impact what height of faucet you should get.
---
Common Questions About Pre Rinse Faucets
What does pre rinse mean on a faucet?
Pre rinse on a faucet means that these faucets are used to rinse food off your dishes before you actually wash them.
How do pre rinse faucets work?
Pre rinse faucets work by spraying a tight, powerful stream of water to spray food off your plates and dishes. Once done, you can either handwash them or load them into a dishwasher.
Is a pre rinse faucet worth it?
Pre rinse faucets are definitely worth the money if you like the design! They're expensive, but they are high powered and super effective faucets.
---
Final Verdict: Is a Pre Rinse Faucet Right for you?
Pre rinse faucets are a great addition to your kitchen if you can swing the price point. These are the most high powered faucets you can get in a home kitchen. The industrial gooseneck design is a showstopping look for a home kitchen.
Pre rinse faucets are super unique and can definitely be a high-end touch to a kitchen redesign.
If you want another way to elevate your kitchen design, check out getting a pot filler faucet.