This post may contain affiliate links. If you use these links to buy something we may earn a small commission. Thanks.
Picking out a new faucet is a huge pain. It takes a ton of research to figure out exactly what kind of faucet to get for your bathroom or kitchen.
There are different faucet brands, faucet finishes, faucet spreads, hole sizes, mounting types, etc.
Today I'm breaking down what a deck mount faucet is, the pros and cons of using one, and things to look for.
Our Mission
I've done a ton of work to research, compare, review the faucet industry. I've reached out to experts in every field: plumbers, interior designers, home builders, realtors, and architects. I'm sharing everything I learn along the way.
My goal is to make it as easy as possible for you to find a buy the perfect faucet for your home.
---
What is a Deck Mount Faucet?
A deck mount faucet is installed directly onto your kitchen or bathroom sink or bathtub instead of mounted onto the wall. The deck is the area on the edge of the sink where the faucet can be installed.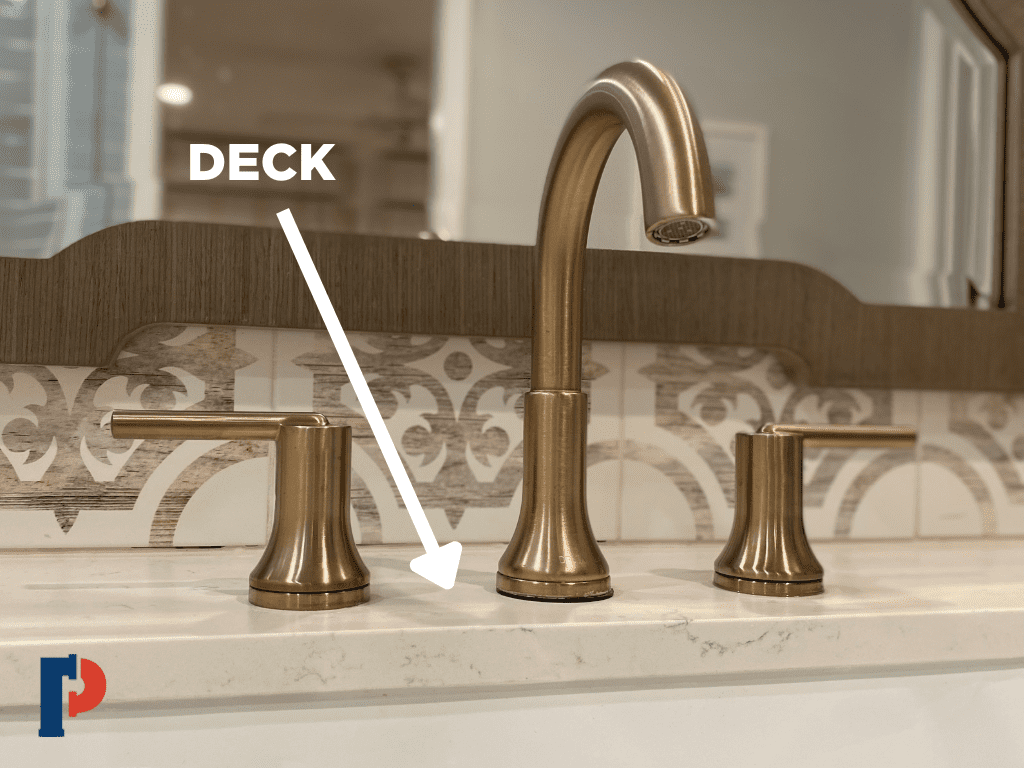 Faucets can either be mounted as a wall mount or deck mount. Wall mounted faucets are more rare because of the more complex installation.
Deck mounted faucets are the easiest to install, easiest to repair, and are more affordable.
Deck mounted faucets have a wide range of design options. You can get them centerset or widespread, single hole or three hole, and all kinds of different handle options.
---
Pros and Cons of a Deck Mount Faucet
All of the faucets in our house are deck mounted so I thought I'd share my own list of pros and cons based off our experience.
Pros
Wide variety – Deck mounted faucets are the most popular kind of mount type so they have the widest variety of design options.
Affordable – Deck mounted faucets are more affordable than wall mounted faucets.
Easy to install – Drilling holes into the countertop or sink and running your plumbing underneath the sink is much easier than having to go through the wall and mess with sheetrock.
Cons
Less unique – Deck mounted faucets are the most common, but wall mounted faucets are super unique.
Take up counter space – The faucet is mounted on the counter or sink so it takes up space that could be freed up if you had a wall mounted faucet.
---
Where Can I Use a Deck Mount Faucet?
Deck mounted faucets can be used all over the house. Anywhere you'd have a faucet, you can pick between a wall mount or deck mounted faucet.
You might find deck mounted faucets in the following places:
Bathroom sink faucets
Kitchen faucets
Laundry room faucets
Bar sink faucets
Bathtub faucets
---
Common Questions About Deck Mount Faucets
Can I install a deck mount faucet on a sink?
Yes, deck mount faucets can be installed on a sink. You simply need to drill the proper holes for your faucet spread and mount and install the faucet.
Are deck mount faucets easy to install?
Deck mounted faucets are the easiest type of faucet to install. Drilling holes into the wall is much more difficult because you have to run pipes behind the wall. A deck mounted faucets has pipes running under the sink.
---
Final Verdict: Is a Deck Mount Faucet Right for You?
We highly recommend going with a deck mount faucet. They are much easier to install compared to wall mounted faucets. They're more affordable and you have tons of design options.
Deck mounted faucets are what we have in our kitchen and bathrooms. They make it much easier to do repairs and we don't have to call a plumber every time something acts up.
If you end up going with a deck mount, be sure to check out our guide on the differences between centerset and single hole faucet as well as our comparison of 4 inch vs 8 inch faucets!