This post may contain affiliate links. If you use these links to buy something we may earn a small commission. Thanks.
Investing in a pot filler faucet can make your life much easier. Mounted above your stove top wall, it's a convenient water source for your cooking needs.
If you are trying to design a kitchen, then you need to figure out your pot filler faucet installation.
I'll help you nail down the ideal pot filler height and whether you should have your pot filler centerset or offset.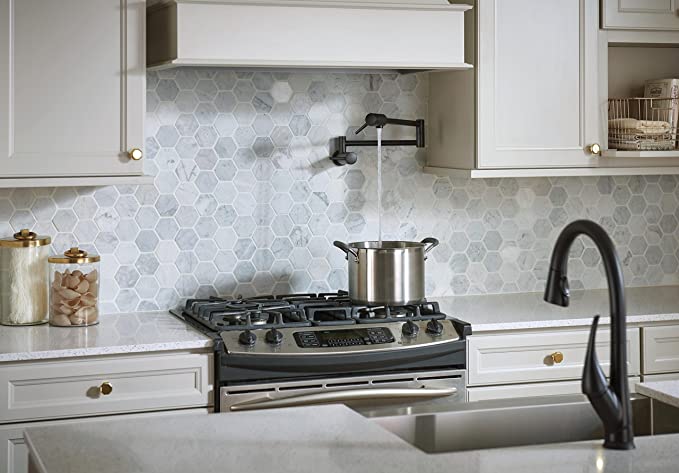 ---
Choosing the Ideal Pot Filler Height
Your pot filler will come in two parts: the spigot and arm where the water comes from, and the flexible lower arm that you are going to use to fill your pots.
This lower arm is the part that will need to be just above the height of your tallest pot.
Three things to look for:
The extending arm is a few inches higher than your tallest cookware
Don't install a pot filler faucet so high that there'll be a lot of backsplash and water spillage
Make sure it can reach all of your burners, both front and back.
Take your time with this step and be sure to take into consideration what your personal preference is, as well as your kitchen's layout and design.
What's the standard pot filler faucet height?
The standard pot filler faucet height is 20-24in from the stovetop. If you are trying to figure out the pot filler height from the floor, add the 20-24in to your stovetop height.
---
Pot Filler: Centerset or Offset or Side Placement
1. Centerset (above the burners)
A centered position directly about the stovetop is one of the most common placements of a pot filler.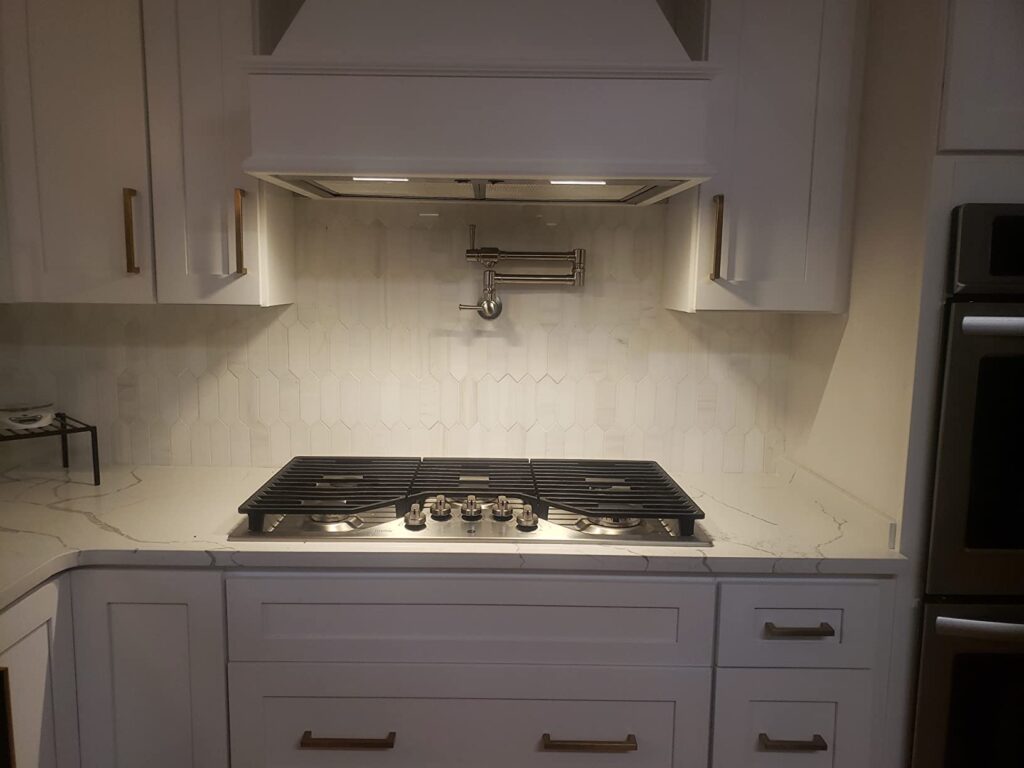 Pros:
Ideal for larger pot filler designs – You'll want to ensure that a centered pot filler also has good flexibility so that it can easily reach all areas of your stove.
Easier for the faucet to reach all of the burners – Whether you'd like to fill a pot on the left or right side of your stovetop, this faucet position is ideal for both.
Cons:
Higher risk of your pot filler overheating – If you have a high-heat burner on a specific side of your stovetop, this center placement runs the risk of your pot filler getting too hot.
2. Offset to the left or right
An offset placement is the ideal location if you have a high-heat burner that you frequently use on one side of your stovetop.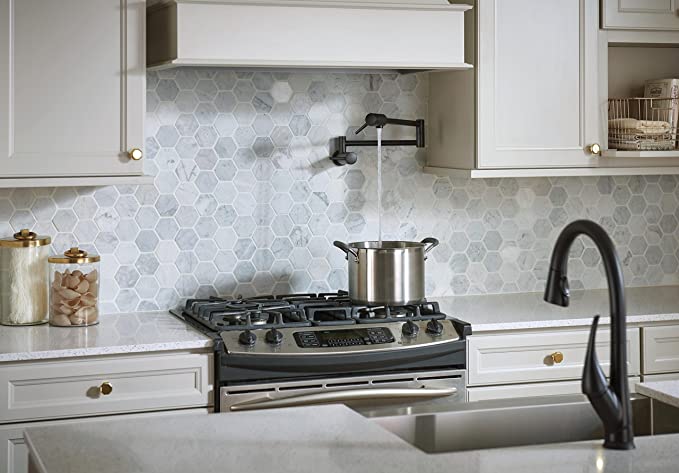 Pros:
Ideal for localized heat on your stovetop – If you use strong heat on a particular side of your stove, you can choose where to place your pot filler.
Lowers the risk of your faucet overheating – As you can choose where to place your pot filler faucet, you can also prevent it from getting too hot.
Cons:
May not be aesthetically pleasing – This is especially true if you like symmetry in your home.
3. Side placement
A side placement of a pot filler moves it slightly away from the stovetop, making it more of a kitchen accessory.
If you are considering a side placement, invest in a pot filler with a particularly long extension and flexibility. It's also important to double-check that it'll reach all of the places you need it to.
Pros:
Your faucet can be used for a range of other things – If your main kitchen faucet is in use, you could use your pot filler to do tasks such as filling water glasses.
Cons:
Limited flexibility of pot filler – With a side placement, your faucet won't be able to reach all areas of your stovetop with ease.
---
Top 5 Things to Consider When Deciding on Your Pot Filler Placement and Pot Filler Height
Pot fillers are one of luxury types of kitchen faucets! Most of the best faucet brands have at least a few pot filler models.
So now, let's go over the most important things you need to consider when figuring out your pot filler installation!
1. Pot filler type: Wall-mount vs. Deck-mount
First, it's important to consider what type of pot filler you are going to get: wall-mounted or deck-mounted.
Wall Mounted – These are installed directly inside the wall behind your stovetop and have a swivel nozzle. They're usually very flexible so that they can accommodate larger pots. I particularly like this style, as it can be pressed flush against the wall when not in use for a tidy, compact look.
Deck Mounted – These are installed on the counter next to your stovetop. These often extend high off the counter in order to fill larger pots. The benefit of these pot fillers are that you can use them to fill up pots on the counter as well as the stove.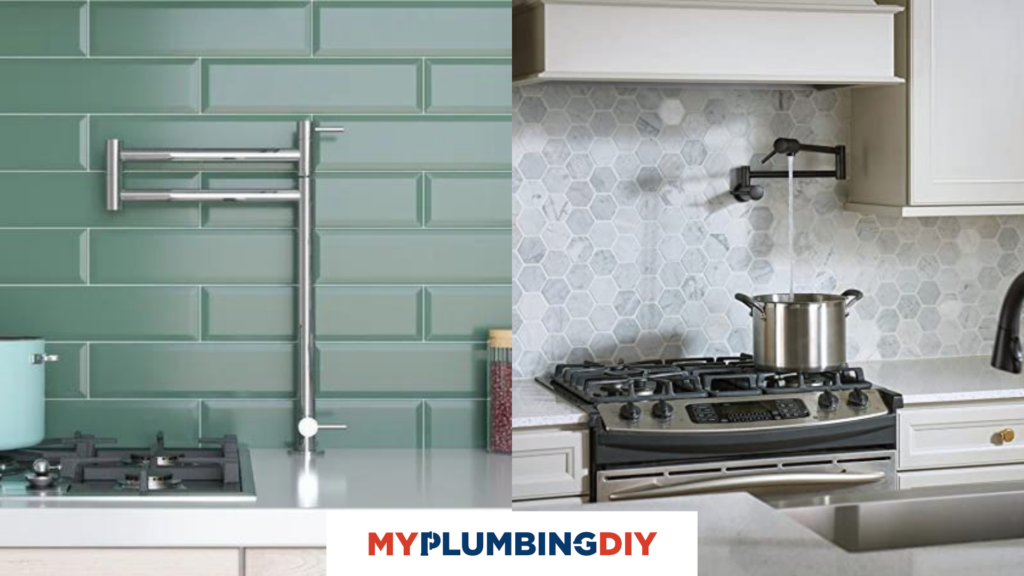 2. Kitchen layout and configuration
Where you choose to install a pot filler is entirely dependent on your kitchen's layout. I'd recommend taking some time to consider everything, from the functionality to your aesthetic vision.
For example, if you have less wall space above your stovetop, you may not have room for a wall-mounted pot filler.
Or perhaps you have a much-used spice rack next to your stove – it may not make sense to move this in order to make room for a deck-mounted pot filler.
Whatever the case may be, be sure to carefully consider where your ideal and most useful pot filler placement in your kitchen is.
3. Cookware size and height
Of course, one of the most important things to take into account is what the pot filler is for – your pots and cookware!
In order to work out the ideal placement:
Place your tallest pot on the stove
Measure the distance between the top of the pot (plus a few inches, just to be safe!) and where you want to mount your pot filler
Whether you decide to place a pot filler on the countertop or the wall, you'll want to be sure that the pot filler will actually reach all of your cookware.
Just be careful not to place your pot filler too high! If it's too high, it'll not only be difficult to reach but can also cause backsplash when filling your pots.
4. User height and preferences
There's a lot of variation in where people place their pot fillers, based on personal preference.
Remember! This is your kitchen, and you call the shots!
You're likely going to be using your pot filler a lot (I know I sure do), so make sure it's exactly where you want it to be.
Try reaching out your arm to where you plan to mount your pot filler – is it a comfortable distance? Now, imagine doing that multiple times a day – still comfortable?
The key to the best pot filler installation is to think about the preferences of anybody in your home who'll be using the pot filler frequently, and take this into account when choosing the best location.
5. Water lines
Arguably the most important part of installing a pot filler is the logistical side of it. Where exactly can you install a faucet?
Well, in order to function, your pot filler needs to be plumbed into an existing water line.
Unfortunately, chances are there probably isn't a water line running through the exact part of your kitchen where you want to place your pot filler.
The closest water line will likely run to:
Your sink faucet
Your dishwasher
Your refrigerator
Now, while I'm all for giving it the old college try, sometimes you have to accept that you may need to call in the big guns on certain parts of your project!
A professional plumber can help you pick the best pot filler location by finding the right water line to tap into for your pot filler placement.
However, if you know exactly what you want, how you want it done, and have already sourced the hardware, you can still save yourself time and money.
---
Common Question About Pot Filler Installation
How high should pot filler stub out be?
Generally, the pot filler stub out should be around 13 inches above the cooking surface in height, and about half an inch past the wall in length. Make sure to check your product's owners manual before you install it.
Where do you put the shutoff valve on a pot filler?
The shutoff valve for your pot filler should be somewhere accessible, usually against a wall. Pot fillers sometimes come with a backup shutoff valve, and often instruct you on where to install these. A plumber or the manufacturer can also inform you of the best location for this. 
Why do pot fillers have two handles?
Some pot fillers have two handles because they feature the ability to use both hot and cold water. This is convenient for different cooking and cleaning-related purposes and gives you better control of the pot filler. 

However, bear in mind that double-handled pot fillers are usually a little more expensive.