This post may contain affiliate links. If you use these links to buy something we may earn a small commission. Thanks.
Deciding on a faucet can be a daunting task. The last thing you want to do is buy a faucet that you've gotta replace in two years. With so many faucet brands on the market, how do you know which one is right for you?
Price, quality, and style are all important factors influencing your decision.
We've read thousands of product reviews and we've done 15+ brand reviews and comparisons. No one has done as much work as we have to rank the best faucet brands.
Here's the truth.
You don't need a list of 30+ faucet brands to pick from. That's just not helpful. We want to help you narrow down your faucet search to the brands that matter.
We'll do a high level overview of the best faucet brands for your kitchen and bathroom. There are also two brands you should avoid so be sure to read on to find out which ones!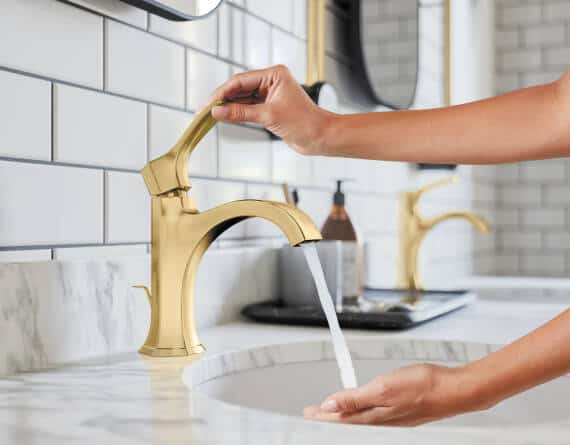 ---
Comparison Chart: Ranking the Best Faucet Brands
I thought it'd be helpful to pull the curtain back and show you exactly how I ranked my list of the best faucet brands. We used five key metrics to determine the list: # of models, design variety and quality, finish options, technological functions, and price.
We scored each brand out of 10 for each ranking factor. The best possible score is 50 and the worst possible would be zero. The two lowest scores are the brands you should avoid.
| | | | | | | |
| --- | --- | --- | --- | --- | --- | --- |
| Brand | Models | Design | Finishes | Technology | Price | TOTAL |
| Delta | 9 | 9 | 10 | 10 | 8 | 46 |
| Moen | 10 | 9 | 9 | 10 | 7 | 45 |
| Kohler | 7 | 9 | 8 | 8 | 7 | 39 |
| Glacier Bay | 6 | 7 | 9 | 7 | 10 | 39 |
| Hansgrohe | 8 | 8 | 7 | 8 | 8 | 39 |
| Pfister | 6 | 7 | 8 | 5 | 7 | 37 |
| Grohe | 6 | 10 | 6 | 8 | 6 | 36 |
| Kraus | 7 | 6 | 9 | 5 | 7 | 34 |
| Vigo | 4 | 5 | 5 | 7 | 7 | 28 |
We did our best to only pick one "10" for each criteria.
Here are a few of our high level takeaways on the best faucet brands after countless hours of research:

Delta – We are huge fans of Delta and used them all over our house. It scored the highest for us in every category and is the most affordable of the big 3 brands (Moen, Delta, Kohler).
On a budget? Glacier Bay is the best faucet brand if you're on a tight budget. Their faucets aren't the most impressive in terms of design, but you can get a simple faucet for cheap.
High end? If you're going for a more high end appearance, Grohe might be the faucet for you. Don't let the score of 36 throw you off. They are limited on the number of models and finishes, but the faucets are beautiful.
Brands to avoid – I'd stay away from Kraus or Vigo. Vigo is the only brand on this list that doesn't have a lifetime warranty. Kraus faucets are good, but I think there are better brands to pick from.
Once you decide on a faucet brand you'll need to figure out what kind of faucet you want. Go and bookmark our massive guide on the different types of bathroom faucets so you can find the one that's right for you.
There are 11 faucet brands with lifetime warranties! Be sure to pick one of those.
---
Why We Picked Delta for Our House Renovation
I'll tell you up front that we're big fans of Delta.
When we renovated our bathrooms we bought almost exclusively Delta products.
My wife and I spent a couple of weeks trying to pick the best faucet brand and eventually we came down to the "big 3": Moen vs Delta vs Kohler.
We really loved the durability that Kohler offered, but it was the most expensive of the three. Delta and Moen were also more technologically advanced.
When it came to Moen vs Delta, we ended up deciding on Delta. Our final decision to go with Delta came down to design.
We love the modern / minimalist aesthetic and wanted gold accents in our bathrooms. Moen's brushed gold was a bit too "poppy" for us, but Delta's champagne bronze was exactly what we wanted.
We ended up going with the Delta Trinsic widespread faucet in champagne bronze for our bathroom faucets.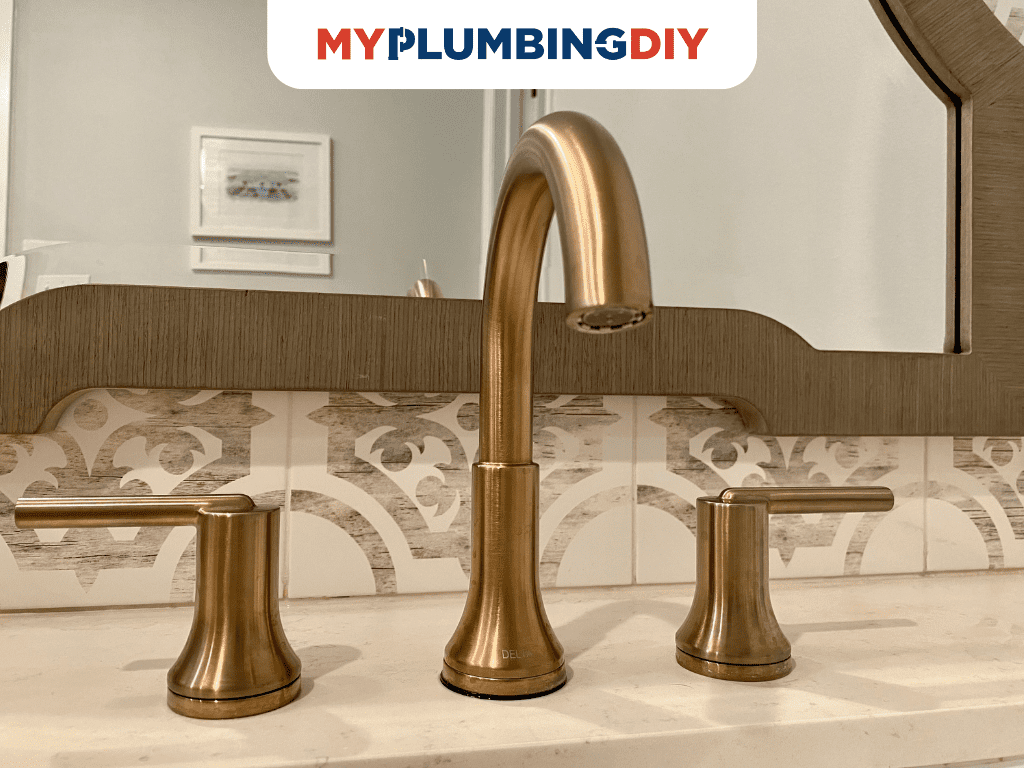 We also went with the Delta Dryden for our bathtub faucets and the Delta Trinsic handle with Linden In2ition shower head for our master bathroom.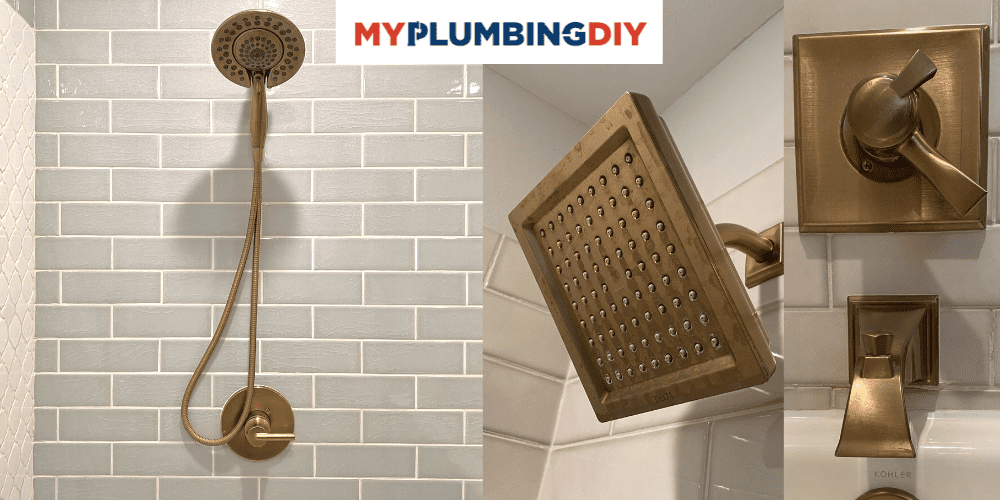 Our bathroom faucets, showerheads, bathtub faucets, and toilets are all Delta-made.
My wife and I are huge fans of Delta products and we use them all over our house. They're the perfect blend of high quality + design + price. That's why I think Delta is the best faucet brand on the market.
---
The 7 Best Faucet Brands on the Market
There are 7 different faucet brands that I've researched, reviewed, and tested. In our own home, we ended up going with Delta because of the perfect combination of quality and price. I'll share out high level summary of each brand with pros/cons so that you can decide which one is best for you!
1. Delta – Overall Best Faucet Brand
My wife and I are huge fans of Delta products and we use them all over our house. Our showerheads, bathtub faucets, and toilets are all Delta-made.
Delta was founded in 1954 and is now a subsidiary of the Masco Family Corporation. Over the years, Delta has produced many faucets offering simplicity, great functionality, durability, and elegance.
Delta
Price
$$
Technology
High-tech: Great touch technology
Design
Tie
Finishes
Bathroom: 15
Kitchen: 12
Models
Bathroom: 400+
Kitchen: 225
Warranty
Limited lifetime warranty
The driving belief behind Delta is that water has the power to transform the way people feel every day. They create simple solutions to bring a great change in the human view.
Delta has a history of innovation in the plumbing and faucet industry. They've had advancements like Touch2O®, MagnaTite® Docking, and H2Okinetic® Technologies. These technologies have consistently improved the function and performance of Delta faucets.
Pros and Cons of Delta
Pros
Affordable – Delta carries a line of faucets that go for as low as $70 and can go as high as several hundred.
Install – We've been using Delta products in our house and love how easy they are to install.
High tech – Delta's Essa model is one of the best touchless kitchen faucets on the market.
Cons
Complex – Delta actually has three different sub-brands within their product line: Delta, Brisso, and Peerless. This can make it tricky to actually know which one to get.
My wife and I are huge fans of Delta products and we use them all over our house. Our showerheads, bathtub faucets, and toilets are all Delta-made.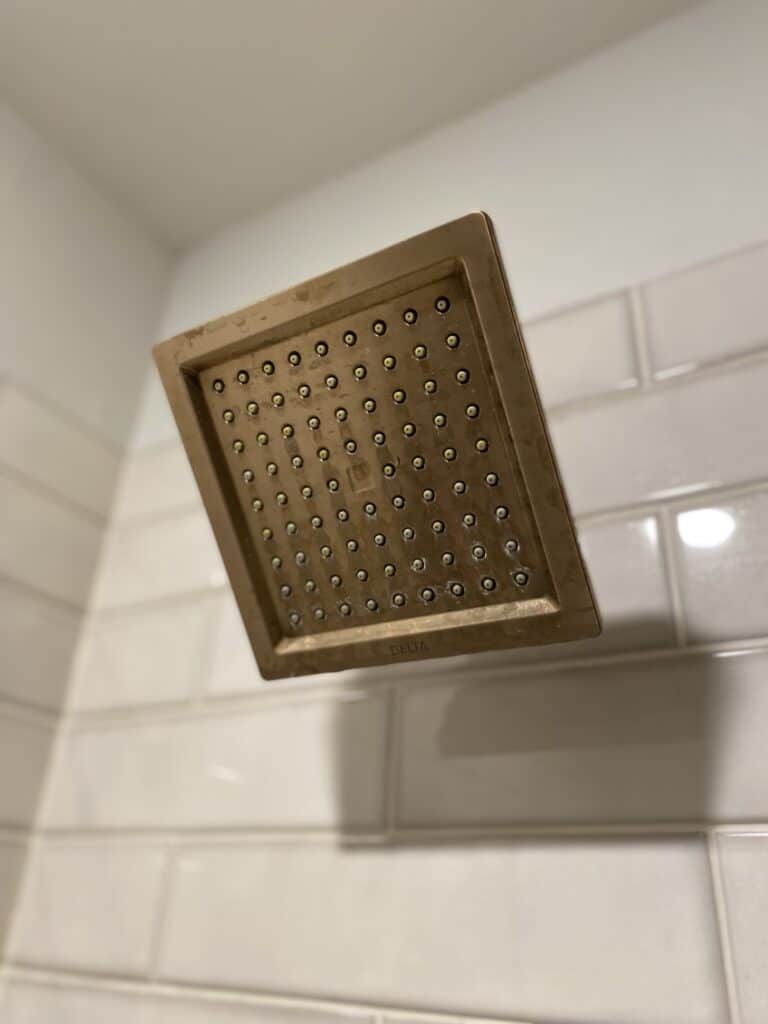 ---
2. Moen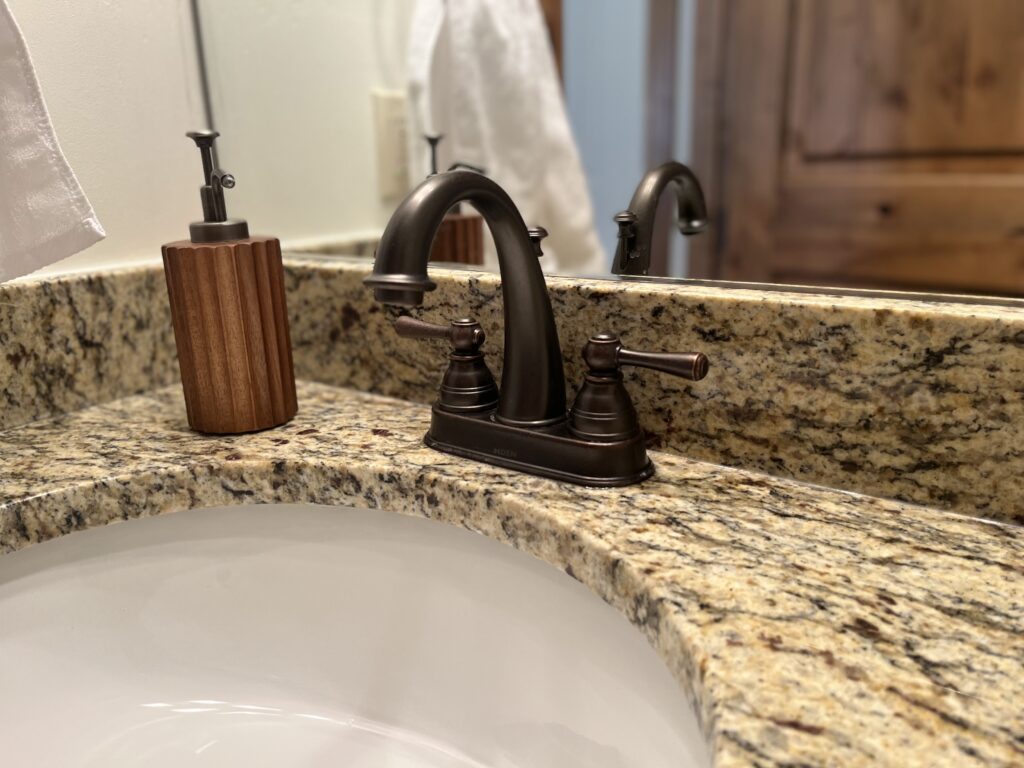 We bought our house back in 2018 and have been slowly renovating our space. We did a ton of research and we ultimately decided that Moen faucets were top of the line, but out of our price range.
We have an old Moen faucet in our kitchen that we haven't replaced yet. Our dream is to replace it with one of Moen's touchless faucets whenever we have the money.
Moen faucets have been around since 1937 when Al Moen started his company. They're known for their line of bathroom, kitchen, bathtub, and shower heads. They got their start by making high quality single-handle faucets after the founder experienced an accidental burn by a two handle faucet.
Moen
Price
$$$
Technology
High-tech: Great for high power
Design
Wide variety of options
Finishes
Bathroom: 11
Kitchen: 7
Models
Bathroom: 400+
Kitchen: 450+
Warranty
Limited lifetime warranty
Moen has consistently improved the look and performance of its faucets, resulting in some of the highest quality bathroom products on the market.
Their faucets are sleek, durable, and well designed. They've also got more options than anyone else to pick from.
The most unique thing about Moen is their high-tech approach and innovation. They are leaders in the faucet industry and are often the first company to pioneer new technology and innovations.
Moen's innovations for kitchen faucets include MotionSense™, Power Clean™, Power Boost™, Reflex™ Pulldown Kitchen Faucets, Spot Resist™ Finish, M•PACT®, and Hydro Roller™ Massage Combination Shower.
Pros and Cons of Moen
Pros
Design – Moen carries a number of different models, finishes, and technology options.
Warranty – Moen's warranty is one of the best in the plumbing industry with lifetime coverage if there's no damage during the installation.
Cons
More expensive – Moen faucets are high end, but that can also come with a high price. If you're budget-minded, then Moen's price point could be tough.
---
3. Kohler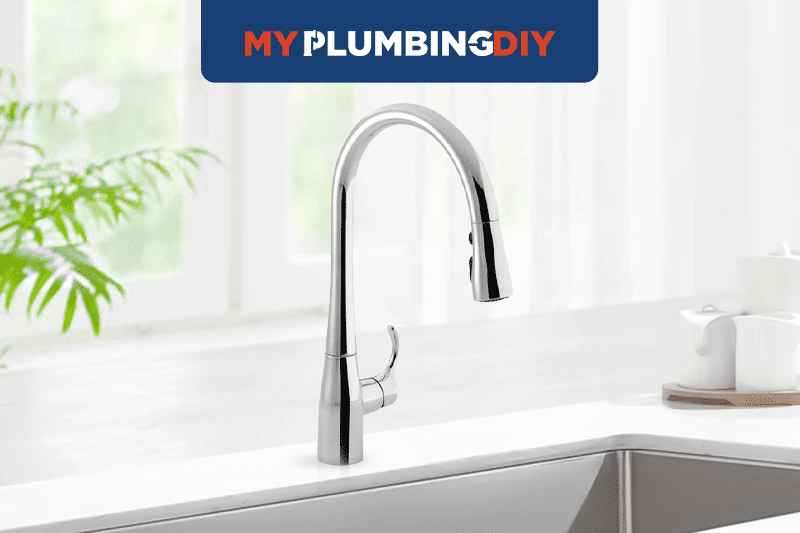 I grew up using Kohler products. Everything in our house was Kohler: Sinks, faucets, toilets, showerheads.
I'm pretty sure my childhood home still has the same Kohler products that it came with when it was built in 1997.
Kohler is known for durable and high quality products.
Kohler is one of the oldest and largest plumbing companies in the world. They're one of the best American made faucet brands in the country. When it comes to bathroom and kitchen faucets, they're widely considered to be top of the line.
Kohler
Price
$$$
Technology
Average technology options
Design
Wide variety
Finishes
Bathroom: 12
Kitchen: 11
Models
Bathroom: 97
Kitchen: 95
Warranty
Limited lifetime warranty
The company was founded by John Kohler in 1873. They were the first company to create a one-piece bathtub for everyday use. These days they offer absolutely every plumbing product you could ever need.
They are best known for their touchless technology in kitchen and bathroom faucets. That's one of the reasons they are super popular in commercial spaces. They also produce one of the most durable toilets.
Kohler is also one of the most innovative companies when it comes to being environmentally-friendly. They are working hard to create more products that use less water and energy while remaining effective.
Pros and Cons of Kohler
Pros
American Made – Kohler faucets are one of the few faucet brands made in the USA guaranteeing a higher quality faucet.
Environmentally friendly – Many Kohler faucets are designed with an option to utilize less water making it better for the environment.
Variety – Kohler has a huge lineup of different faucet options from type of finish to design and installation type to handle type.
Cons
Less specialized – Kohler has one of the widest product offerings with plumbing products. They are less specialized on faucets than other brands like Delta or Glacier Bay.
More expensive – Compared to other brands like Moen and Delta, Kohler is on the pricey side.
---
4. Glacier Bay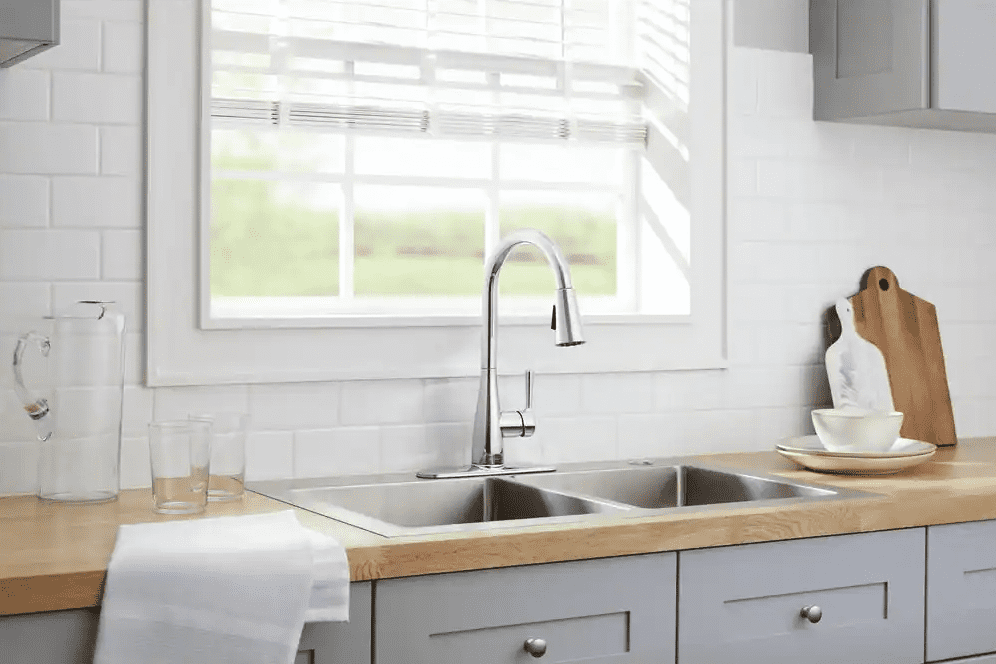 Glacier Bay is one of the more popular brands in the US. They are actually owned by Home Depot and are one of their leading in-house brands. You can buy Glacier Bay faucets and products at other stores as well.
The number one thing that sets Glacier Bay apart from other brands is their affordability.
Glacier Bay was established to be an affordable brand for home owners, large scale residential housing, and construction companies.
Glacier Bay
Price
$
Technology
Low-tech
Design
Limited variety
Finishes
Bathroom: 9
Kitchen: 11
Models
Bathroom: 112
Kitchen: 73
Warranty
Limited lifetime warranty
Glacier Bay is the most budget friendly faucet brand on the market. The faucets are high quality, have technological functions like TurboSpray and FastMount. The faucets come in a variety of finishes, models, and design options to fit any bathroom.
These faucets are a great purchase if you're on a budget. However, they aren't the best faucets out there. If you are looking for a good value purchase, these are a great option.
Pros and Cons of Glacier Bay
Pros
Affordable – Glacier Bay was created as a budget-friendly alternative to some of the household name brands. It's the cheapest brand in the industry that is still quality.
That's it. We don't have any more pros. It's a budget brand and that's the only quality worth highlighting.
Cons
Less durable – These faucets are made in China and Taiwan and simply aren't as high of quality as other brands that are American or German made.
Boring design – The faucets made by GB don't look bad, but they just don't look like anything special.
Limited selection – Glacier Bay only has around 180 total models to pick from. This sounds like plenty, but it's actually not much compared to other brands.
---
5. Hansgrohe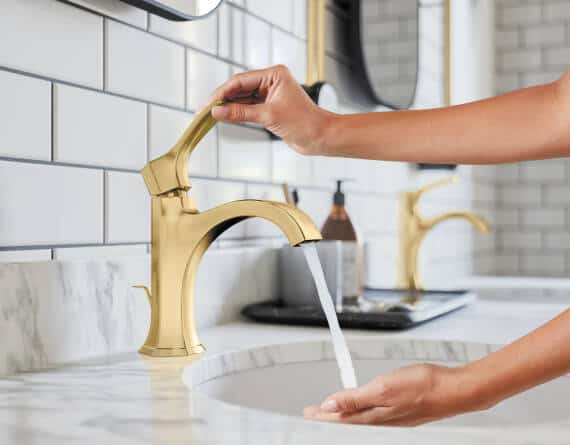 I personally don't have any experience owning Hansgrohe products, but one of my best friends does. They recently renovated their bathrooms so I had him write a mini-review of Hansgrohe.
"I've been using Hansgrohe products in my home for quite some time now. And I'll be honest, they're the first brand that I think of when attempting to upgrade or renovate my kitchen or the bathrooms within my house.
The reason why I feel like I can trust Hansgrohe is that they're one of the world's largest kitchen and bathroom faucet manufacturers. And they offer a staggering variety of faucets for homeowners, like myself, and businesses."
Hansgrohe is known for their minimalistic design. If you are designing a kitchen or bathroom and want to go with a modern or minimalist aesthetic, Hansgrohe is for you.
And it's not just their designs that are top-notch, but Hansgrohe is known for its high quality, functionality, durability, and finishes in the plumbing industry.
The company has a long and storied history. Hansgrohe was initiated in 1901 by Hansgrohe, the head of the Grohe family.
They made essential innovations in bathroom and shower fixtures and were keenly responsible for transitioning from bathtubs to showers, as a means of increasing affordability.
Hansgrohe
Price
$$-$$$$
Technology
Water conservation
Design
Wide variety
Finishes
Bathroom: 9
Kitchen: 8
Models
Bathroom: 109
Kitchen: 61
Warranty
Limited warranty (5 years)
Hansgrohe's innovative journey began with the hand shower and then continued with developing wall panels that made way for the modern shower we all use now.
I can only imagine how forward-thinking this change might have been back in 1953. Since then the brand has moved on to introducing water-saving products and new technology of all kinds.
Something I've been a fan of has been the introduction of the luxury brand Axor for exclusive high-end bathroom collections.
Pros and Cons of Hansgrohe
Pros
High-Quality products – Hansgrohe, without a shadow of a doubt, manufacture some of the most high-quality products available on the market.
Large Variety of Styles – Hard to argue that Hansgrohe doesn't have the most versatile style in the market. Regardless of your personal preference, you'll find something you'll like at their stores.
Trust-worthy – The company has been at the forefront of the industry for over a century now. Their brand loyalty is everything to them, and it is one of the reasons why they are so trusted by their consumers, myself included.
Simple Installation – Unlike much of their competition, the Hansgrohe product line is quite simple to install into your kitchen or bathroom. And doesn't require you to spend any more time than necessary to get these products working for you.
Cons
Delicate Construction – Without a doubt, one of the most important disadvantages of the Hansgrohe product line is that their faucets are incredibly delicate. Although the individual pieces are high-quality, they can be broken easily if unnecessary, excessive, force is used on them.
Expensive – Although much of their product line is priced reasonably, some of their products such as those under the Axor luxury brand are priced incredibly high. This makes them quite unattainable for the average person.
---
6. Grohe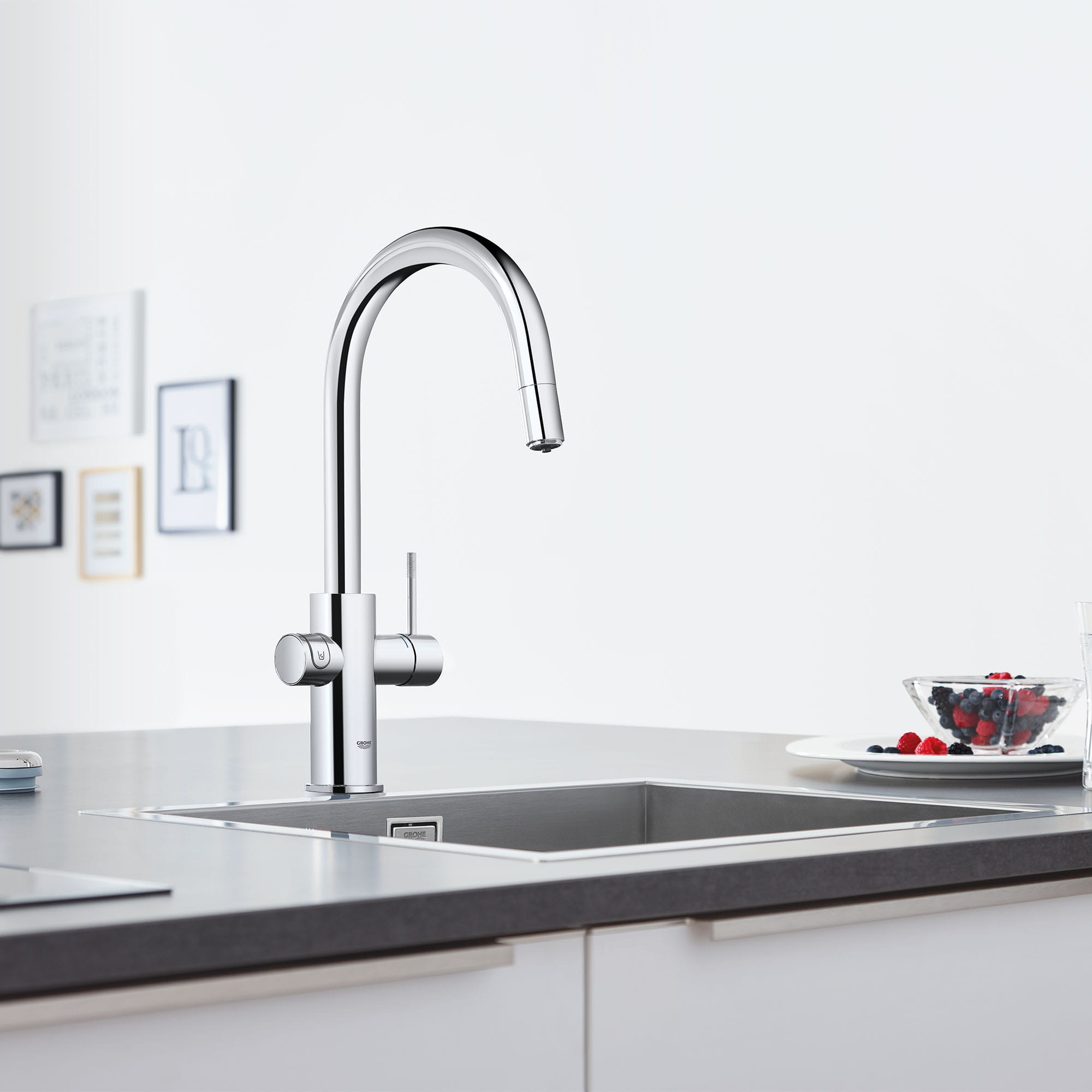 Grohe is a luxury, high-end faucet brand. I've never personally used any of their products, which is a shame because they are incredibly sleek looking.
I'm a big fan of using American made faucets and products, but we aren't the only country with elite manufacturing. Grohe is a German brand that is known for incredibly high quality. They've been around since the early 1900's and are one of the most reputable brands in Europe.
In just the past ten years, Grohe has been awarded more than 240 design and innovation awards as well as a top three placement among "Germany's most sustainable major companies of 2015".
Grohe
Price
$$$$
Technology
Water conservation
Design
Sleek & Modern
Finishes
Bathroom: 7
Kitchen: 7
Models
Bathroom: 82
Kitchen: 38
Warranty
Limited lifetime warranty
The brand positions itself as an innovative, modern bathroom and kitchen fixtures brand with a specific emphasis on being the best bathroom fixtures brand.
In 2014, the Grohe faucet brand was bought by LIXIL who owns a number of other leading brands like American Standard. They are incredibly innovative when it comes to water technology.
Pros and Cons of Grohe
Pros
German made – Germany is known for elite manufacturing and attention to detail that produces high quality products.
Environmentally friendly – Grohe is one of the leading companies in water conservation and environmental efforts. Buying Grohe product is supporting environmentally-friendly manufacturing.
Design – Grohe products are simply beautiful. If you like minimalistic and sleek designs, these are for you.
Cons
Expensive – Grohe faucets are at the high-end of the market. The majority of their faucets are $400-600 range.
Limited finish options – Grohe only offers seven different finishes for their bathroom and kitchen faucets.
---
7. Pfister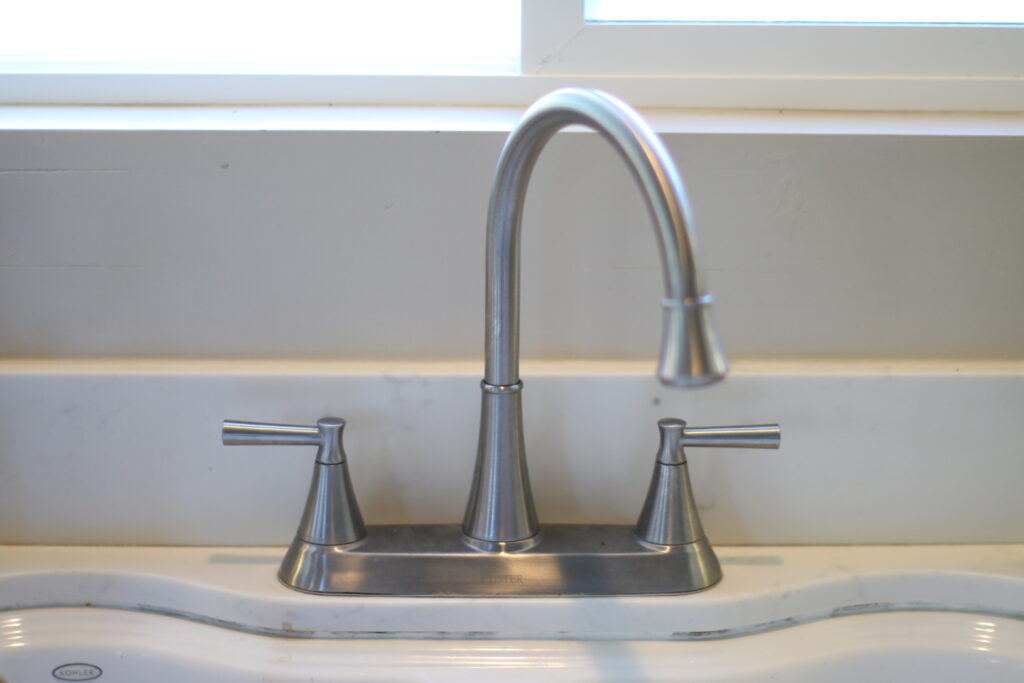 To be totally honest, we've never personally owned any Pfister products in the places we've lived. But our best friends just renovated their house and have an awesome Pfister kitchen faucet.
The company has been around for over a hundred years (founded in 1910). They've been a powerhouse in putting out awesome bathroom and kitchen faucets, plumbing fixtures, shower systems, and other home plumbing products.
The company made significant innovations in the industry of kitchen faucet manufacturing. Its designers work in California, while the products are manufactured in factories in China and Korea, and then distributed all over the world. It's got the best of both worlds. High end design and cost friendly production.
Pfister was also the first faucet company to be certified by EPA WaterSense.
Pfister
Price
$-$$
Technology
Low tech
Design
Limited selection
Finishes
Bathroom: 9
Kitchen: 9
Models
Bathroom: 142
Kitchen: 81
Warranty
Limited lifetime warranty
Pros and Cons of Pfister
Pros
Affordable – Pfister's faucet selection is less expensive than several of the big brands like Moen, Delta, and Kohler.
Environmentally friendly – Pfister is one of the leading companies in terms of environmental impact and water conservation.
Cons
Variety – Pfister has a much smaller selection to pick from.
Design – They have limited design options. If you just need something standard, they probably have you covered!
Low tech – Pfister doesn't have a long list of innovations that they've made. They offer a few touchless options, but nothing more than that.
---
Two Faucet Brands to Avoid
There are two different faucet brands that we've researched and tested that didn't make the cut: Kraus and Vigo.
Now to be fair, these faucets aren't bad. They're decent quality and you'd probably be happy if you got one.
But there's no reason why you should buy either one when you can buy a better brand for the same price. If you want to read up on these two brands, check out our comparison guide: Kraus vs Vigo Faucets.
1. Kraus
Kraus is a newcomer to the plumbing and faucet industry, but it's quickly becoming established as a household name. The company was founded in 2007 with the goal of revolutionizing affordable kitchen & bath design by making a wide variety of clean, modern, high quality products accessible to every consumer.
Their company headquarters is in New York. Most of their manufacturing takes places along the East coast. Kraus is a brand of Masco corporation which also owns Hansgrohe and Delta faucets.
They're most known for their workstation sinks which feature a built-in space for cutting boards and other cooking necessities. These stations are built with high quality 16 gauge stainless steel, which is the ideal thickness for durability.
---
2. Vigo
Vigo is a smaller, luxury brand that isn't super well known. They're newer to the industry and have only been around for 10-15 years, but they are one of the fastest growing private companies in the Inc. 5000.
They are a bit more boutique and offer high-end plumbing products. They create faucets and sinks, but they are most known for their glass shower doors and shower enclosures.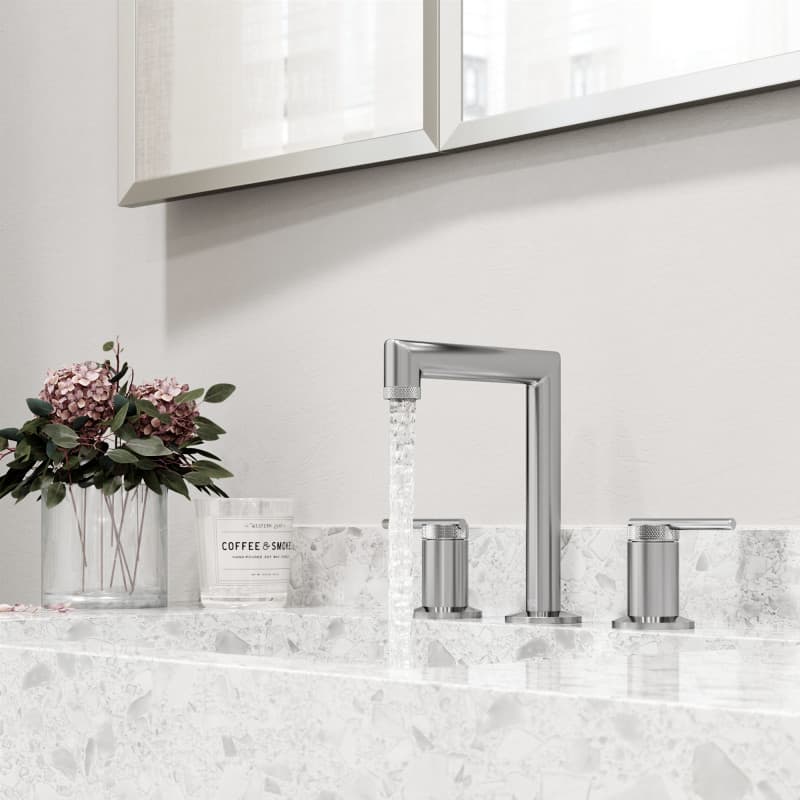 The main downside about Vigo's products is that they are made in China. However, this isn't unusual in the plumbing industry. Most brands manufacture overseas.
Cons of Vigo
Fewer features – A lot of the technological models from Kraus such as Touch and Sensor cannot be matched at Vigo.
Fewer finish options – Caters to fewer people and styles as there are limited color and finish options.
Not enough unique designs – Many of the styles found at Vigo could be found at Kraus too, as well as many more.
---
Decision Guide: How to Pick the Best Faucet Brand for your Bathroom or Kitchen
If you're stuck between a few different faucet brands then read through these six criteria to see which one is right for you. There's no single best faucet brand out there, but some will be a better fit depending on your priorities.
1. Overall quality
It's hard to quantify the overall quality of a brand's faucets, but some brands are known for being high quality.
The big 3 are known for consistently producing incredibly high quality faucets. Moen, Delta, and Kohler have a combined 300+ years of history in the plumbing industry.
If you want to guarantee getting a quality faucet, go with one of these three brands.
2. Cost
Price is always a factor when it comes to buying new household appliances. Whether you're replacing an existing faucet or designing a bathroom from scratch, you need to think about the total cost.
Faucets have two associated costs: the cost of the faucet itself and the cost to install it. The installation cost will mostly be determined by the type of bathroom faucet you buy. The cost of the faucet itself is very dependent on the brand.
Glacier Bay is the most affordable by far. If you just need a cheap faucet replacement, go with them.
Pfister is a good runner-up on cost. They are cheaper than the big 3 faucets (Moen, Delta, Kohler), but still a reputable brand.
Delta is the cheapest of the big 3. If you want to go with one of the most well known brands, go with them.
Grohe is a luxury brand so they tend to be much more expensive.
3. Finishes & Colors
One of the most important factors in buying a new faucet is getting one that fits your design aesthetic. Every faucet comes in a color or finish like gold, stainless steel, chrome, etc.
Every brand has to invest time and money into building out their line of finishes. Some brands put more effort into bathroom faucets and others into kitchen faucets.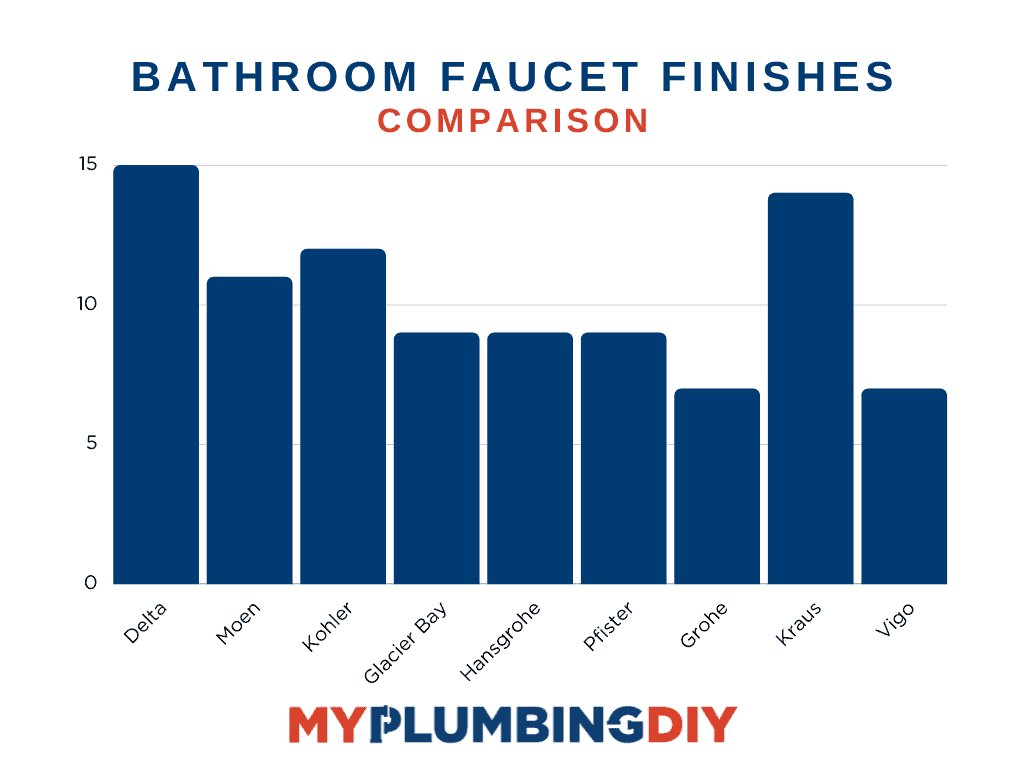 As you can see Delta, Kraus, and Kohler have the largest number of bathroom faucet finishes available. In the chart below you can see Delta, Kohler, and Glacier Bay have the widest selection of kitchen options.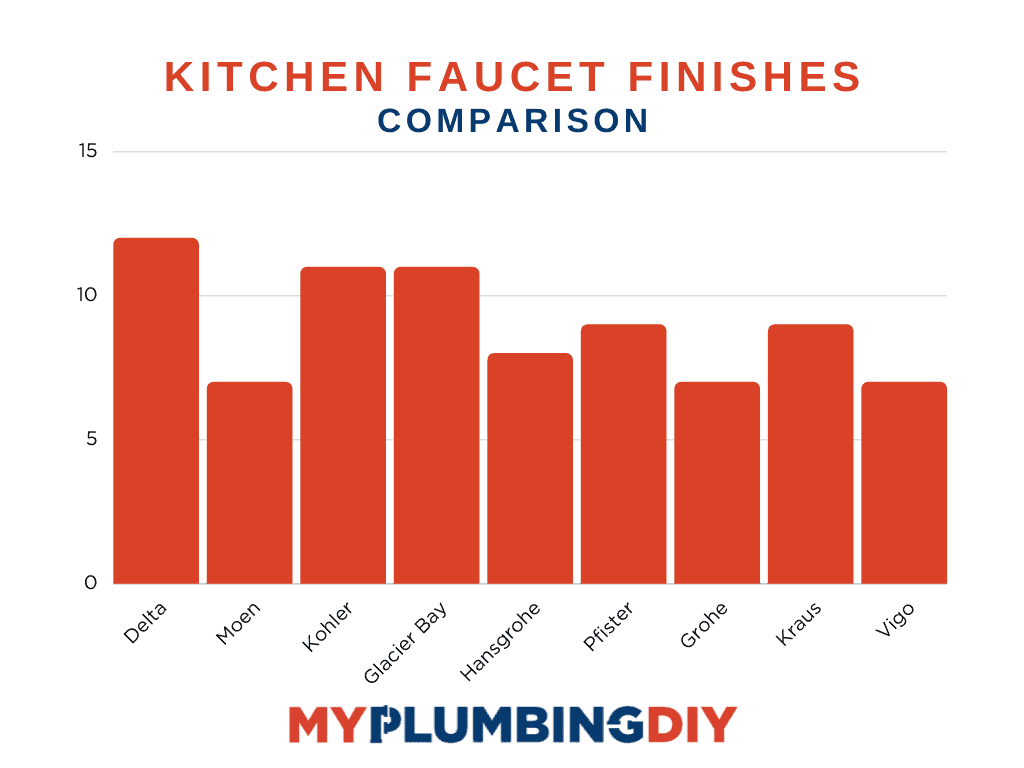 4. Models
The more faucets a company offers the wider their selection is to pick from. You can see that Delta and Moen both have more than 400 models of bathroom faucets. You'll have plenty of style variety to pick from there!
Moen clearly takes the cake on offering the most models across both bathroom faucets and kitchen faucets. They pride themselves on offering the most variety of faucet models, which is one of the reasons we love them too! If you look into each brand you'll see how some offer their "own" style of faucet models.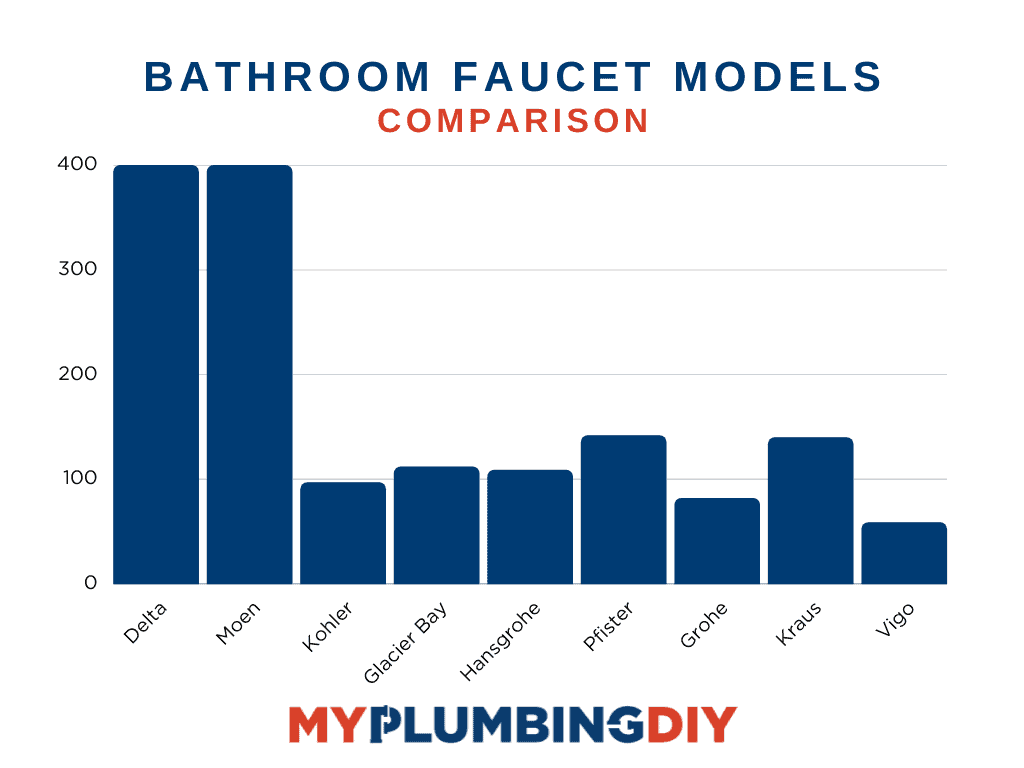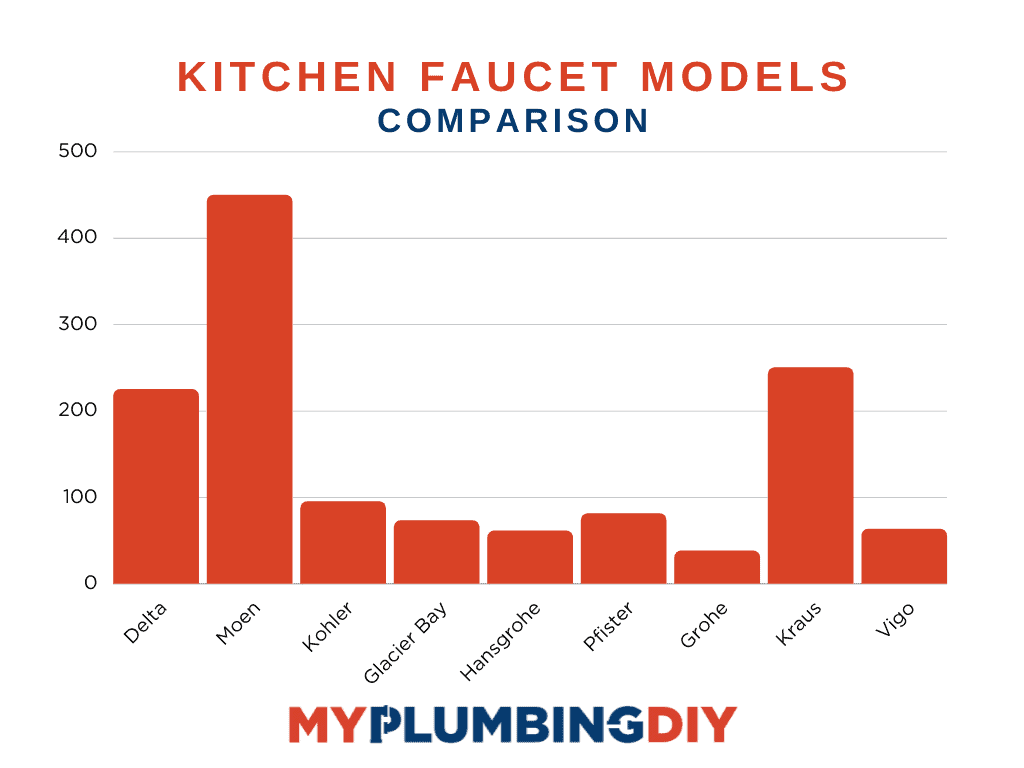 5. Technology
Some brands are known for having more technologically advanced faucets than others.
Moen and Delta are both leaders when it comes to touch & touchless technology.
Grohe and Hansgrohe are at the forefront of water conservation and environmentally friendly faucets.
Kohler is surprisingly average in the technology faucet.
Glacier Bay and Pfister are low tech, but they are the more affordable options.
---
Comparing the Most Popular Faucet Brands
We've done a ton of brand comparisons on our site, but we'll give you a quick overview comparing the best faucet brands so you don't have to.
Moen vs Grohe faucets
Moen and Grohe are two of the best faucet brands on the market. They consistently produce high quality products. Grohe puts more emphasis on design, but Moen is the winner in most other categories like # of models, finishes, and affordability.
If you want to dive deep, take a look at our comparison guide: Moen vs Grohe Faucets.
Kohler vs Delta faucets
Kohler and delta faucets are both great brands and honestly, it's a toss up as to which is actually better. Kohler faucets are a bit more high tech, while Delta faucets are cheaper and better value.
In a Kohler vs Delta faucet showdown, we'd have to go with Delta because you get the same quality for a better price.
Pfister vs Moen faucets
Pfister and Moen faucet brands are both great choices, especially for bathroom faucets. Personally, we love Moen faucets because they are American made and have been around since 1937.
Read more: Pfister vs Moen Faucets
Grohe vs Hansgrohe faucets
Grohe faucets are elite when it comes to design while Hansgrohe has more models and finishes. Hansgrohe faucets are also cheaper so you're going to get better value for your money.
Read more: Grohe vs Hansgrohe faucets
Pfister vs Delta faucets
In a Pfister vs Delta faucet comparison, we personally love Delta faucets. Delta faucets have better technology, finish choices, and # of models to pick from. to be outfitted with better technology.
Moen vs Kohler faucets
In a Moen vs Kohler faucet comparison, we do have a winner. Moen faucets are just so hard to beat. Kohler has a bit more variety, but Moen faucet are cheaper and higher quality.
---
Common Questions About Different Kinds of Bathroom Faucets
What is the most reliable faucet brand?
The most reliable brand for kitchen faucets are the big 3: Moen, Delta, and Kohler. They have been around the longest and are well known for being high quality.
What's the cheapest faucet brand?
The cheapest faucet brand that is still reputable is Glacier Bay which is owned by Home Depot.
How do I identify a faucet brand?
The easiest way to identify a faucet brand is to look on the back of the faucet to see if the brand's name or faucet serial number is listed. If not, the faucet brand is likely listed underneath the sink on the bottom of the faucet.
---
Final Verdict: Which Faucet Brand is Right for you?
With so many great faucet brands out there, it can be hard to know which one is right for you.
There isn't one single best faucet brand that's better than all the others. But there are brands that are a better fit for different price ranges, technological functions, or finish preferences.
As we've already said, we highly recommend going with one of the big 3: Moen, Delta, or Kohler. Between those three, Delta is the most affordable!