This post may contain affiliate links. If you use these links to buy something we may earn a small commission. Thanks.
Researching faucets to find the right one for your bathroom or kitchen is a total headache. You used to just drive to Home Depot, look around, and pick the one that your wife liked the look of.
Now there are way too many different types of bathroom faucets: 4 inch vs 8 inch, single hole or three hole, deck mount or wall mount, spout type, technological features, or type of finish.
It's a mess, but we want to help. Today I'm doing a centerset vs widespread faucet breakdown.
These are two of the most popular faucet designs in the world. If you're looking on different faucet brand sites, you've probably come across these terms.
We own both kinds. We have a double vanity in both of our bathrooms. The master bath has two widespread faucets and the guest bath has two centerset faucets.
I'll help you learn what is the difference between centerset and widespread faucets so you can decide which one is right for you.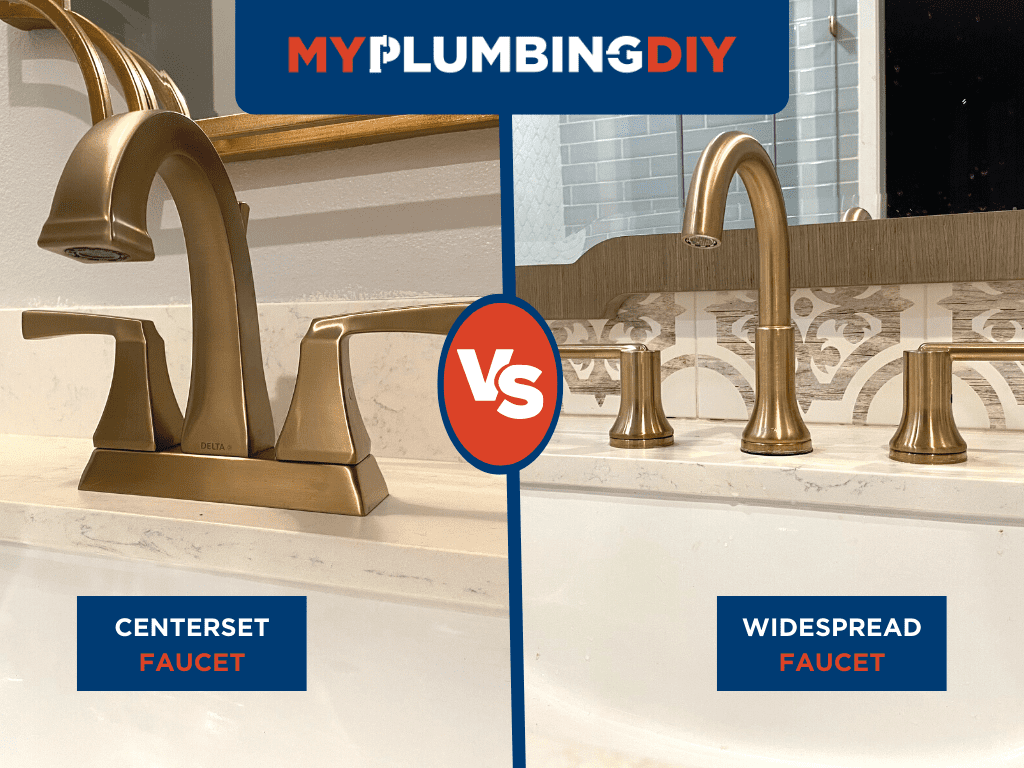 ---
What is the Difference Between Centerset and Widespread Faucets?
The main difference between centerset and widespread kitchen and bathroom faucets is the distance between the faucet handles. They each come with a faucet spout and two handles placed on either side of the spout. Centerset faucet handles are 4 inches apart while widespread faucets are usually 8 inches, but can be up to 16 inches.
Widespread faucets come with separate handles. They are not connected and they are not mounted onto a base plate. Centerset faucets usually come as a single unit, with the faucet and handles connected. Sometimes, centerset faucets will feature a faucet and two handles separately, with a plate to mount them on.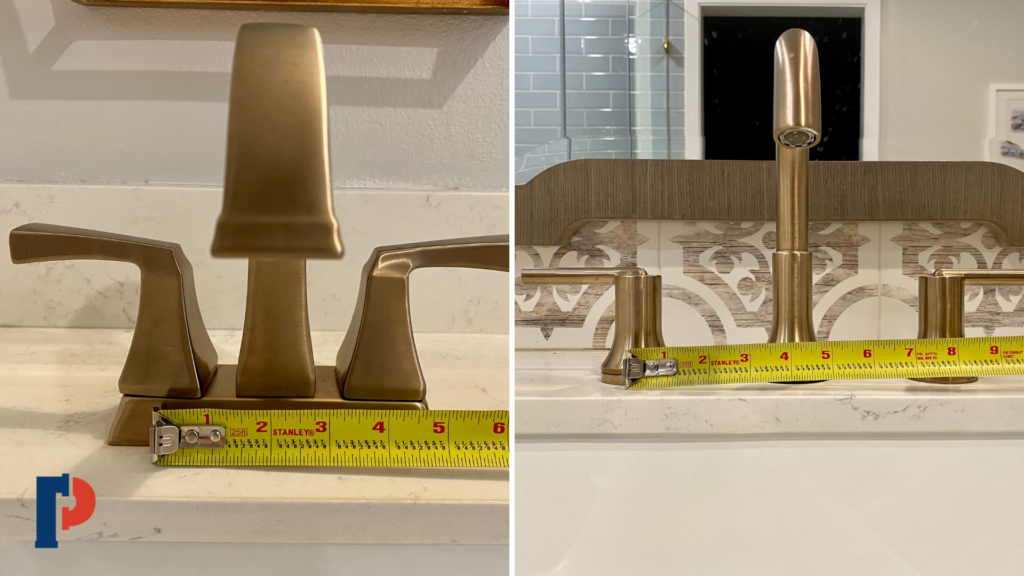 The difference is how far apart the handles are from each other.
The centerset faucet (also called a 4 inch faucet or mini spread faucet) has a more compact design. The distance from the middle of one handle to the middle of the other handle is 4 inches. These are great for smaller bathrooms.
The widespread faucet (also called an 8 inch faucet) has a wider faucet spread. If you take the same measurement between the handles it will normally be 8 inches. Some really big bathroom sinks or vanities might have up to a 16 inch spread. Widespread faucets are best for larger bathrooms and similar rooms where a larger faucet style is the best option.
The measurement here is what we call the "faucet spread". The faucet on the left has a 4 inch faucet spread (measuring from the middle of the handles) and the faucet on the right has an 8 inch faucet spread.
The faucet spread is an incredibly important measurement if you're replacing an existing faucet. Centerset and widespread faucets are NOT compatible with each other. You'll also want to make sure you measure your faucet hole sizes as well.
---
Comparison Chart: Centerset vs Widespread Faucets
I've done a quick breakdown of centerset vs widespread faucets so you can decide which one is right for your bathroom.
| | | |
| --- | --- | --- |
| | Centerset | Widespread |
| Best For | Smaller bathrooms, compact spaces | Master bathrooms, spacious vanities |
| Distance between handles | 4 inches | 8-16 inches (8 is most common) |
| # of Handles | Single or double handle | Double handle |
| # of holes | Normally 3, but can be one | Must be three. Could be four if it has a soap dispenser. |
| Installation | Very easy | More difficult |
| Price | More affordable | 50% more expensive |
---
Which One is Right for You? Choosing Between a Centerset and Widespread Faucet
If you have the opportunity to design your bathroom exactly how you want it, I highly recommend going with an 8 inch widespread faucet. They look sleek and modern and are a great touch for a master bathroom.
If you're replacing a faucet, you really don't have much of a choice in what you get. You need to measure your faucet spread and pick the right one. Widespread faucets are not compatible with centerset faucets.
You could replace your whole sink or countertop, but that's a lot of work + money.
Sink Compatibility
If you are designing a bathroom and get to pick whether you want a centerset or widespread faucet then the next biggest deciding factor is your sink size.
You want to make sure to pick a faucet that is compatible with your sink. If you have a smaller sink like a vessel sink, then you won't be able to get a widespread faucet.
Not all faucet models are compatible with all sinks.
Cost
Price is always a factor when it comes to renovating a bathroom or replacing a faucet. Widespread faucets are about 50% more expensive than centerset faucets. If you need to save some money, go with a centerset faucet.
Faucet spread
The faucet spread is the measurement we've been talking about – the distance between the center of one faucet handle to the other.
If you have an existing faucet that you're replacing, measure that distance. That's what kind of faucet you HAVE to choose unless you want to replace your sink or countertop.
---
Pros & Cons of Widespread Faucets
Centerset and widespread faucets come with a range of pros and cons. We own both kinds in our house and thought it'd be helpful to share what you can expect from each type of faucet.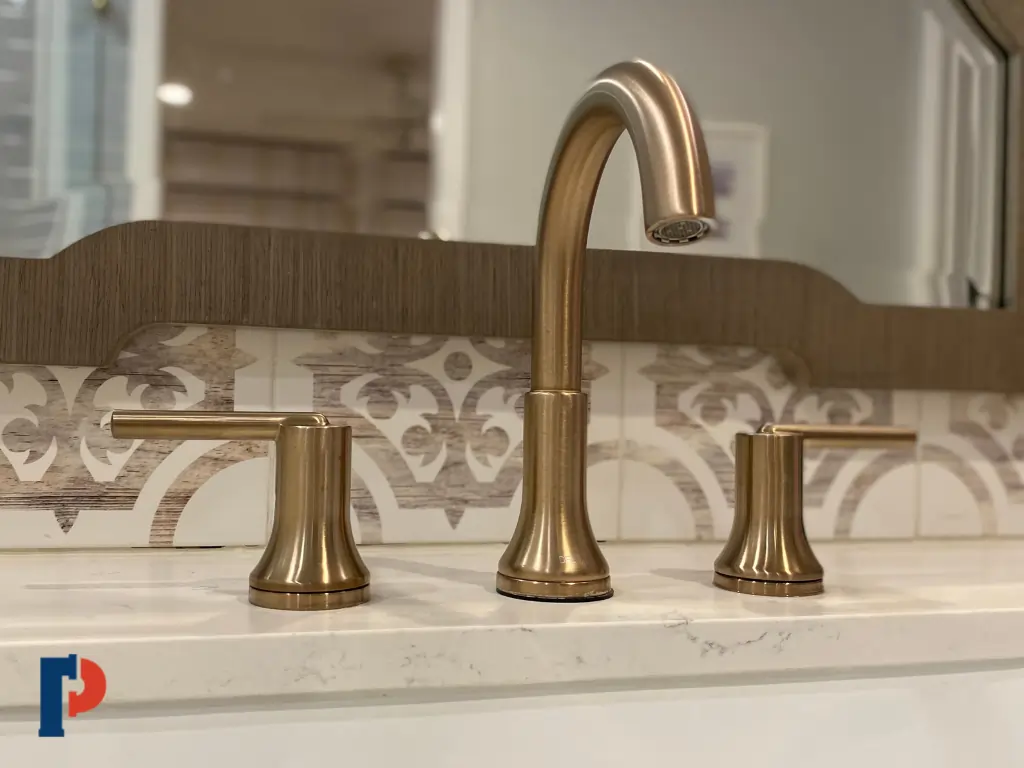 Pros:
Modern design – My wife and I love the modern and sleek design that widespread faucets offer.
Great for large bathrooms – The wider faucet spread makes them perfect for larger sinks or vanities.
Adjustable – The handles and spout come separately so you can decide how far apart you want them. 8 inches is standard, but you can make them tighter and do 6 inches. You can also make it wider and go for 12 or even 16 inches.
Extremely popular – If you're looking for a widespread faucet then you're in luck. For most faucet brands, this is one of the most common products which means you'll have lots of styles and designs to choose from.
Cons:
More difficult installation – Unlike centerset faucets, widespread faucets don't use a deck plate meaning they can be fairly tricky to install. There are three separate parts that each have to be installed in perfect alignment with each other.
More expensive – Widespread faucets are a bit more intricate and are typically 50% more expensive than centerset faucets.
A widespread faucet is the perfect size if you have a larger bathroom or sink. They are easily one of the most eye-catching faucets out there.
---
Pros & Cons of Centerset Faucets
A 4-inch centerset faucet is one of the smallest designs you can find. They are the ideal option if you don't have enough room for a full-sized widespread faucet.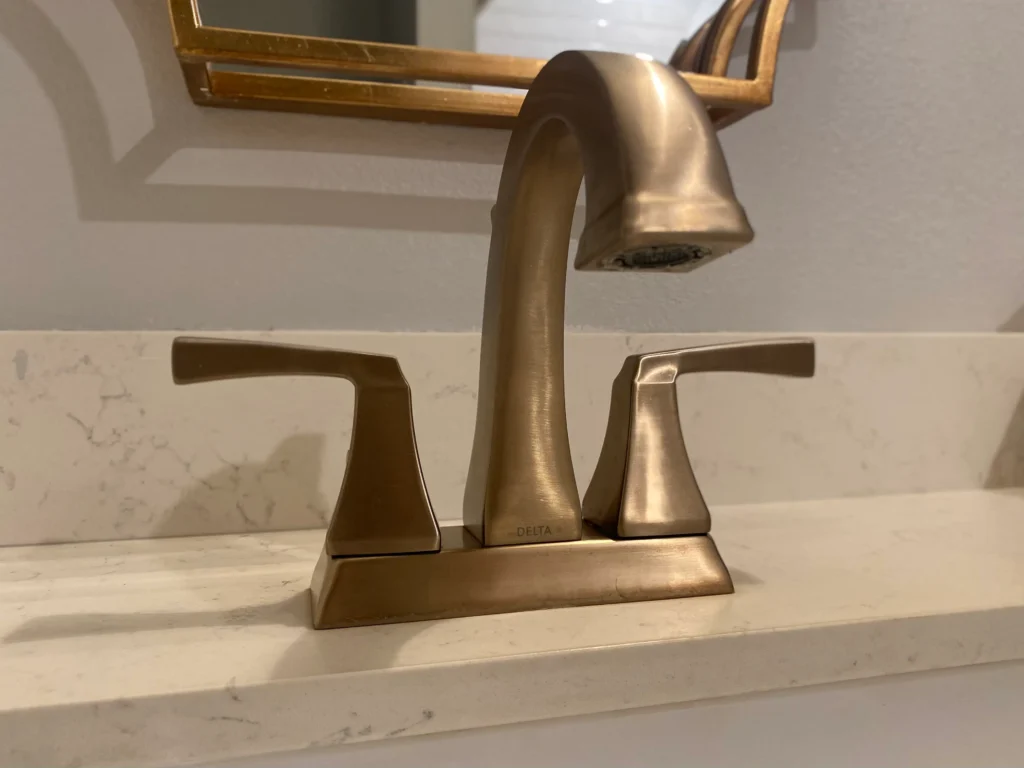 Pros:
Compact design – Centerset faucets take up less space than widespread faucets and fit better in smaller bathrooms or smaller sinks.
Cheaper – Centerset faucets have a simpler design and are typically cheaper than widespread faucets.
Easy installation – These faucets are easier to install because you don't have to worry about lining up three separate holes like you do for the widespread. Just get the deck plate in the proper place and you're good to go.
Cons:
Basic design – The centerset faucets look better than single handle, but they don't look as good as widespread faucets (in my opinion!).
Difficult to clean – It can be tough to clean in the small gap between the faucet handles and spout.
Not suitable for large sinks – If you have a big sink or a larger bathroom vanity, a centerset faucet will look awkward.
---
Common Questions About Faucet Spreads
What does faucet spread mean?
The faucet spread is the distance from the middle of one faucet handle to the middle of the other handle. This is a measurement used for centerset and widespread faucets. It's most commonly 4, 8, 12, or 16 inches.
What is an 8 inch faucet spread?
An 8-inch faucet spread is a type of widespread faucet that has an 8-inch gap between the pre-drilled holes used for installation. Due to their larger size, they are best suited for people looking for a large kitchen or bathroom faucet as opposed to a mini design. 
Is 4-inch centerset faucet standard?
The standard faucet spread for a centerset faucet is 4 inches. This is one of the most popular types of faucet installations.
Can you replace a centerset faucet with a widespread faucet?
No, centerset faucets cannot be replaced by a widespread faucet. The distance between the handles is different and so you will be left with gaping holes in your sink or countertop.
---
Final Thoughts: Is a Centerset or Widespread Faucet Best for your Bathroom?
Widespread and centerset faucets are easily some of the best faucets on the plumbing market.
I hope this centerset vs widespread faucet comparison helped you figure out exactly what you need for your bathroom or kitchen!
If you're replacing a faucet, it's crucial that you measure your faucet spread and pick the right one.
I highly recommend going with a widespread faucet if you're designing from scratch and it still fits your design aesthetic.
For more help, check out our similar guide on 4 inch vs 8 inch faucets.