This post may contain affiliate links. If you use these links to buy something we may earn a small commission. Thanks.
Deciding on a new bathroom or kitchen faucet is a huge pain. You used to just drive over to Home Depot or Lowes with your wife and buy the faucet she liked the look of.
Now you've gotta spend tons of time researching all the different factors that going into faucets. There are different faucet brands, faucet finishes, faucet spreads, hole sizes, mounting types, etc.
Today I'm breaking down what a bridge faucet is, the pros and cons of using one, and some unique insights we've picked up along the way.
Our Mission
I've done a ton of work to research, compare, review the faucet industry. I've reached out to experts in every field: plumbers, interior designers, home builders, realtors, and architects. I'm sharing everything I learn along the way.
My goal is to make it as easy as possible for you to find a buy the perfect faucet for your home.
---
What is a Bridge Faucet? What do Bridge Faucets Look Like?
A bridge faucet has two handles – one for cold water and one for hot. These handles are connected by a horizontal pipe that is a few inches above the counter creating a bridge appearance between the faucet handles.
Bridge faucets usually come with three faucet holes and the whole faucet comes in one big piece instead of multiple smaller faucet parts. Some bridge faucets, especially kitchen faucets, may come with an additional hole for a faucet sprayer.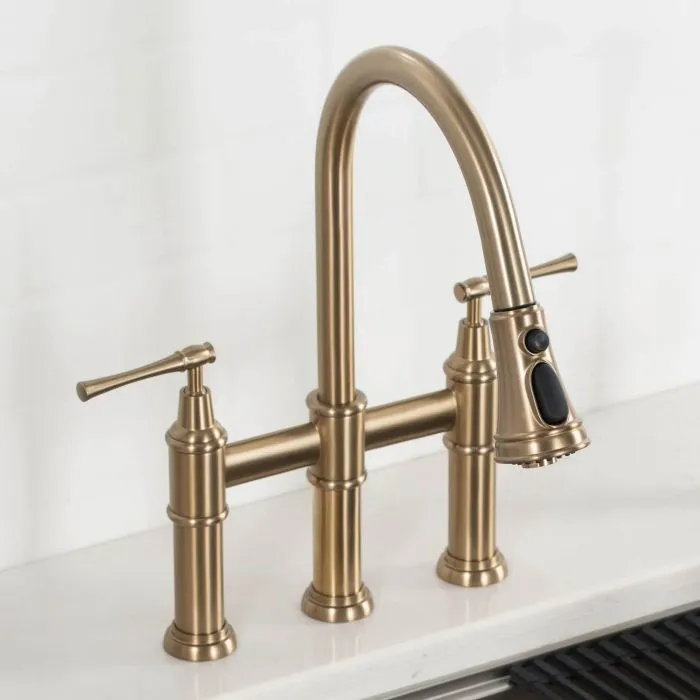 Bridge faucets can be mounted on the wall or on the counter giving you flexibility in how you position it.
---
Pros and Cons of a Bridge Faucet
Bridge faucets are definitely becoming one of the more popular bathroom faucet styles in the design world these days. My wife and I don't personally own one, but my parents do! I went over to their house last week, tested their faucet, and asked for their opinions to see what they think.
We love the look of this sleek brushed gold bridge faucet from Kraus. The Allyn bridge faucet by Kraus gives a transitional feel to the kitchen embracing its modern yet traditional style.
Here are the pros and cons of a bridge faucet!
Pros
Unique style – Bridge faucets are super unique! You don't see them super often so they can be a creative addition to your next remodel.
Variety of handle & spout designs – Bridge faucets have a lot of variety in style and models. Some are super sleek and modern while other faucets are ornate and more traditional.
Easier installation – Bridge faucets come in one whole unit so they are much easier to install. No issue trying to get holes and parts to line up.
No deck plate – The lack of a deck plate can make it easier to install and provide a cleaner looking aesthetic.
Higher faucet reach – Bridge faucets often have a spout handle that arches high up from the counter. The extra space is great if you're trying to wash big pots and pans in your kitchen sink.
Cons
Takes up more space – The design of a bridge faucet often takes up more space. It's similarly to a widespread faucet, but the bridge connection and spout are typically bigger.
Harder for kids to control temp – Having separate handles for hot and cold water can be slightly more difficult for kids to control their water temperature.
More likely to splash water – The extra height of the spout can lead to a longer distance between spout and sink. This added height can make it more likely to splash water.
Expensive – Bridge faucets tend to be more expensive than regular deck mounted faucets.
More intricate designs are difficult to clean – Bridge faucets with a more intricate design can be harder to clean than standard faucets.
---
Factors to Consider When Buying a Bridge Faucet
1. Design
Bridge faucets can come in a variety of designs and styles. The key is to make sure to get a faucet that aligns with the rest of your design theme. Bridge faucets can be wall or deck mounted. You can go with a sleek or minimalist design or something more ornate and luxurious.
If you don't like the design, but want a unique design element in your kitchen you should consider getting a pre-rinse faucet.
2. Cost
Cost is always a factor when it comes to a bathroom or kitchen remodel. Bridge faucets have more hardware and materials which tends to increase the price quite a bit. Good quality bridge kitchen faucets are anywhere from $500-800, but they can get quite expensive if you go for something high-end.
3. Ceramic valves
Bridge faucets that come with ceramic valves are much less likely to leak over time. The higher quality valves will hold up better over long-term use.
4. Finish / Color
If you're trying to pick out a new bridge faucet you'll want to make sure it matches your bathroom or kitchen aesthetic. Every faucet brand offers a variety of finishes or colors.
5. Quality and Durability
You'll definitely want to make sure that the faucet you buy is high quality and will last. The easiest way to ensure this is to buy from one of the best faucet brands. We highly recommend picking between Moen or Delta or Kohler.
6. Height of faucet spout
It's key to make sure you don't get a bridge faucet that's too tall. If you do then you'll find that you end up with a lot of splashing water in your sink. The tall faucets are great for filling up soup pots, but you can always get a pot filler faucet if you care about that.
---
Bridge Faucet Design Ideas that We Love
Bridge faucets come in a variety of designs. I've seen modern/minimalist bridge faucets that are sleek and clean looking with straight lines. I've also seen bridge faucets that are ornate with different aspects.
Here are pictures of different bridge faucets so you can get a feel for what's out there!
1. Beautiful Brass
2. Simple farmhouse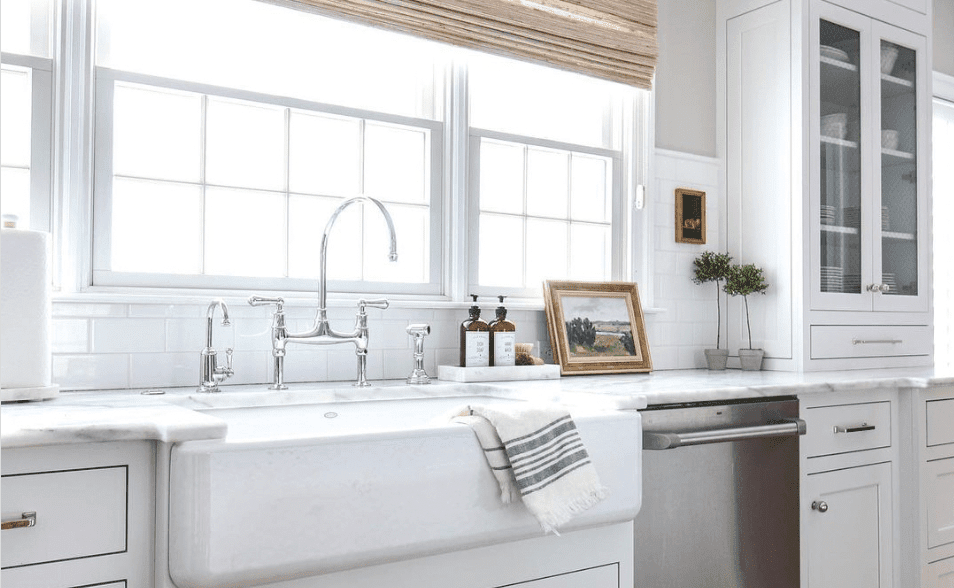 3. Rustic Copper
4. Rustic Brass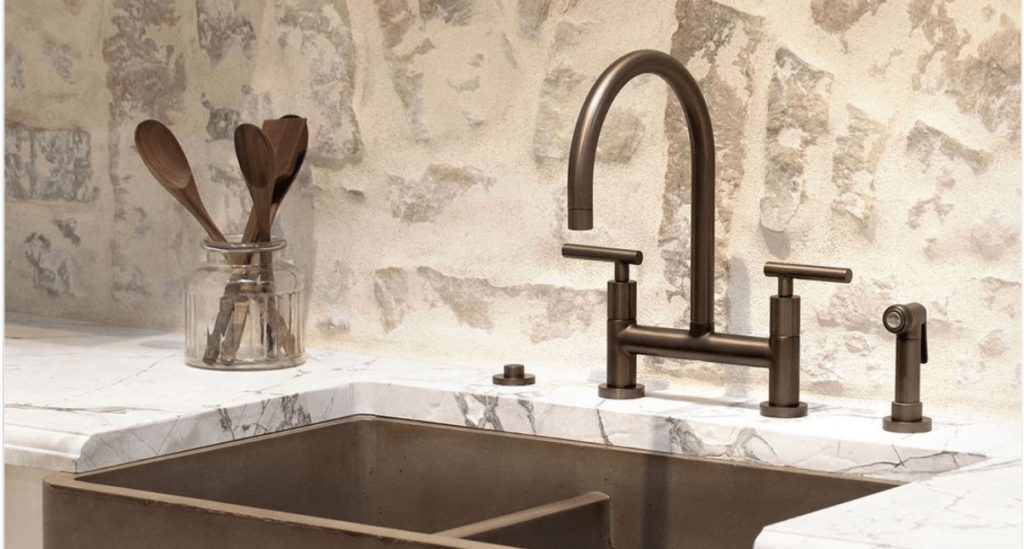 5. Kingston Brass Showstopper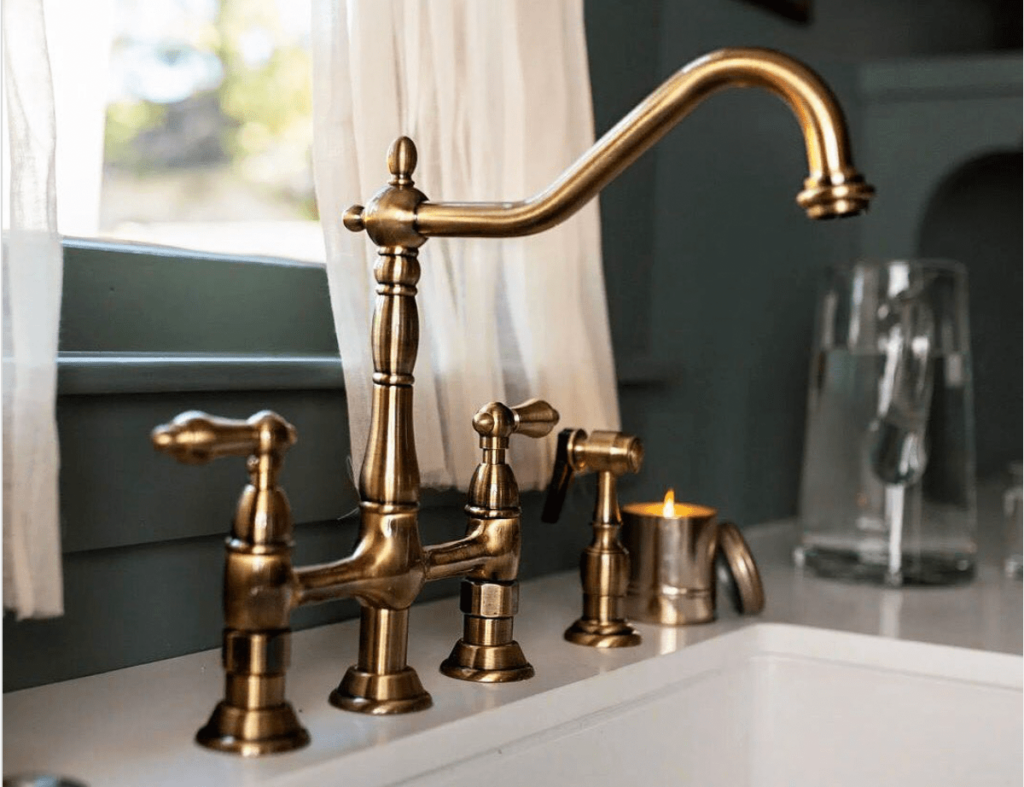 6. Matte Black by Birch Lane
7. Clean and Chrome
---
Final Verdict: Is a Bridge Faucet Right for you?
Bridge faucets are a great purchase if you can afford them and if you're comfortable with some of the cons that come with them. They are super unique and can definitely be a high-end touch to a bathroom remodel.
There are way more design options these days for bridge faucets so you can be sure to find one that meets your style and aesthetic.