This post may contain affiliate links. If you use these links to buy something we may earn a small commission. Thanks.
Picking a new faucet or bathroom appliance is a big decision! They're expensive and the last thing you'll want to do is replace it in 2 years.
Finding the right faucet starts with finding the right brand. Each major brand will have different pros and cons.
Today I'll be comparing Grohe vs Hansgrohe faucets so that you can pick the one right for you.
The good news is that you can't go wrong. Grohe and Hansgrohe are both fantastic brands and make high quality products that are durable, beautiful, and perform well.
I'll tell you up front that Hansgrohe is our winner. They've got more models to pick from and better technological features. And they also have more affordable options than Grohe.
Both brands are high quality, but they have different strengths and weaknesses.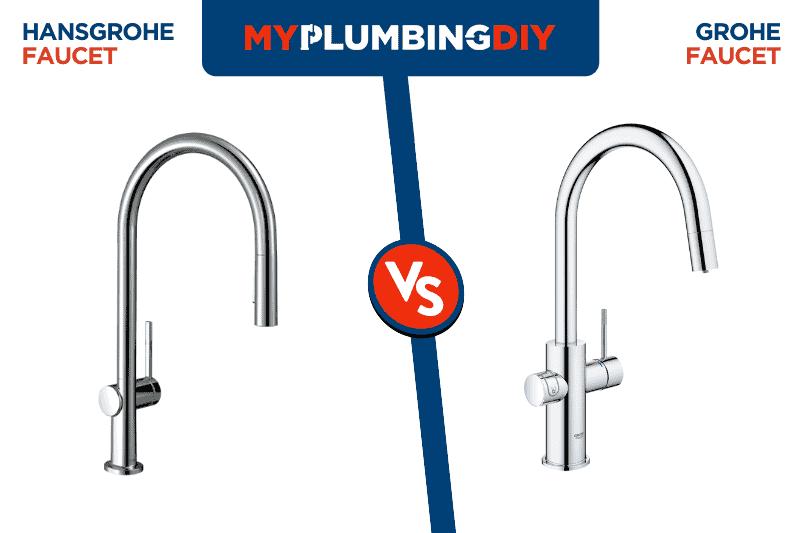 ---
Grohe vs Hansgrohe: What's the difference? Are these the same companies?
Hansgrohe and Grohe are like Father-Son companies. Hansgrohe was founded in 1901 by Hans Grohe with a focus on tin shower fixtures and products. It was meant to be a cheaper alternative to taking full baths.
The company is still operated by the Grohe family. They've expanded to cover all plumbing products and were recently bought by Masco corporation who also owns Delta and Kraus.
In 1936, Freidrich Grohe (Hans' son) left his father's company and starting running a faucet manufacturer, Berkenhoff & Paschedag.
In 1948, the company officially changed its name to Friedrich Grohe Armaturenfabrik. A few years later, the company purchased Carl Nestler, a celebrated faucet and thermostat producer, the first of its many acquisitions.
Grohe and Hansgrohe are not the same company.
---
Quick Summary: Which Brand is the Right Pick for You?
Grohe is best for…
High-end kitchens and bathrooms – If you are trying to outfit your bathroom and kitchen with high-end products for future resale or to fit in a certain neighborhood, Grohe faucets are a great choice.
Hard water environments – Grohe does intensive testing with hard water to make sure their faucets will be durable in the harshest conditions.
Environmentally friendly consumers – Grohe is committed to going zero with carbon emissions. They have reworked their manufacturing to produce as little C02 emissions as possible and they have two initiatives to offset these minimal outputs.
Hansgrohe is best for…
Stunning Designs – One of the biggest strengths of Hansgrohe is its gorgeous kitchen and bathroom designs. Each product is a work of art in its own right.
High Production Standards – By keeping their original production base still within Germany, Hansgrohe maintain high standards and quality assurance on all products that they manufacture.
Diverse Styles – Regardless of whatever type of style a customer might be aiming for, whether that be modern or traditional, Hansgrohe's diverse styles help everyone find what they are looking for.
Grohe
Hansgrohe
Price
$$$$
$$-$$$$
Technology
Water conservation
Water conservation
Design
Sleek & Modern
Wide variety
Finishes
Bathroom: 7
Kitchen: 7
Bathroom: 9
Kitchen: 8
Models
Bathroom: 82
Kitchen: 38
Bathroom: 545
Kitchen: 156
Warranty
Limited lifetime warranty
Limited warranty (5 years)
---
Grohe Overview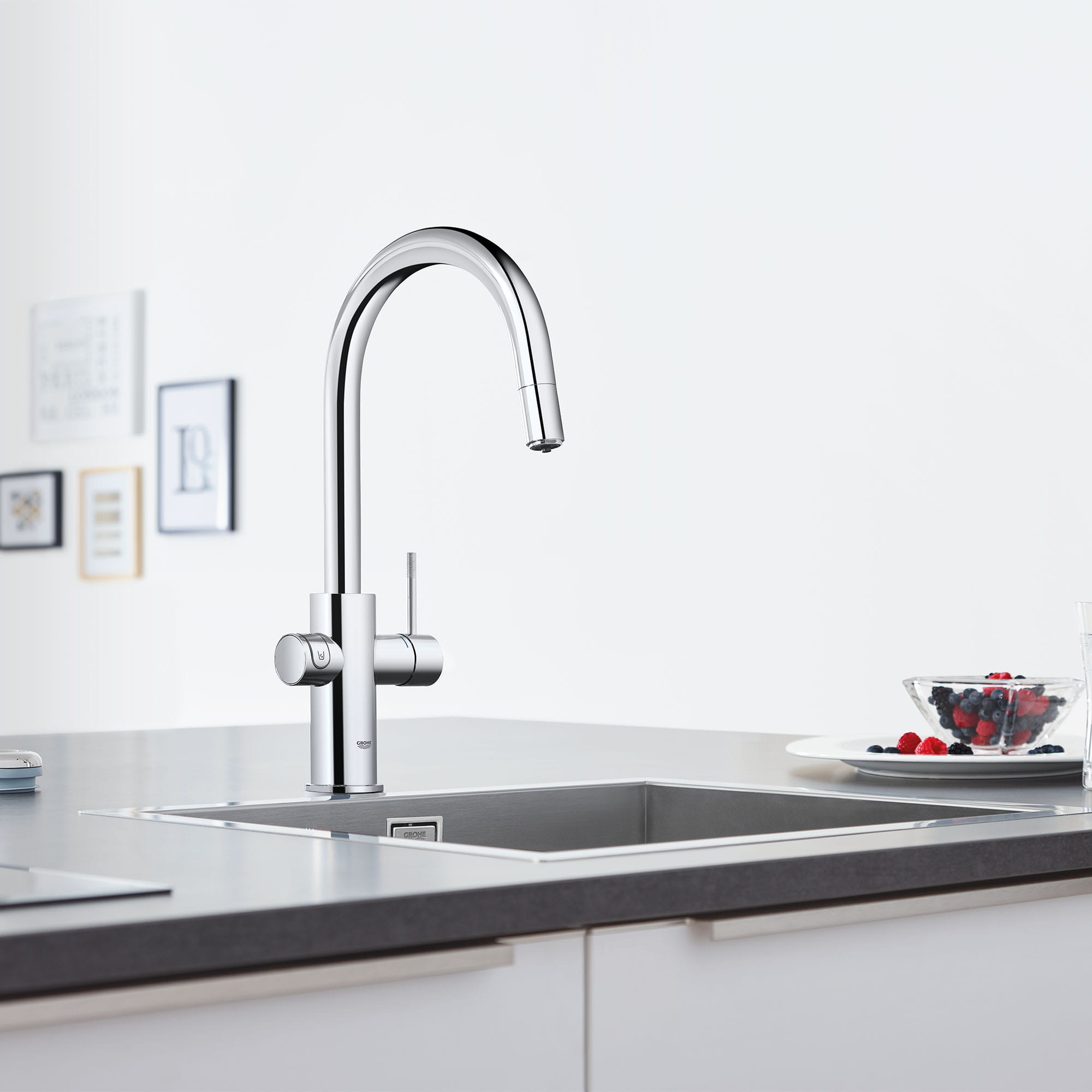 Grohe is a luxury, high-end faucet brand. I've never personally used any of their products, which is a shame because they are incredibly sleek looking.
I'm a big fan of using American made faucets and products, but we aren't the only country with elite manufacturing. Grohe is a German brand that is known for incredibly high quality. They've been around since the early 1900's and are one of the most reputable brands in Europe.
In just the past ten years, Grohe has been awarded more than 240 design and innovation awards as well as a top three placement among "Germany's most sustainable major companies of 2015".
This company used to be part of Hansgrohe, but the son, Friedrich Grohe, broke away from his father's company to start his own product line.
The brand positions itself as an innovative, modern bathroom and kitchen fixtures brand with a specific emphasis on being the best bathroom fixtures brand.In 2014, the Grohe faucet brand was bought by LIXIL who owns a number of other leading brands like American Standard. They are incredibly innovative when it comes to water technology.
Pros and Cons of Grohe
Pros
German made – Germany is known for elite manufacturing and attention to detail that produces high quality products.
Environmentally friendly – Grohe is one of the leading companies in water conservation and environmental efforts. Buying Grohe product is supporting environmentally-friendly manufacturing.
Design – Grohe products are simply beautiful. If you like minimalistic and sleek designs, these are for you.
Cons
Expensive – Grohe faucets are at the high-end of the market. The majority of their faucets are $400-600 range.
Limited finish options – Grohe only offers seven different finishes for their bathroom and kitchen faucets.
---
Hansgrohe Overview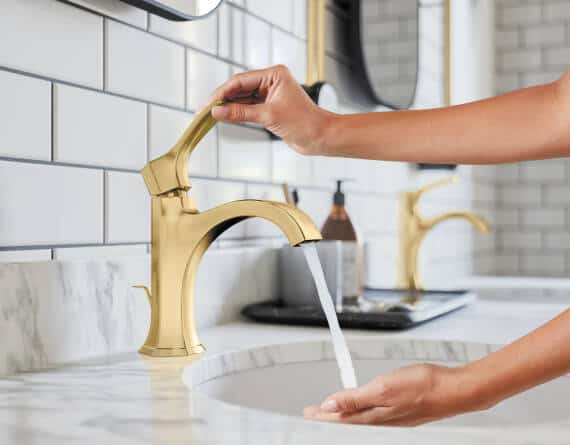 I personally don't have any experience owning Hansgrohe products, but one of my best friends does. They recently renovated their bathrooms so I had him write a mini-review of Hansgrohe.
"I've been using Hansgrohe products in my home for quite some time now. And I'll be honest, they're the first brand that I think of when attempting to upgrade or renovate my kitchen or the bathrooms within my house.
The reason why I feel like I can trust Hansgrohe is that they're one of the world's largest kitchen and bathroom faucet manufacturers. And they offer a staggering variety of faucets for homeowners, like myself, and businesses."
Hansgrohe is known for their minimalistic design. If you are designing a kitchen or bathroom and want to go with a modern or minimalist aesthetic, Hansgrohe is for you.
And it's not just their designs that are top-notch, but Hansgrohe is known for its high quality, functionality, durability, and finishes in the plumbing industry. Hansgrohe does have facilities in the states so they do have some kitchen faucets made in the USA!
The company has a long and storied history. Hansgrohe was initiated in 1901 by Hansgrohe, the head of the Grohe family.
They made essential innovations in bathroom and shower fixtures and were keenly responsible for transitioning from bathtubs to showers, as a means of increasing affordability.
Hansgrohe's innovative journey began with the hand shower and then continued with developing wall panels that made way for the modern shower we all use now.
I can only imagine how forward-thinking this change might have been back in 1953. Since then the brand has moved on to introducing water-saving products and new technology of all kinds.
Something I've been a fan of has been the introduction of the luxury brand Axor for exclusive high-end bathroom collections.
Pros and Cons of Hansgrohe
Pros
High-Quality products – Hansgrohe, without a shadow of a doubt, manufacture some of the most high-quality products available on the market.
Large Variety of Styles – Hard to argue that Hansgrohe doesn't have the most versatile style in the market. Regardless of your personal preference, you'll find something you'll like at their stores.
Trust-worthy – The company has been at the forefront of the industry for over a century now. Their brand loyalty is everything to them, and it is one of the reasons why they are so trusted by their consumers, myself included.
Simple Installation – Unlike much of their competition, the Hansgrohe product line is quite simple to install into your kitchen or bathroom. And doesn't require you to spend any more time than necessary to get these products working for you.
Cons
Delicate Construction – Without a doubt, one of the most important disadvantages of the Hansgrohe product line is that their faucets are incredibly delicate. Although the individual pieces are high-quality, they can be broken easily if unnecessary, excessive, force is used on them.
Expensive – Although much of their product line is priced reasonably, some of their products such as those under the Axor luxury brand are priced incredibly high. This makes them quite unattainable for the average person.
---
Grohe vs Hansgrohe: Feature Comparisons
We've done a deep dive on Grohe vs Hansgrohe features to compare for you. If you're at all interested in Kohler, we have another comparison that would help you: Kohler vs Grohe faucets.
1. Price
Honestly, neither of these brands are "winners" when it comes to price. Both are high end brands with high end prices. Hansgrohe has some extremely high end luxury faucets, but they've also got a bit more selection at the sub $200 price point.
Grohe
Grohe is a luxury brand and their products are priced accordingly. They have two main price tiers on their website ($100-$499 and $500-1000).
We did a deep dive and found that the majority of their faucets are right in the middle, $400-600.
Hansgrohe
Many of the Hansgrohe products are reasonably priced. Some of their faucets range from $165 to $350.
However, their Axor luxury products are far more expensive. Their luxury line-up can range up to over $1500.
2. Design
Both companies invest a lot of effort into design which is no surprise given that they are luxury brands. German companies also put more focus on aesthetics and having a sleek design.
If you're going for a modern or minimalist aesthetic, either of these companies would be a great fit.
Grohe
Design might be the #1 quality of Grohe faucets. They spend more money and effort into faucet design than most other brands.
Grohe has a unique design philosophy with three elements that can immediately help a consumer identify their products. The products always include a ring that highlights the functional area, faucets with a seven-degree angle that is said to improve the user experience. They would call their design style "sensual minimalism."
They are so obsessed with product design that they tested the optimal angle of a faucet and determined it to be 7 degrees instead of a straight 0 degree angle like most other brands.
The style of Grohe products is classic and sleek. If you have a modern home and want a modern, ergonomic design in kitchen and bathroom fixtures, this is the best choice.
Hansgrohe
When it comes to design, Hansgrohe has quite a variety on offer for their customers. Their products range from single-handle pull-down faucets, single-handle pull-out faucets, 2-spray, high-arc, pot fillers, and much more!
However, this doesn't mean that their designs are only simplistic or basic, but Hansgrohe consists of designs that accommodate all tastes. If you're someone with a more opulent, luxurious taste, you may want to choose Hansgrohe.
3. Technology
When it comes to technology, it's a total tie. Both companies are focused on being environmentally friendly when it comes to water conservation. It's not a shock that they share this value because these companies used to be together.
Grohe
Grohe is one of the leading companies in faucet technology. Since their merger with LIXIL, they've become even more advanced.
Here are some of their technological features:
Blue technology – Grohe offers a "Blue Technology" for some faucets which has the ability to filter out and create extremely clean water and it can even be sparkling.
Thermostat mixers – Help get the temperature you want in less than 3 seconds
SpeedClean – Grohe faucets also require minimal cleaning and maintenance for longer use, because of their speed cleaning technology.
Touchless – They offer touchless technology for only their kitchen faucets.
Sense tech – Ensures waters is not leaking where it shouldn't be, and there is less risk of a pipe bursting.
Hansgrohe
Hansgrohe has been a pioneer of new technologies within this industry for a very long time. It is this innovation precisely why I rate them so high among their competitors.
RainTunes® tech – One of Hansgrohe's principal technologies. It turns regular showers into a lot more fun through various water effects, visual effects, fragrances, and music!
AirPower® – Another revolutionary technology introduced by Hansgrohe. The faucets with this tech mix water with air for a smoother delivery and stronger faucet flow rate.
QuickClean® – An addition for those that don't wish to take long drawn-out showers. The jet nozzles quickly and efficiently cut your cleaning time in half.
MagFit® – A hand spray technology that adds a lot more flexibility to your cleaning through detachable, extendable, hand sprays.
EcoSmart® – This technology by Hansgrohe ensures that your water consumption is at a minimum. And you can regulate your water consumption to best of your ability.
As you can very well see, there are several innovative and explorative technologies available within the Hansgrohe brand that truly set it apart from all others.
4. Finishes and colors
Neither company has an incredibly wide variety of faucet finishes. Hansgrohe has slightly more options, but Grohe has more unique finish choices to pick from.
Grohe
Grohe offers a somewhat limited variety of finish options, but that's somewhat normal for high-end brands. They usually specialize in a few finishes. Grohe offers 7 different bathroom faucet finishes to pick from and 7 finishes for their kitchen faucets.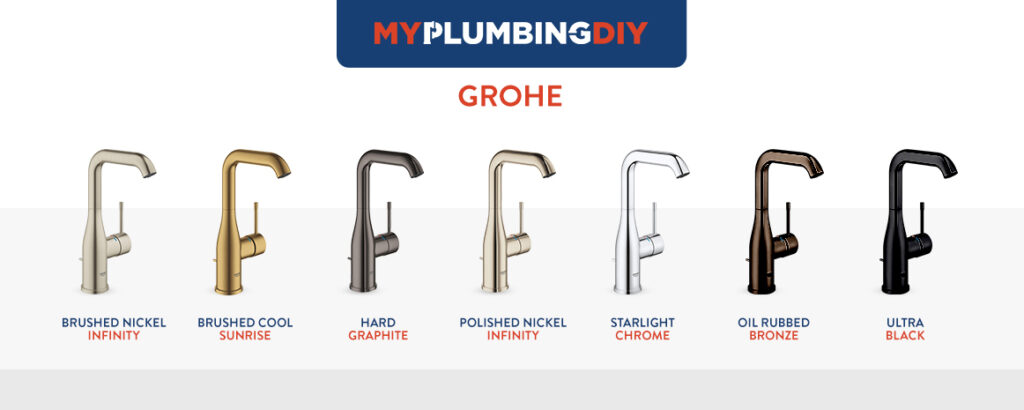 Hansgrohe
Hansgrohe also offers finishes such as chrome, brushed nickel, matte black, and polished nickel. They have also introduced their colorful range of color finishes giving them an edge in finish creativity.
Hansgrohe's massive design catalog is reflective of its vast finish options. They have 8 different options available for their kitchen faucets. And have a respectable 9 different options for their bathroom faucets.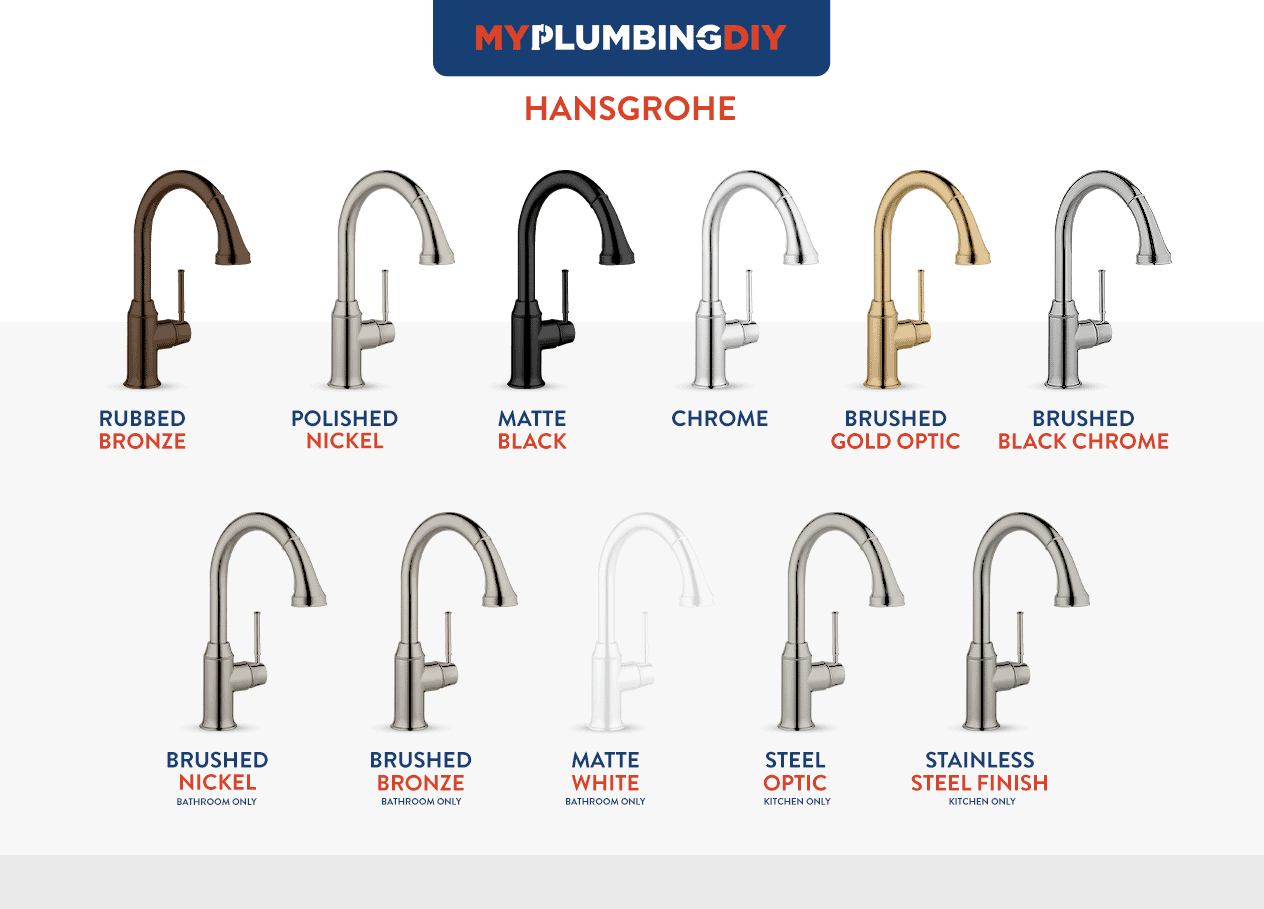 5. Models
Grohe is much more limited on their faucet selection with only 120 total options. Hansgrohe has significantly more to pick from, especially in the bathroom!
Grohe
Grohe is fairly limited in their selections to pick from. They have 82 different bathroom faucets to pick from and only 38 different kitchen faucet options. Compared to most brands, this is very little. The big American brands usually have several hundred models.
Hansgrohe
Hansgrohe has 156 kitchen faucet options to pick from and a staggering 545 bathroom faucet models available. This is a testament to their innovation, creativity, and ingenuity when it comes to the art of creating faucets.
6. Warranty
Most of the warranties we've seen offered by different faucet companies are the exact same. Most faucet brands have a lifetime warranty, but Hansgrohe might be an exception to this? It's a bit tricky. Their global company and USA based company have different warranty information.
Grohe
Grohe offers a limited lifetime warranty on mechanical parts and a five-year warranty on electronic faucets and valves. This doesn't cover normal "wear and tear" that you'd expect to see. This warranty also only covers the original owner of the faucet.
Hansgrohe
Hansgrohe's warranty information is not super easy to understand. Their USA based website states that they have a limited lifetime warranty. This is similar to most what most companies offer where the warranty covers parts and stuff as long as it's not regular wear and tear.
Their global company only offers a 5 year warranty.
We've reached out to the company and will report back what they share with us.
---
Common Questions about Grohe and Hansgrohe
Is Grohe more expensive than Hansgrohe?
Hasngrohe is more expensive than Grohe on average, but they have a wider selection and have more faucets in the cheaper end of the price range.
Is Grohe or Hansgrohe cheaper?
Hansgrohe has cheaper options than Grohe, but overall Hansgrohe is more expensive than Grohe,.
Which is better Grohe or Hansgrohe?
I believe that Hansgrohe is better than Grohe. They have more technological innovation and a wider selection of faucets to pick from.
Did Grohe or Hansgrohe come first?
Hansgrohe was founded in 1901 and in 1936 Freidrich Grohe broke away from his father's company to take over a competitor.
---
Final Verdict: Should You Buy a Grohe or Hansgrohe Faucet?
Grohe and Hansgrohe both create amazing plumbing products. They are german companies who make exceptionally high quality products. Their focus on design and manufacturing have made them some of the best faucet brands in the world today.
If we had to pick one brand to go with, we'd go with Hansgrohe. They have more faucet models to pick from and are more established.
I hope this Grohe vs Hansgrohe comparison helped you decide which brand is right for you!
We've also done a comparison of Grohe vs Moen if you need more help picking the right brand for you! If you want to check out a couple more high end faucet brands, look at our Kraus vs Vigo comparison.