This post may contain affiliate links. If you use these links to buy something we may earn a small commission. Thanks.
Picking out a new faucet for your bathroom or kitchen has never been more complicated.
It used to be that you just drove to Home Depot and picked one you liked and installed it.
Now you have to figure out all these different variables: how many holes, what kind of faucet spread, 4 inch vs 8 inch, different brands, different mounting, technological functions, blah blah blah.
It's exhausting honesty.
Our team has done a ton of work to research, compare, review the faucet industry. We've tried to simplify your buying process as much as possible.
Today we're doing a centerset vs single hole faucet comparison.
If you go on a faucet brand's website, these are probably some of the different types of bathroom faucets you've seen. We'll show you the differences (with side by side pictures) and tell you the pros and cons of each one.
We renovated our bathrooms a couple of years ago and ended up going with centerset faucets. They look better and take up the same amount of space. The only downside is they're a bit more expensive.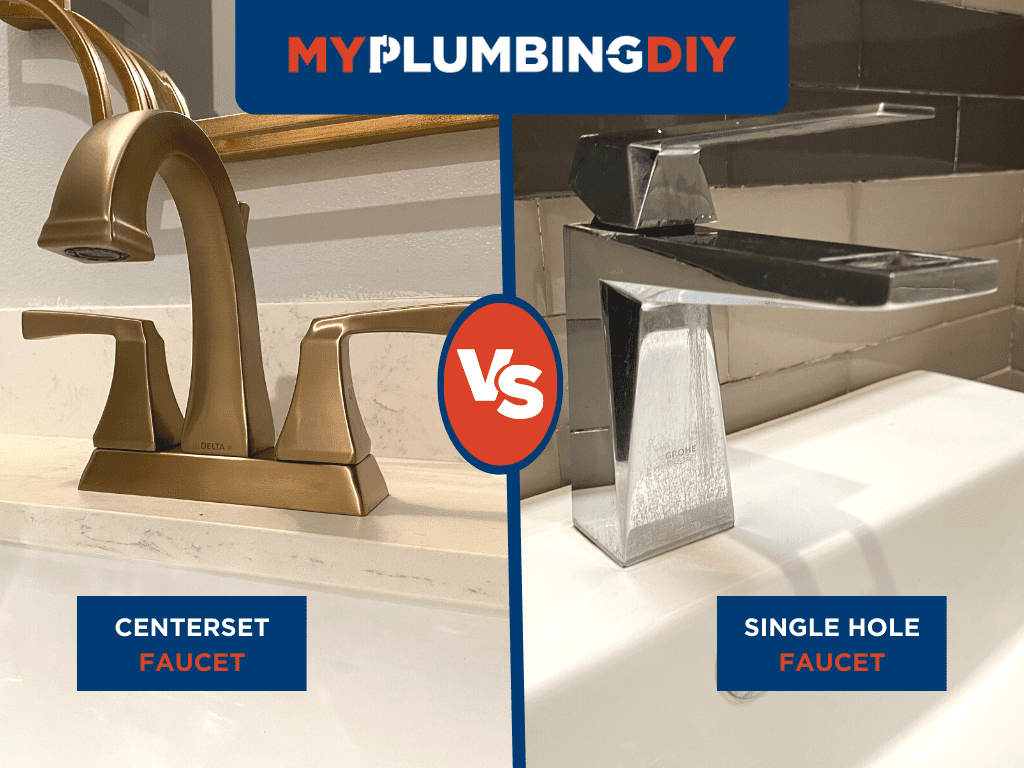 ---
What is the Difference Between Centerset and Single Hole Faucets?
The main differences between centerset and single hole faucets are the handles, faucet spread, and the number of holes that are drilled.
Three big differences:
# of holes – Centerset faucets have 3 holes while single hole faucets have 1.
# of handles – Centerset faucets have separate handles for hot and cold. Single hole, single lever faucets have one.
Spread – Centerset faucets have handles that are separate from the spout while single lever faucets have it attached.
Centerset faucets come with a faucet spout and a handles that are attached to a deckplate. Three holes are drilled into the sink or countertop to install the faucet.
Centerset faucets have two separate handles that control hot & cold water separately.
Single hole faucets are installed with one hole drilled and traditionally have one faucet handle that is attached to the spout. This single handle controls both hot and cold water.
Most single hole bathroom faucets look like the picture above, but there are other design options out there.
Technically, some centerset faucets are actually single hole faucets. They just drill one bigger hole that they deckplate inserts into.
---
Comparison Chart: Centerset vs Single Hole Faucets
I've done a quick breakdown of centerset vs single hole faucets so you can decide which one is right for your bathroom.
| | | |
| --- | --- | --- |
| | Centerset | Single hole, single handle |
| Best For | Smaller bathrooms, compact spaces | Great for kids, guest bathrooms, not high-end. |
| Faucet handles | Separate from spout | Attached to spout |
| # of Handles | Single or double handle | Single handle |
| # of holes | Normally three, but can be one | One hole |
| Installation | Very easy | Easiest |
| Price | Average price | Cheapest option |
It's worth saying that what we're really comparing are centerset faucets and single lever bathroom faucets.
Single hole faucets in the kitchen look completely different.
---
Which One is Right for You? Choosing Between a Centerset and Single Hole Faucet
If you have the opportunity to design your bathroom exactly how you want it, I recommend going with a centerset faucet.
Actually, in all honesty, I wouldn't recommend either of these! I personally love widespread faucets because they look sleek and modern and are a great touch for a master bathroom.
But if you're looking for a faucet for a smaller bathroom for guests or kids, I recommend a centerset faucet. They look better than single hole, single lever faucets.
Existing holes
If you're replacing a faucet then you honestly don't have much of a choice. You just need to buy whatever you had before hand.
If you had a single hole faucet, you could drill a couple more holes to make a centerset faucet fit your sink. If you had a centerset, then you could replace it with a single hole faucet as long as you had a deckplate that covered the holes.
Cost
If you're picking out a new faucet, then price is definitely a factor. Faucets are one of those appliances that are surprisingly expensive. Centerset faucets will cost you more than single hole lever faucets.
Faucets attached or not
Centerset faucets come with the spout and handles each attached to a deck plate. The deck plate is the piece of metal/material that is attached to the sink. The handles themselves are separated by a couple of inches from the spout.
A single lever faucet is usually situated right behind or on top of the faucet spot.
Sink Compatibility
Centerset and single hole faucets take up about the same amount of real estate. They are both great for small bathrooms. A single lever faucet is probably the better fit for really small or shallow sinks.
---
Pros & Cons of Centerset Faucets
A 4-inch centerset faucet is one of the smallest designs you can find. They are the ideal option if you don't have enough room for a full-sized widespread faucet.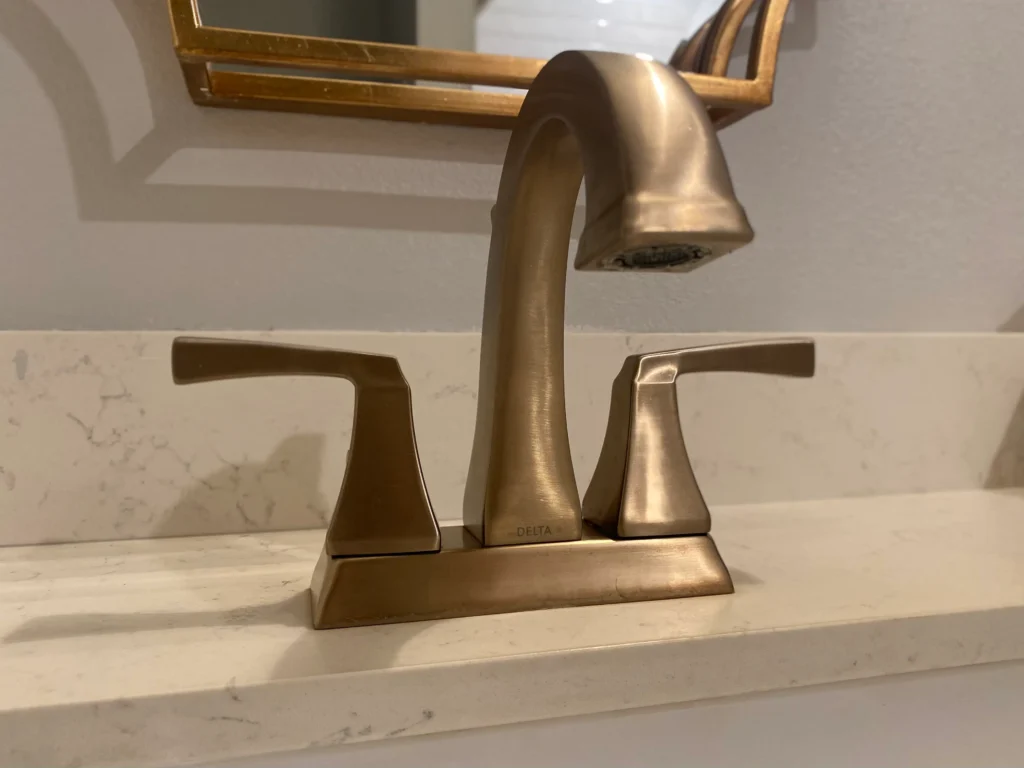 Pros:
Compact design – Centerset faucets take up less space than widespread faucets and fit better in smaller bathrooms or smaller sinks.
Cheaper – Centerset faucets have a simpler design and are typically cheaper than widespread faucets.
Easy installation – These faucets are easier to install because you don't have to worry about lining up three separate holes like you do for the widespread. Just get the deck plate in the proper place and you're good to go.
Cons:
Basic design – The centerset faucets look better than single handle, but they don't look as good as widespread faucets (in my opinion!).
Difficult to clean – It can be tough to clean in the small gap between the faucet handles and spout.
Not suitable for large sinks – If you have a big sink or a larger bathroom vanity, a centerset faucet will look awkward.
---
Pros & Cons of Single Hole Faucets
A single hole faucet is one of the smallest designs you can find. They are the ideal for kids or if you don't have enough room for a full-sized widespread faucet
Pros:
One handle – Provides a more minimal look.
Easy for kids – Kids might have a hard time balancing the hot and cold water between two different faucets. A single lever makes it easier for them!
Good for small bathrooms – The smaller size and configuration, makes single hole faucets better for small bathrooms or small sinks.
Easier install – You only need one single hole in your slab or sink, while a centerset faucet will require three.
Cons:
Can look cheap – Sometimes single lever faucets can look sort of cheap. And honestly, that's because they are. They're the cheapest kind of bathroom faucet you can get.
---
Common Questions About Faucet Spreads
Are single hole and centerset faucets the same?
Centerset and single hole faucets are not the same. Centerset faucets come with 3 holes and single hole faucets only have one. They also have a different number of handles and design.
Can I replace centerset faucet with single-handle?
You technically could replace a centerset faucet with a single handle bathroom faucet as long as the deckplate covered up the existing holes that were being used for the handles.
Do centerset faucets need 3 holes?
Yes, centerset faucets require 3 holes, one for the spout and one for each of the handles.
Can you use a centerset faucet on a single hole sink?
A single hole sink wouldn't have enough holes to fit a centerset faucet, but you could drill 2 more holes for the handles if you were really wanting to change your design.
---
Final Thoughts: Is a Centerset or Single Hole Best for your Bathroom?
Centerset and single hole/lever faucets are some of the most popular faucet choices on the market.
I hope this centerset vs single hole comparison helped you figure out exactly what you need for your bathroom.
If you're replacing a faucet, it's crucial that you measure your faucet spread and pick the right one.
If you're designing a small bathroom from scratch, I highly recommend going with a centerset faucet if you can make it fit your bathroom aesthetic.