This post may contain affiliate links. If you use these links to buy something we may earn a small commission. Thanks.
Picking out a new faucet for your bathroom has become ridiculously complicated.
It seems simple until you start researching and then you get overwhelmed with all the different variables: how many holes, what kind of mount, different brands, technological features, finishes, blah blah blah.
Today I'm going to walk through the different types of bathroom faucets you can pick from.
My wife and I renovated our bathrooms a few years ago and it was almost comical how different faucets there are out there. The abundance of options made the process more difficult.
I've written super in depth guides on all the different kinds of bathroom faucets and we've compiled all the highlights into this ultimate guide so that you can find the perfect faucet for you.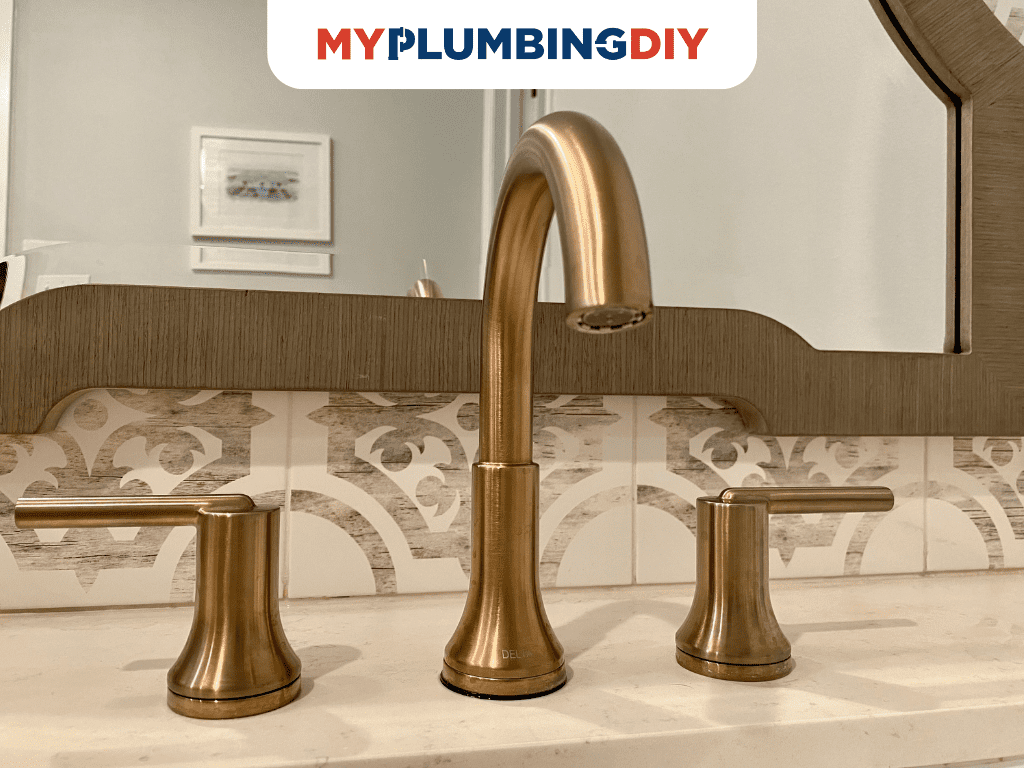 ---
Comparison Chart: 6 Different Types of Bathroom Faucets
Here's a quick overview of the different types of faucets summarizing the factors we looked at in our research. Each style is unique. There's no absolute "best" type of faucet, but rather each one might be the best for certain people or bathrooms.
| | | | | |
| --- | --- | --- | --- | --- |
| | Installation | # of holes | Bathroom size | Price |
| Centerset | Medium | 1 or 3 | Any size | $-$$ |
| Widespread | Medium | 3 | Bigger | $$ |
| Single handle | Easiest | 1 | Small | $ |
| Wall mount | Hardest | 1 or 3 | Any size | $$-$$$ |
| Deck mount | Mixed | 1-3 | Any size | $-$$$ |
| Bridge | Easy | 3 | Any size | $$$ |
Here are a few of our high level takeaways on the different types of bathroom faucets after countless hours of research:

People on a budget – If you're on a tight budget, go with a single handle lever faucet.
Wall mount vs deck mount – We strongly recommend getting a deck mounted faucet. They are cheaper, easier to install, and just as high of quality. Read more: Wall mount vs Deck mounted faucets
Centerset vs Widespread – I love widespread faucets and think they are an elevated aesthetic over centersets. Go with the widespread if you've got the room for it. Read more: Centerset vs Widespread faucets
Bathroom for kids – If you're buying a faucet for your kid's bathroom I recommend getting a single handle lever faucet. They're the easiest to use and the easiest to clean.
Guest bathroom – I'm a big fan of bridge faucets if you're designing a bathroom for guests. Keep the rest of the design minimal and let the faucet do all the work at impressing them.
Once you know what type of bathroom faucet you want you need to check out our full list of the best faucet brands. Getting the right brand makes all the difference.
---
Deep Dive On the 6 Most Popular Types of Bathroom Faucets
There are 6 different types of bathroom faucets that I've researched, reviewed, and tested. In our own home, we ended up going with centerset faucets in our guest bathroom and widespread faucets in our master bath. All of our faucets are deck mounted.
1. Centerset Faucets
A 4 inch centerset faucet is a type of bathroom faucet designed to combine the spout and handles into a single unit. The handles and the spout itself will be installed onto the same deck plate. 4 inches is the measurement from the middle of one handle to the middle of the other handle.
Centerset faucets can come as one hole, two holes, or three hole faucets. The most common style of drilling is three holes: One for the center spout and one for each faucet handle.
Quick take: Centerset faucets are perfect for smaller bathrooms!
Centerset faucets are one of the most popular types of bathroom faucets. The compact design of a centerset faucet makes it great for bathroom sinks in small bathrooms. It's also great if you're trying to fit a double vanity in a guest bathroom.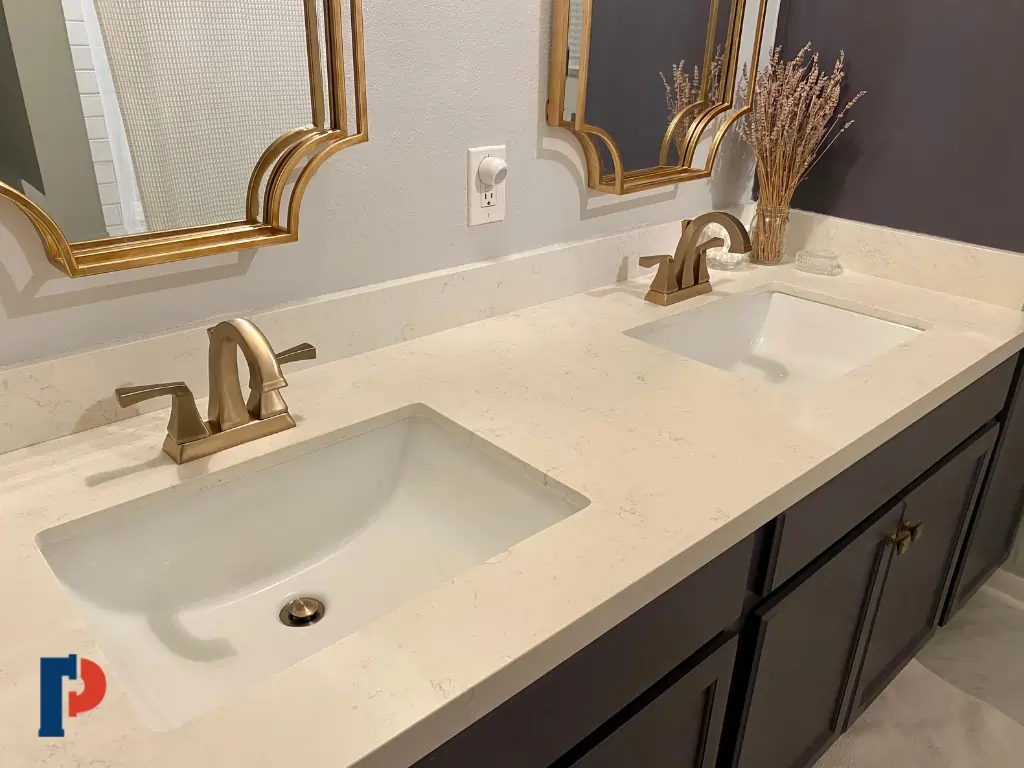 Pros and cons of centerset faucets
Pros
Compact design – 4 inch faucets take up less space than 8 inch faucets and fit better in smaller bathrooms or smaller sinks.
Cheaper – Centerset faucets have a simpler design and are typically cheaper than widespread faucets.
Easy installation – These faucets are easier to install because you don't have to worry about lining up three separate holes like you do for the widespread.
Cons
Basic design – The centerset faucets look better than single handle, but they don't look as good as widespread faucets (in my opinion!).
Difficult to clean – It can be tough to clean in the small gap between the faucet handles and spout.
---
2. Widespread Faucets
Widespread faucets are a type of faucet where the spout and two handles come come with separate handles. They are not connected and they are not mounted onto a base plate. Widespread faucets come with a wider faucet spread than centerset faucets.
If you measure the distance between the middle of each faucet handle, it will normally be 8 inches, but that distance is adjustable. Some really big bathroom sinks or vanities might have up to a 16 inch spread.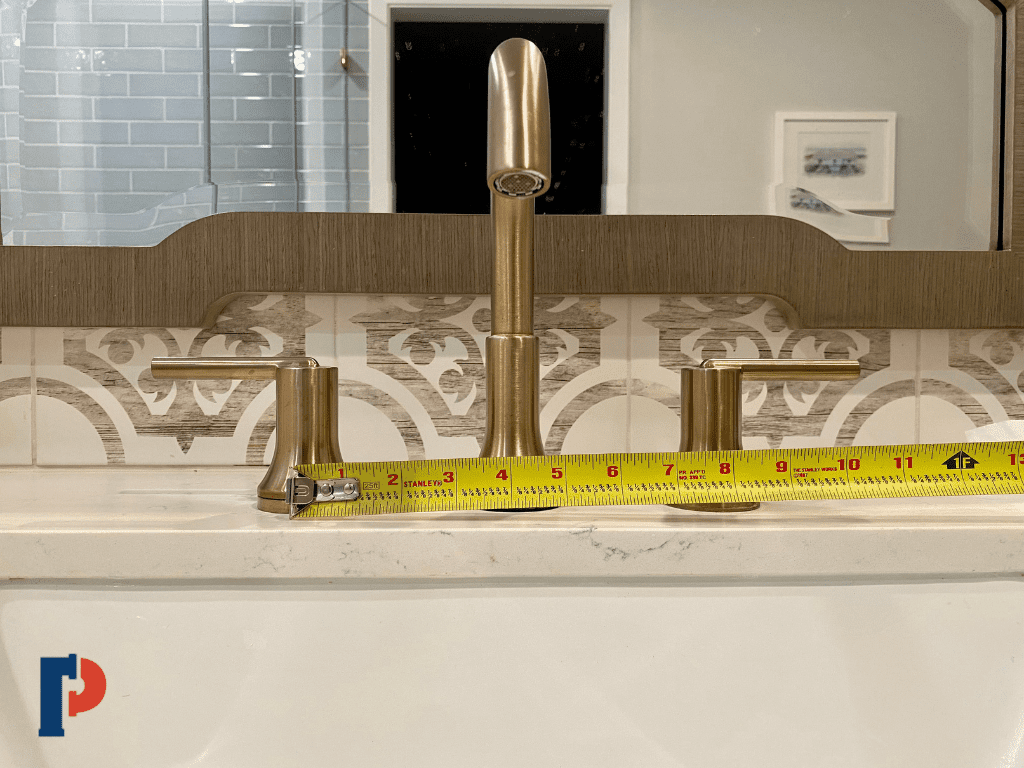 Widespread faucets are one of the most popular types of bathroom faucets. The wide design makes it great for larger bathrooms and spacious vanities. If you're going for a high end look or a modern aesthetic, this is the right faucet for you. Most widespread faucets use stem faucets as the internal mechanism.
Pros and cons of widespread faucets
Pros
Modern design – My wife and I love the modern and sleek design that widespread faucets offer.
Great for large bathrooms – The wider faucet spread makes them perfect for larger sinks or vanities.
Adjustable – The handles and spout come separately so you can decide how far apart you want them. 8 inches is standard, but you can make them tighter and do 6 inches. You can also make it wider and go for 12 or even 16 inches.
Extremely popular – If you're looking for a widespread faucet then you're in luck. For most faucet brands, this is one of the most common products which means you'll have lots of styles and designs to choose from.
Cons
More difficult installation – Unlike centerset faucets, widespread faucets don't use a deck plate meaning they can be fairly tricky to install. There are three separate parts that each have to be installed in perfect alignment with each other.
More expensive – Widespread faucets are a bit more intricate and are typically 50% more expensive than centerset faucets.
If you're stuck between a centerset or widespread faucet, check out our guide on 4 inch vs 8 inch faucets!
---
3. Single Handle Faucets (also Called Vessel or Single Hole)
Single handle faucets or lever faucets are one of the most popular types of bathroom faucets. They have one handle that is a lever that can shift left or right, from hot to cold water.
These faucets are easy to install because they are almost always installed using just one singular hole.
Great for small bathrooms, kiddos, and people on a budget!
These faucets take up very little space so they are great for small bathrooms. The single lever is easier for kids to use rather than having to use two different handles for hot & cold water.
They are also the cheapest option for bathroom faucets!
If you are looking to get a simple and affordable faucet then a single hole faucet is your best bet.
Pros and cons of single handle bathroom faucets
Pros
One handle – Provides a very minimal aesthetic.
Easy for kids – Kids could have a difficult time figuring out how to balance cold and hot water from two different faucets. The single lever can make it easier to find the right temp for kids.
Good for small bathrooms – Single levers take up the least amount of surface area which makes them perfect for smaller bathrooms or sinks.
Easier install – You only need one single hole in your countertop or sink while a centerset faucet will require three.
Cons
Boring design – These faucets aren't particularly well designed or impressive to look at.
Can look cheap – Single hole lever faucets can sort of look cheap and that's because they are cheap. These are the most affordable kind of bathroom faucet you can buy.
---
4. Wall Mounted Faucets
A wall mount faucet is mounted on the wall with the faucet spout aimed down into the sink with handles on either side. The faucet holes are drilled into the wall or backsplash with the plumbing supply lines running behind the wall instead of under the countertop.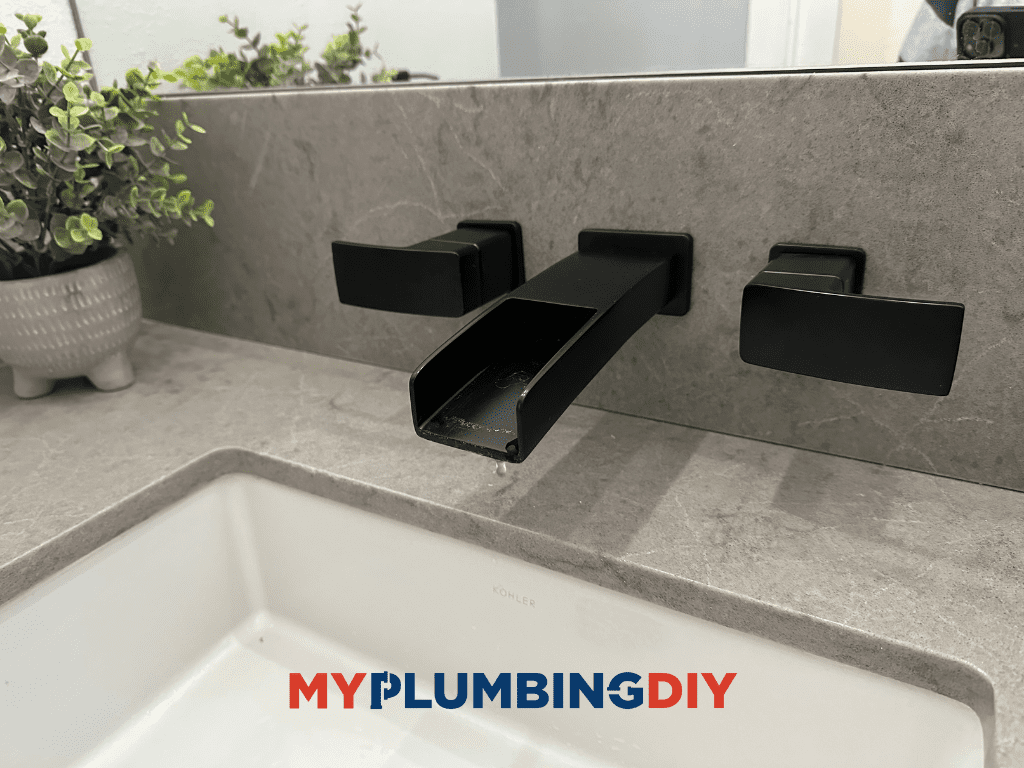 Wall mount faucets are a great choice for higher end bathrooms or smaller bathrooms trying to free up more counterspace. They pair best with vessel sinks or undermount sinks because of the way the faucet must be installed.
Wall mounted faucets are growing in popularity because of the push over the last ten years towards a more modern and minimalist design aesthetic.
These faucets are extremely popular for bathtub faucets, but are becoming more and more common in bathroom sink and kitchen faucets.
Pros & cons of wall mount faucets
Pros
Unique design – The majority of bathroom faucets are deck mount faucets, which makes wall mounted faucets much more unique!
Cleaner – One of the biggest pros of a wall mounted faucets is that they are much cleaner! The wall mount faucets sit above the faucet so they require much less cleaning!
Aesthetically pleasing – I love the look of wall mount faucets. They have a modern-minimalist design that I think is definitely becoming more and more popular.
More room on countertop – The best part of a wall mounted faucet is that you gain more room on your countertop or sink. The space where your deck mount faucet would have been can now be used to store your soap, toothbrush, etc.
Great for small bathrooms – Wall mounted faucets can be great for smaller bathrooms where you need to maximize your functional space.
Cons
Splashing – One of the most common frustrations for owners of wall mount faucets is splashing. You usually don't realize this is a problem until it's too late and your faucet/sink are already installed.
Harder to install – Installing a wall mount faucet is tricky because you have to run the supply lines down the back of the wall behind the sheet rock. Then you have to open up the wall to make sure those supply lines are coming back out to connect into your plumbing pipes.
Cost – The faucet themselves cost about 30-50% more. That plus the added installation cost of hiring it out = more money being spent.
Hard to access for repairs – If you have an issue with water leaking, you'll have to pay a plumber to come in and open up the wall to access the issue. The real challenge though is that you could have a leak in your faucet and be totally clueless. If the lines are behind the wall you'll never see the leak until it's already done a lot of damage.
---
5. Deck Mounted Faucets
A deck mount faucet is installed directly onto your kitchen or bathroom sink or bathtub instead of mounted onto the wall. The deck is the area on the edge of the sink where the faucet can be installed.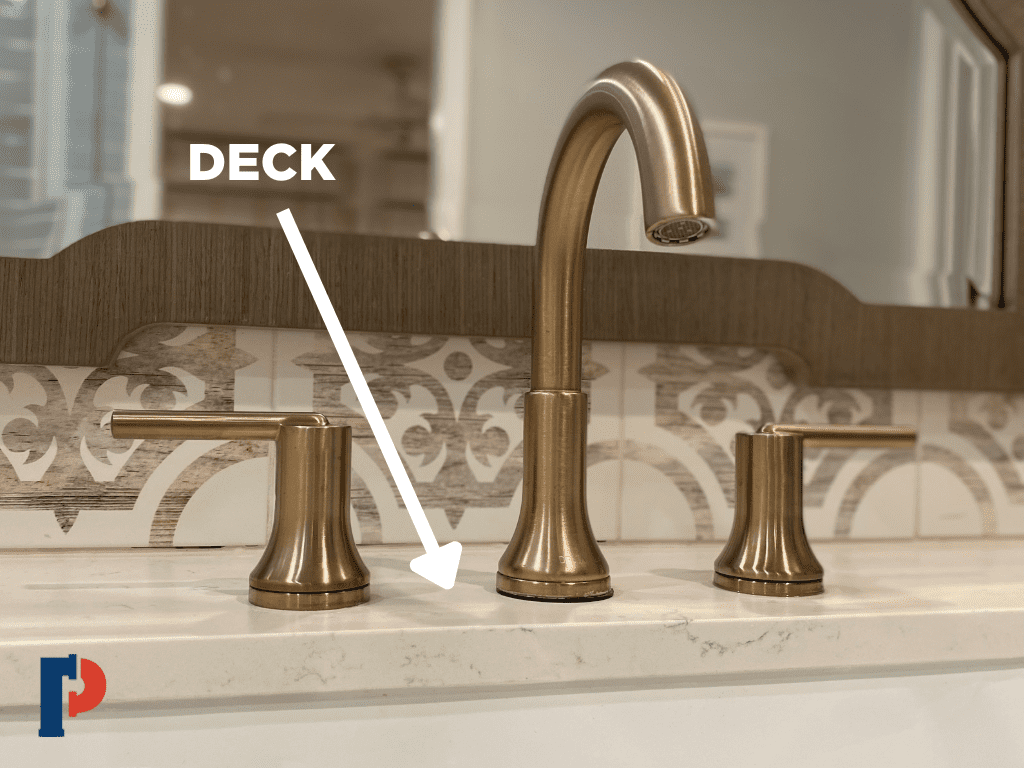 Faucets can either be mounted as a wall mount or deck mount. Wall mounted faucets are more rare because of the more complex installation.
Deck mounted faucets are the easiest to install, easiest to repair, and are more affordable.
Deck mounted faucets have a wide range of design options. You can get them centerset or widespread, single hole or three hole, and all kinds of different handle options.
Pros and cons of deck mount faucets
Pros
Wide variety – Deck mounted faucets are the most popular kind of mount type so they have the widest variety of design options.
Affordable – Deck mounted faucets are more affordable than wall mounted faucets.
Easy to install – Drilling holes into the countertop or sink and running your plumbing underneath the sink is much easier than having to go through the wall and mess with sheetrock.
Cons
Less unique – Deck mounted faucets are the most common, but wall mounted faucets are super unique.
Take up counter space – The faucet is mounted on the counter or sink so it takes up space that could be freed up if you had a wall mounted faucet.
---
6. Bridge Faucets
A bridge faucet comes with two handles – one for cold water and one for hot. These handles are connected by a horizontal pipe that is a few inches above the counter creating a bridge appearance between the faucet handles.
Bridge faucets usually come with three faucet holes and the whole faucet comes in one big piece instead of multiple smaller faucet parts. Some bridge faucets, especially kitchen faucets, may come with an additional hole for a faucet sprayer.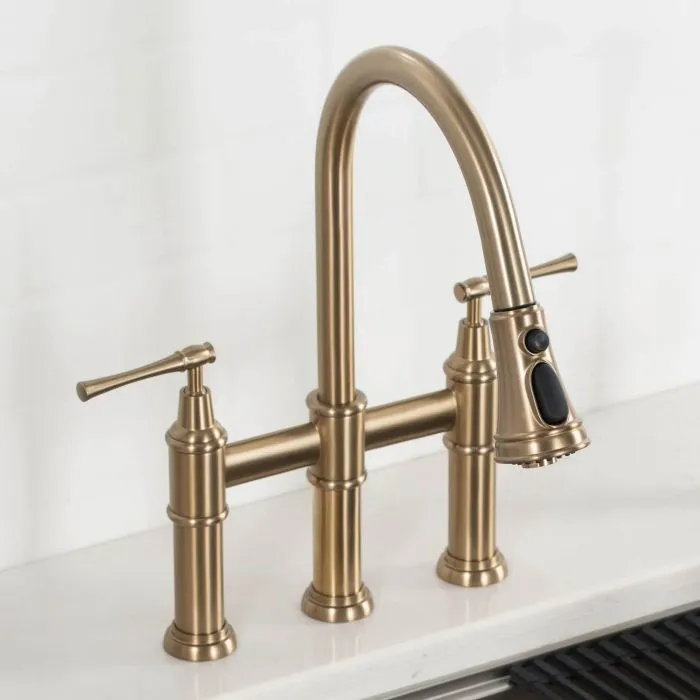 Bridge faucets can be mounted on the wall or on the counter giving you flexibility in how you position it.
Pros and cons of bridge faucets
Pros
Unique style – Bridge faucets are super unique! You don't see them super often so they can be a creative addition to your next remodel.
Variety of handle & spout designs – Bridge faucets have a lot of variety in style and models. Some are super sleek and modern while other faucets are ornate and more traditional.
Easier installation – Bridge faucets come in one whole unit so they are much easier to install. No issue trying to get holes and parts to line up.
No deck plate – The lack of a deck plate can make it easier to install and provide a cleaner looking aesthetic.
Higher faucet reach – Bridge faucets often have a spout handle that arches high up from the counter. The extra space is great if you're trying to wash big pots and pans in your kitchen sink.
Cons
Takes up more space – The design of a bridge faucet often takes up more space. It's similar to a widespread faucet, but the bridge connection and spout are typically bigger.
Harder for kids to control temp – Having separate handles for hot and cold water can be slightly more difficult for kids to control their water temperature.
More likely to splash water – The extra height of the spout can lead to a longer distance between spout and sink. This added height can make it more likely to splash water.
Expensive – Bridge faucets tend to be more expensive than regular deck mounted faucets.
More intricate designs are difficult to clean – Bridge faucets with a more intricate design can be harder to clean than standard faucets.
---
Decision Guide: How to Pick the Best Type of Bathroom Faucet for you?
If you're stuck between a couple different types of sink faucets then read through these five factors to see which one is right for you. Some faucets will be a better fit for certain people or bathroom setups.
1. Existing installation
The single most important factor in deciding which type of bathroom faucet to buy is your existing installation.
If you are replacing a bathroom faucet, then you are much more limited in your options. You need to figure out what kind of faucet you have and buy a replacement that's the same type. Take a look at your existing faucet hole sizes and a faucet that matches.
You could replace your whole sink or countertop, but that's a lot of work + money.
Compatibility tip! You can always drill more holes into your counter, but you can't fill them in once they are there. If you have a single hole faucet, you can drill two more and add a widespread faucet (3 holes).
Read more: Single hole vs Centerset faucets
If you have the opportunity to design your bathroom exactly how you want it, then you've got flexibility. The next factor that matters most is the size of your bathroom and vanity.
2. Size of bathroom & vanity
The size of your bathroom and the vanity that your sink faucet is attached to is one of the most important factors.
Certain types of bathroom faucets are a better fit for smaller bathrooms while others are better for larger bathrooms.
Big bathrooms – Widespread
Small bathrooms – Single handle or Centerset
Either – Bridge, Wall mount, or Deck mount
3. Style preference
You need to make sure to pick a bathroom faucet type that aligns with the rest of your design aesthetic. If you aren't sure what type of design style you're going for, check out this design guide:
Wall mounted faucets – Great for modern design aesthetics.
Bridge faucets – Best for industrial design, but they can also be a good fit for traditional or minimalist styles. Bridge faucets tend to make quite a "statement" so they will look best in a bathroom that's less busy.
Widespread and centerset – Both of these can be found in most design styles.
4. Price
Cost is always a factor when it comes to a bathroom remodel or design. There are multiple costs associated with getting a new faucet. You need to keep in mind 1) the cost of the faucet and 2) the cost to install it.
The cheapest faucet on our list are single handle faucets. These are both the most affordable to buy and the easiest to install yourself.
Wall mounted faucets tend to be the most difficult to install because you have to open up the wall to run your plumbing lines. As much as we love DIY projects, we do not recommend installing a wall mount yourself. This greatly increases the cost of a wall mount.
Many faucet brands will make the exact same style of faucet for different types. We own the Delta Trinsic faucets in both their centerset and widespread designs. The widespread faucets are about 50% more than their centerset equivalents.
Bridge faucets are more expensive than center or widespread because there is more material used to make the bridge. The installation is surprisingly easy because it's one whole unit instead of multiple parts that have to be aligned.
5. Who will be using it?
Be sure to think about who will be using the faucet that you're buying! If you're getting a faucet for the bathroom that your kids use, you'll want to get one that's easier to clean and easier to control the temperature of.
For kids, we recommend getting a single handle faucet so that they don't have to balance temp with two different handles. Single handle faucets are also much easier to clean!
Kids also will have a harder time reaching a wall mounted faucet so I recommend getting a deck mounted faucet for them.
In your master bath, you should plan to spend a bit more money to get a showstopping faucet. I love the look of widespread faucets and bridge faucets for a master bath. These will increase your home's resale value down the road and will be an attractive feature for potential home buyers.
---
Common Questions About Different Kinds of Bathroom Faucets
What are the different types of bathroom faucet?
There are 6 different types of bathroom sink faucets: Centerset, widespread, single handle, deck mount, wall mount, and bridge faucets.
What is the difference between a 2 hole and 3 hole faucet?
The difference between two and three hole faucets is the faucet hole spread and arrangement. Three hole faucets usually have a center hole for the spout and handles on either side.
What type of bathroom faucet is easiest to maintain?
The easiest bathroom faucet to maintain are single handle faucets. They have only one hole, one spout, and one handle. They have the easiest installation and they are the easiest to clean.
---
Final Verdict: Which Type of Bathroom Faucet is Right for you?
There are 6 different types of bathroom faucets and it can be tough to know which one to pick!
There isn't one type of faucet that's better than all the others. But there are faucets that are a better fit for different price ranges, bathroom sizes, or style preferences.