This post may contain affiliate links. If you use these links to buy something we may earn a small commission. Thanks.
Picking a new faucet or bathroom appliance is a big decision! They're expensive and the last thing you'll want to do is replace it in 2 years.
Finding the right faucet starts with finding the right brand. Each major brand will have different pros and cons.
Today I'll be comparing Kohler vs Pfister faucets so that you can pick the one right for you.
The good news is that you can't go wrong. Kohler and Pfister are both fantastic brands and make high quality faucets that are durable, beautiful, and perform well.
I'll tell you up front that Kohler is the winner in this showdown. They're higher quality, have more finishes, and are the most durable faucets on the market. The only downside is the price.
Both brands are high quality, but they have different strengths and weaknesses.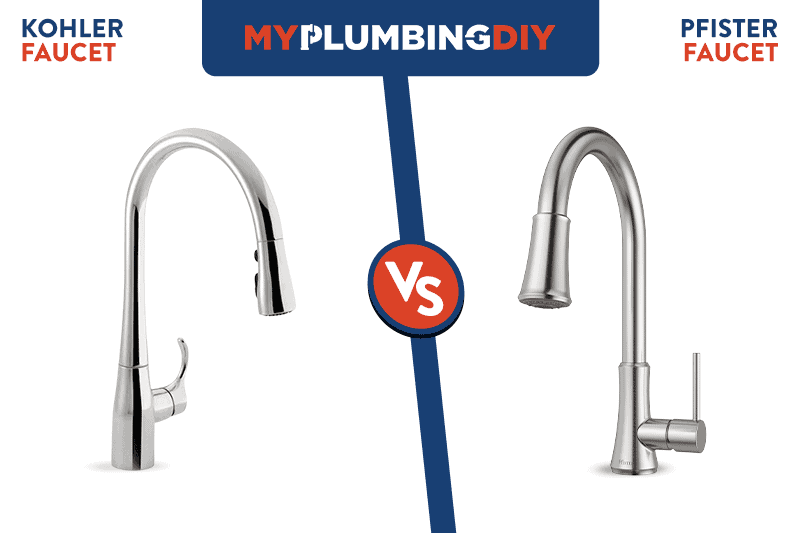 ---
Quick Summary: Which Brand is the Right Pick for You?
Kohler is best for…
Families with kids – Kohler products are some of the most durable on the market so they can hold up to the hard daily use of whole families.
Paying for quality – Kohler faucets aren't cheap, but they are known for being some of the highest quality you can get. Buy Kohler if you're willing to pay for quality.
Pfister is best for…
People on a budget – Compared to other brands, Pfister has some of the most affordable faucets that are still high quality.
Environment conscious – Pfister is one of the leading companies when it comes to water conservation and impacting the environment.
Kohler
Pfister
Price
$$$
$-$$
Technology
Average technology options
Low tech
Design
Wide variety
Limited selection
Finishes
Bathroom: 12
Kitchen: 11
Bathroom: 9
Kitchen: 9
Models
Bathroom: 97
Kitchen: 95
Bathroom: 142
Kitchen: 81
Warranty
Limited lifetime warranty
Limited lifetime warranty
---
Kohler Overview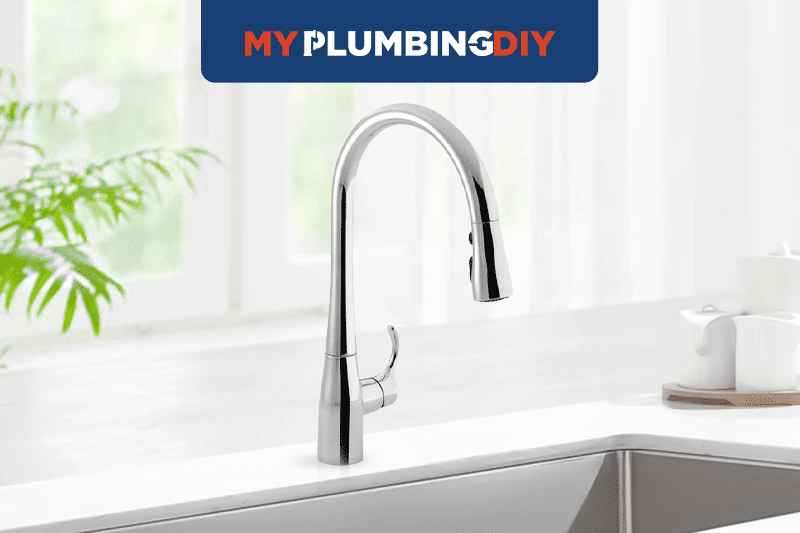 I grew up using Kohler products. Everything in our house was Kohler: Sinks, faucets, toilets, showerheads.
I'm pretty sure my childhood home still has the same Kohler products that it came with when it was built in 1997.
Kohler is known for durable and high quality products.
Kohler is one of the oldest and largest plumbing companies in the world. They're one of the best American made faucet brands in the country. When it comes to bathroom and kitchen faucets, they're widely considered to be top of the line.
The company was founded by John Kohler in 1873. They were the first company to create a one-piece bathtub for everyday use. These days they offer absolutely every plumbing product you could ever need.
They are best known for their touchless technology in kitchen and bathroom faucets. That's one of the reasons they are super popular in commercial spaces. They also produce one of the most durable toilets. Kohler is #3 on our list of faucet brands ranked by different criteria like price, technology, and finish options.
Kohler is also one of the most innovative companies when it comes to being environmentally-friendly. They are working hard to create more products that use less water and energy while remaining effective.
If you want to see how Kohler stands up to a luxury faucet brand, check out our comparison of Kohler vs Grohe faucets.
Pros and Cons of Kohler
Pros
American Made – Kohler faucets are one of the few faucet brands made in the USA guaranteeing a higher quality faucet.
Environmentally friendly – Many Kohler faucets are designed with an option to utilize less water making it better for the environment.
Variety – Kohler has a huge lineup of different faucet options from type of finish to design and installation type to handle type.
Cons
Less specialized – Kohler has one of the widest product offerings with plumbing products. They are less specialized on faucets compared to a company like Delta.
More expensive – Compared to other brands like Moen and Delta, Kohler is on the pricey side.
---
Pfister Overview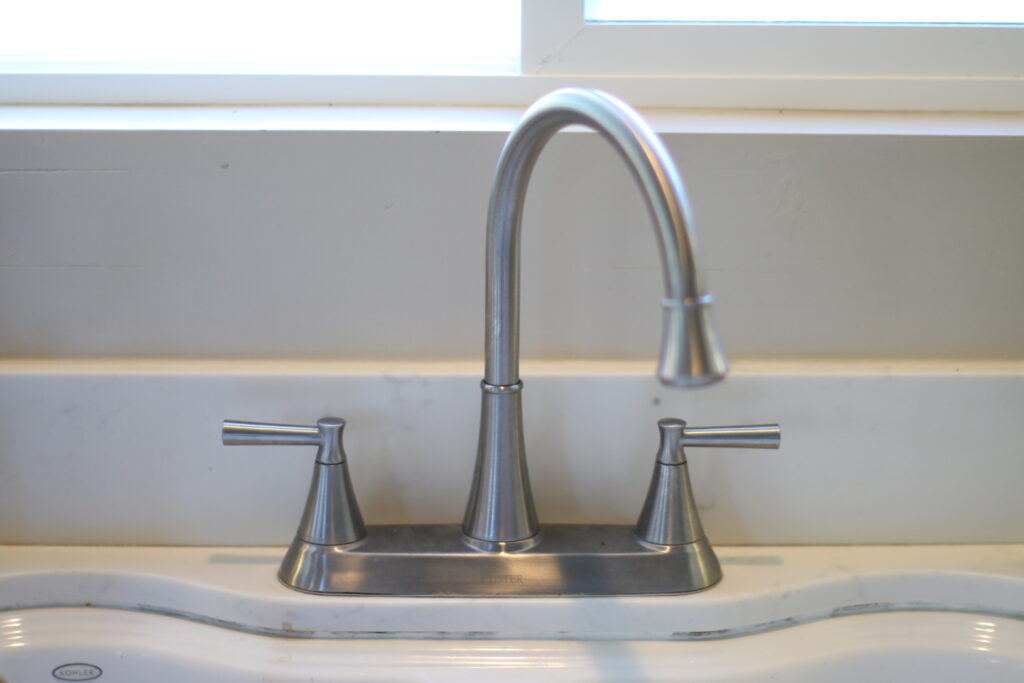 To be totally honest, we've never personally owned any Pfister products in the places we've lived. But our best friends just renovated their house and have an awesome Pfister kitchen faucet.
The company has been around for over a hundred years (founded in 1910). They've been a powerhouse in putting out awesome bathroom and kitchen faucets, plumbing fixtures, shower systems, and other home plumbing products.
The company made significant innovations in the industry of kitchen faucet manufacturing. Its designers work in California, while the products are manufactured in factories in China and Korea, and then distributed all over the world. It's got the best of both worlds. High end design and cost friendly production.
Pfister was also the first faucet company to be certified by EPA WaterSense.
Pros and Cons of Pfister
Pros
Affordable – Pfister's faucet selection is less expensive than several of the big brands like Moen, Delta, and Kohler.
Environmentally friendly – Pfister is one of the leading companies in terms of environmental impact and water conservation.
Cons
Variety – Pfister has a much smaller selection to pick from.
Design – They have limited design options. If you just need something standard, they probably have you covered!
Low tech – Pfister doesn't have a long list of innovations that they've made. They offer a few touchless options, but nothing more than that.
---
Kohler vs Pfister: Feature Comparisons
We've done a deep dive on Kohler vs Pfister features to compare for you. If you're interested in Moen then be sure to check out our Moen vs Pfister comparison as well!
1. Price
When it comes to price, Pfister is the winner. They tend to capture the lower end of the market. They are positioned as the more affordable option next to industry leaders like Kohler, Delta, and Moen.
Kohler
Kohler faucets tend to be on the more expensive side. Most of their bathroom faucets tend to range between $250-500 with most of those in the $300-400 range.
Pfister
Pfister faucets seem to be much more affordable than other brands on the market. You can get a really nice and simple bathroom faucet for $150-200. If you want something a bit fancier or bigger, you might be spending $250-350.
Their kitchen faucets are equally affordable. You can find many great options for $250-400 which is a great deal.
2. Design
Both brands have great design and style options to pick from. Pfister has more faucets to pick from but less variety of styles.
Kohler
When it comes to design, Kohler has a number of options. You can pick from six different mount options for their bathroom faucets. The most popular ones are their widespread, centerset, deck-mount, and single-hole. The vast majority of their faucets are lever faucets.
Most of their kitchen faucets are single-hole set ups with one handle. Their most popular spout types are pull-down, pull-out, or a standard faucet with side sprayer.
Pfister
When it comes to design, Pfister is fairly limited. The majority of their kitchen faucets are pull-down, high arch, single handle faucets. They look beautiful and come in different shapes and sizes and finishes.
In the bathroom, most of their faucets are either centerset, widespread, or single-handle.
3. Technology
Honestly, neither of these brands are considered top of the line when it comes to faucet technology. Both fall short of other brands like Moen or Delta faucets.
Kohler does have touchless technology in their bathroom and kitchen faucets. Pfister isn't known for being high tech, but they do have some unique stuff with water conservation and built in filtration for some faucets.
Kohler
When it comes to bathroom faucets, Kohler has been surprisingly un-innovative. They really don't have any fancy features or even touchless options for bathroom faucets.
In the kitchen though, Kohler has introduced a number of high tech features and faucet functions over the years.
The most popular features are…
Touchless faucet technology
2 or 3 function sprayheads
Innovative docking technology so that your sprayer or pulldown faucet will actually stay connected
Their ProMotion technology is available for their pulldown and pullout faucets.
Pfister
Pfister isn't known for being high tech when it comes to their faucets. They offer a few touchless faucets. They've also got one with built-in water filtration. One interesting option is their 360 degree swivel faucet.
If high tech matters to you, I'd go with another brand. Just remember, low tech doesn't mean low quality!
4. Finishes and colors
Kohler has more finishes than most other faucet brands! If you want more variety or color, go with Kohler. Pfister does have a few unique colors and finishes if you want something truly different.
Kohler
Kohler has 12 different finish or color options for their kitchen faucets and 11 to pick from for their bathroom faucets.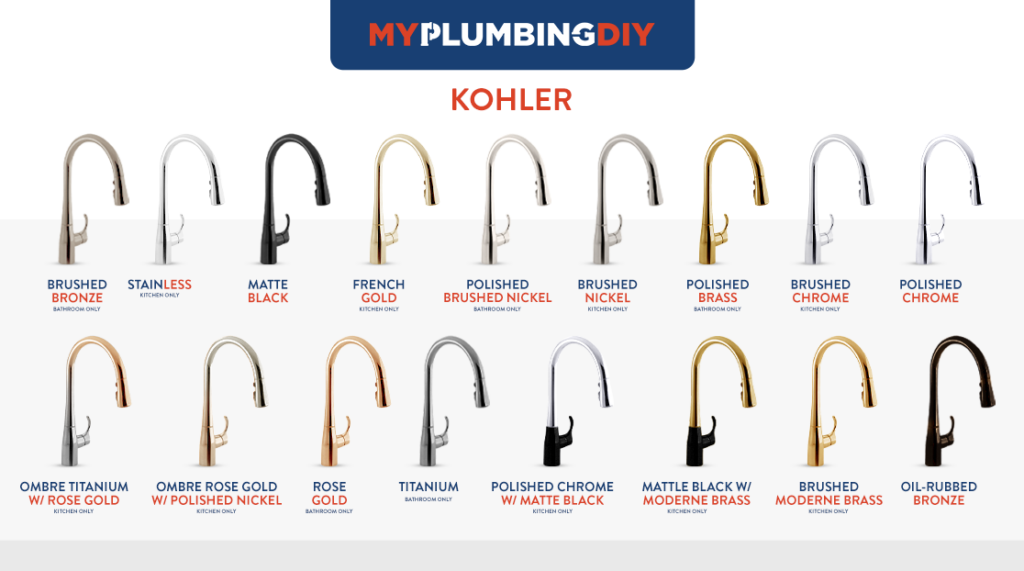 Pfister
Pfister has 9 options to pick from for their bathroom and kitchen faucets. For the kitchen, they've got most of the usual ones: polished chrome, brushed nickel, polished nickel, stainless steel, and matte black. But they've got a few unique options: rustic bronze, tuscan bronze, and brushed gold.

5. Models
Neither of these brands have the widest selection of models to pick from. In fact, Kohler actually has the least amount of options compared to most major brands. Pfister has around 220 total between bathroom and kitchen faucets. Kohler totals up at just under 200.
Kohler
Kohler has a pretty great variety of faucets with 97 different kitchen faucet models and 95 different bathroom faucets to pick from.
Pfister
Pfister doesn't have the widest selection of faucets. They've got 142 bathroom faucets to pick from and 81 kitchen faucets.
6. Warranty
All of the warranties we've seen offered by different faucet companies are the exact same.
Kohler
Kohler faucets come with a lifetime warranty on their faucets for leaking, dripping, or other issues. This guarantee is only good for the first owner of the faucet. Improper care or cleaning can nullify the warranty.
Pfister
Pfister offers a lifetime limited warranty. The warranty covers every part except for any electronic components, which get a 5 year warranty. The warranty is only good for the original owner of the faucet.
---
Common Questions about Kohler and Pfister Faucets
If Pfister owned by Delta?
No, Pfister is not owned by Delta. Pfister and Delta are actually competitors in the plumbing industry and are entirely different companies!
If Pfister a high-end brand?
Honestly, Pfister is not a high end brand. They have some expensive options that are certainly luxury, but most of their faucet selection are aimed at the low-middle end of the market.
---
Final Verdict: Kohler vs Pfister Faucets
Kohler and Pfister both create amazing faucets and shower heads with modern styles, technology, and design. Their products are also durable and perform well over time. I'm confident that if you purchase a faucet from either brand, you'll be satisfied.
If we had to pick one brand to go with, we'd go with Kohler as the better option, but Pfister is the better value purchase. But it really depends on what you're looking for.
Kohler – Great for high-end models and classic finishes like polished chrome. Super durable products.
Pfister – More affordable, unique finish options, and great for water conservation.
I hope this Kohler vs Pfister comparison helped you decide which brand is right for you!
The "big 3" brands are more expensive. If you need to see how a budget brand compares to these household names, check out our Moen vs Glacier Bay or Kohler vs Glacier Bay faucets comparisons.