This post may contain affiliate links. If you use these links to buy something we may earn a small commission. Thanks.
If you're thinking about buying a granite composite sink to level up your kitchen, we're here to help you with our massively thorough granite sink review.
In this post we'll walk you through everything you could possibly need to know:
Granite composite sink pros and cons
Common granite sink problems
The 4 best brands for granite sinks
Granite composite sinks are durable, easy to keep clean, and will make a great addition to your kitchen remodel or touch-up. These sinks are great for people who put a lot of wear and tear on their kitchen.
If you've got a big family or are cooking in the kitchen most nights, a granite sink would be the right choice for you.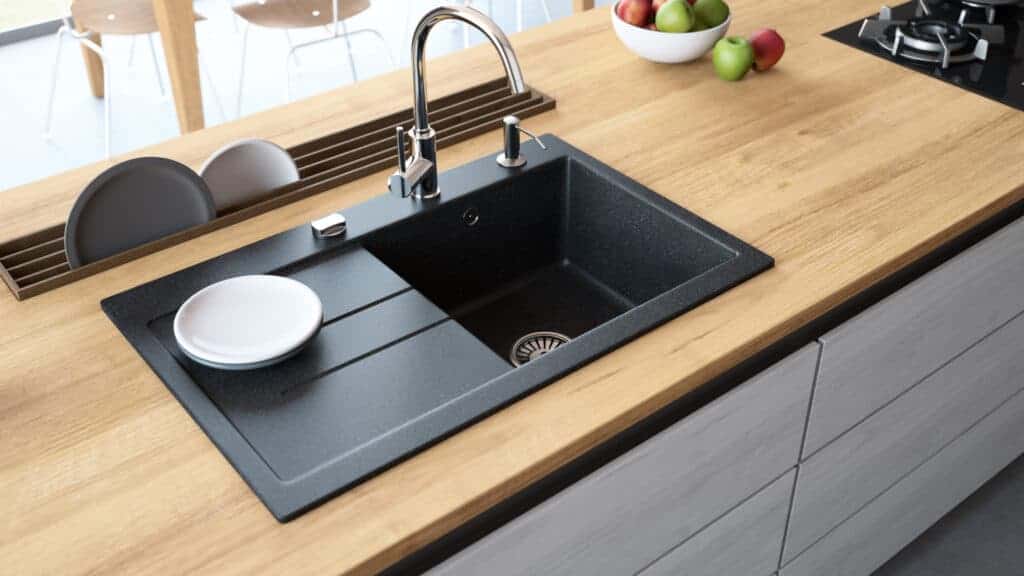 ---
Should You Buy a Granite Composite Sink?
If you're looking for a durable sink at an affordable price, then the simple answer is yes. Scroll down and pick one of our favorite brands and your research is done.
Granite composite sinks are made by crushing granite into dust and blending it with an acrylic resin. This gives the sinks the look and feel of a natural stone sink, but they are more consistent than pure granite.
A composite sink probably isn't the best choice if you don't cook very often or if you simply want a more luxurious look. Composite sinks are a natural look, but they can be a bit plain.
One of my best friends is a realtor and he said that granite composite sinks are super popular in rental properties because of their durability, low maintenance, and affordability. They won't be a massive value add to your home. However, you'll save money over time by not having to replace the sink in 5 years.
I read a bunch of granite sink reviews and one of the consistent things that people loved was how low maintenance the sinks are.
---
Pros and Cons of Granite Composite Sinks
Take time to read through these granite sink pros and cons before making a final decision to buy one!
Pros
Durable and long-lasting – Their material makes them a high resistant kitchen sinks to endure pressure, chipping, scratches, and heat.
Reasonably priced – Granite composite sinks are affordable because they are a mixture of granite and acrylic resin. Natural stone or pure granite are more expensive than composite sinks.
Scratch and chip-resistant – Granite is a very hard stone that gives the granite composite sinks resistant ability to scratches and chipping.
Nonporous material – Materials that are porous are essentially "open" to have stains bleed into the sink. Granite sinks don't have that problem.
Cleaning doesn't require chemicals – To clean the granite sink is very easy because of the smooth finish they possess. You can use regular soap or natural vinegar to clean them.
Every piece is unique/Uniformity – If you like consistency in the kitchen countertop, granite composite sinks are mostly uniform. Nothing is worse than buying a new appliance or look and not getting what you wanted.
Cons
Only available in matte finishes – The manufacturing process of blending materials means that granite composite sinks are only available in matte looks. If you want a rustic or industrial look, this is perfect for you.
The price could be expensive – Granite composite sinks are normally cheaper than full stone because of the acrylic mix-in. They could be pricy depending on what exact type of stone is used for the granite. They'll be more expensive than stainless steel or porcelain, but the durability makes it worth it.
Bulky – Composite sinks are super heavy so if you're planning to install it yourself, you'll need a team of dudes to help you put it in.
If you want a smaller option, you could also try getting a vessel sink or a drop-in sink!
---
Granite Sink Problems You Might Run Into
Fortunately, there aren't many granite sink problems that you need to watch out for because these sinks are so durable and well-made!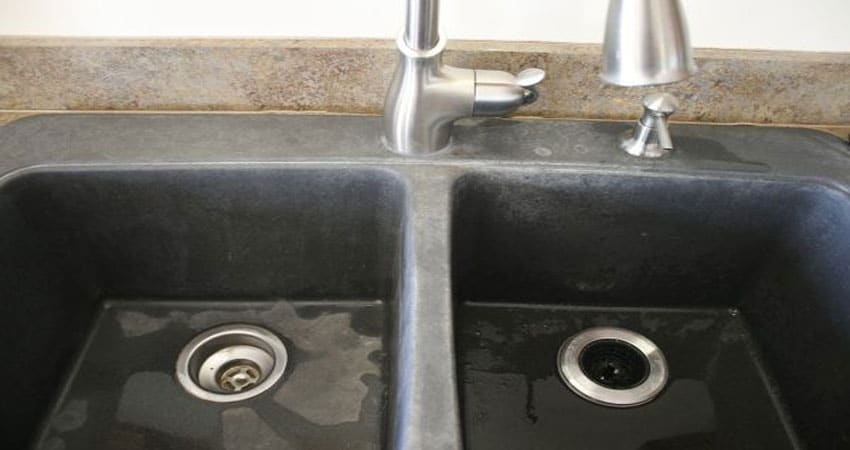 White haze
Water is full of tiny amounts of minerals and when water evaporates, it leaves them behind on the surface. These mineral deposits (calcium and lime) in your water can build up and create a white looking layer on your sinks.
You're more likely to notice this white haze if you have a darker colored sink.
Etching from harsh cleaners
If you use harsh cleaners like bleach or other chemicals then they can actually damage the surface of your composite sink by stripping off the top layer. When this happens, the sink will become more likely to stain and you'll have marks in the sink.
Hard water stains
If you live in an area with hard water then you'll want to make sure you clean your sink regularly after using it. You're more likely to see hard water stains if you have a lighter colored sink. Avoid soaking dishes or having standing water.
---
The 4 Best Brands for Granite Kitchen Sinks
If you're trying to figure out who makes the best granite composite sinks, we're here to help.
All of the major sink companies make and manufacture granite composite sinks, but there are a few that stand out from the rest.
The most reputable brands for granite sinks are Blanco and Barclay. Other brands that make and sell quality granite sinks are Franke and Ruvati.
Mini Reviews – Best Brands for Granite Sinks

Blanco – Blanco has a patent on silgranit rock hard sinks, which are uniquely durable. They create really high quality products that are unlikely to crack or break.
Barclay – Barclay makes natural granite sinks which are slightly different from granite composite sinks (comparison below), but they are worth looking into!
Franke – Franke's composite sinks are actually made of quartz instead of granite, which actually makes them even harder to crack or scratch or stain.
Ruvati – Ruvati makes their composite granite using a proprietary resin material that they claim improves the durability and stain-resistance of their sinks.
---
How to Clean and Maintain Granite Sinks
Do granite sinks scratch?
Granite sinks are heat resistant and super durable so they are unlikely to scratch, but that doesn't mean they are indestructible. As long as you're careful with heavy cookware like cast iron, your granite sink shouldn't scratch. 
Do granite sinks stain?
Granite sinks are very resistant to stains because of their material, but if you have hard water then you may see discoloration or water stains over time. If you have a darker color sink, you should have no issues with visible stains. This is one of the least common granite composite sink problems.
Are granite sinks hard to keep clean? How do you clean granite sinks?
Granite sinks are made under high heat and are naturally non-porous. They're easy to keep clean as long as you rinse them regularly. Use natural soap, vinegar, or baking soda with hot water and use a dish rag to wipe them down when you're done cooking. 
Can you use bleach on granite composite sinks?
Bleach should not be used on granite composite sinks. Instead, clean them using less harsh chemicals such as natural soap, vinegar, or baking soda with hot water. 
How do you fix a cracked granite composite sink?
Fixing a cracked granite composite sink requires using an epoxy mix and is not recommended if you have no experience. Call a plumber or the place you purchased the sink from to get a recommendation for someone who can repair it for you.
Do granite composite sinks crack easily?
You're not likely to see your sink just develop a long split down the middle, but it IS possible to chip these sinks if you're not careful especially with heavier cookware like cast iron.

While these sinks ARE heat resistant, it's also possible that excessive heat and hot water exposure at once can overwhelm the material and cause a crack but this is pretty uncommon. Don't take a pot of boiling water off the stove and put it directly in the sink while the bubbles are still rolling, and you'll probably be fine.
How do you get scratches out of a granite composite sink?
You can give a simple home remedy a try to see if you can get the scratches out. Give the sink a good wash with mild dish soap and water. Mix baking soda and water in a 1:1 ratio and thoroughly coat the sink with it. Let it sit overnight and then rinse/wash it off in the morning, then buff it dry.

If the scratches are still there after that, you'll have to look into getting the sink re-sealed to restore the condition.
Do I need to seal my granite composite sink?
Unlike granite countertops, that DO require regular sealing to keep in the best condition, granite composite sinks do NOT require regular sealing to maintain their appearance and durability.

If you have a granite countertop, you want to use a seal to maintain the quality. When granite sealing we recommend investing in a good granite seal product.
---
Granite Composite Comparison Guide
What is granite composite?
Granite composite is a blend of around 80% of granite stone and 20% of acrylic resin.
Natural granite vs composite granite
Not to be cheesy, but natural granite is simply granite in its natural form while composite granite is manufactured using an acrylic resin.
Durability – Composite sinks are more durable because of how they are manufactured
Cost – Natural granite will be more expensive
Porosity – Natural granite will be more porous, making it slightly harder to keep stain-free.
Appearance – Composite granite sinks are more uniform while natural granite will be unique and have a more luxurious appearance.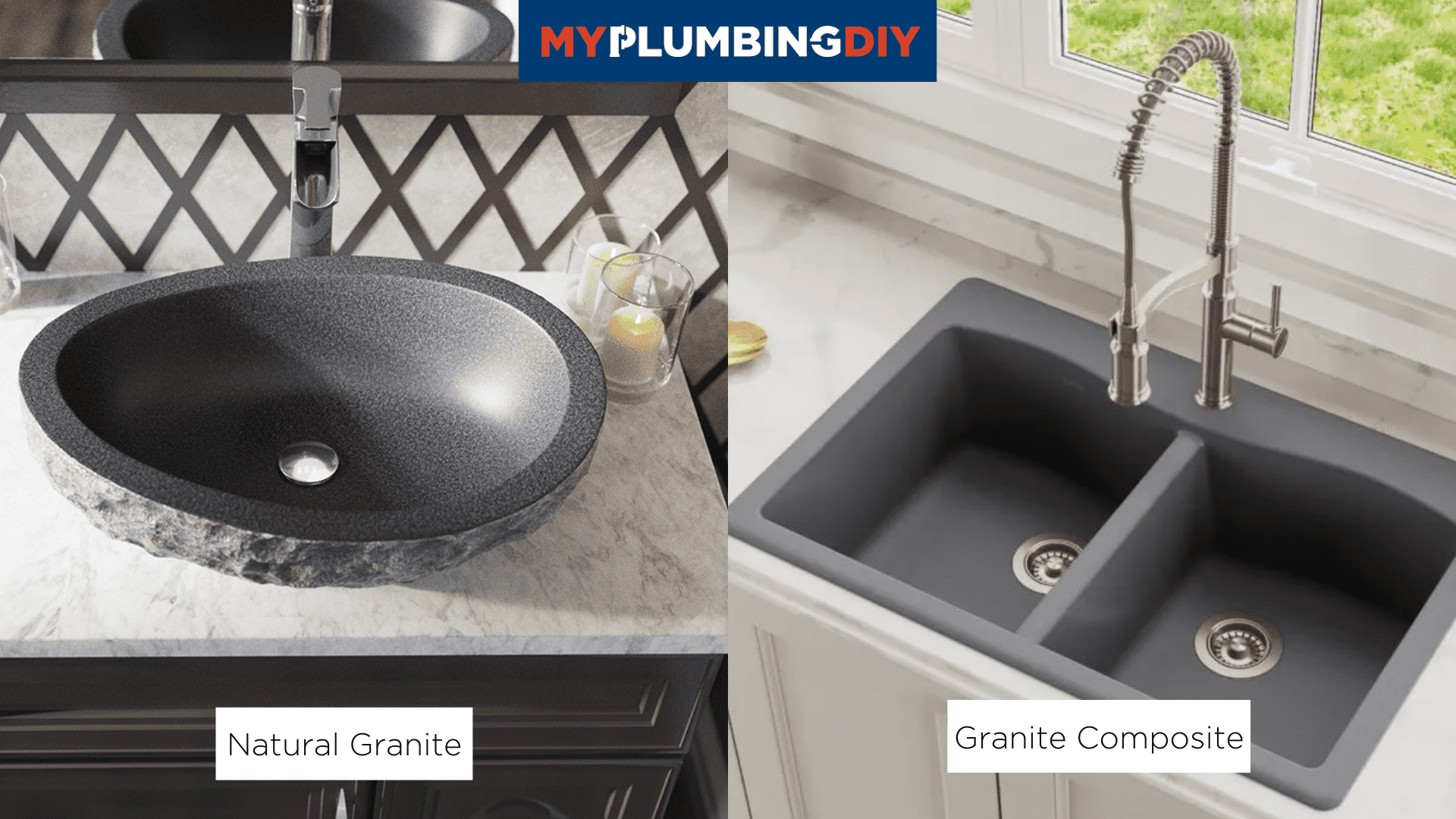 Granite composite sink vs stainless steel
Stainless steel sinks are some of the most popular sinks on the market. They are going to be cheaper and more accessible than granite composite, but may not hold up as well over time.
Durability – Granite composite sinks win in the durability category because that's what they were designed to be great at. The lower gauge stainless steel sink you get, the more durable it will be.
Cost – Stainless steel sinks are cheaper than granite composite sinks
Appearance – Stainless steel sinks can come in a matte or shiny finish. Granite sinks only come in matte.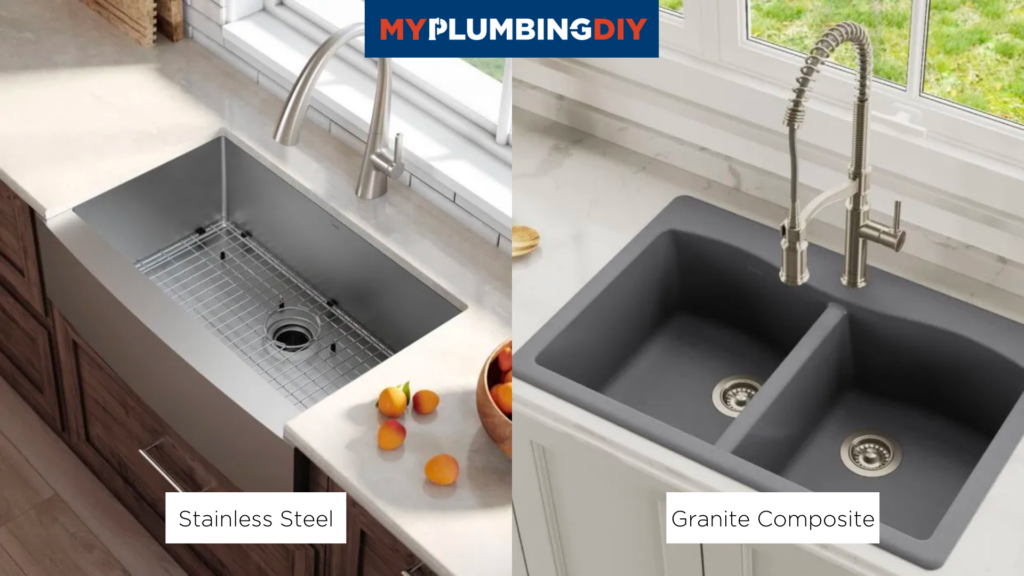 Stainless steel sinks are some of the cheapest sink materials available. Companies will sometimes cut corners to manufacture them so cheap that they won't hold up over time. If you can find a reliable brand, then a stainless steel sink could be a great option.
---
Summary: Are Granite Sinks Worth It?
Granite sinks are worth the cost if you're looking for a new sink that will last a long time. If you are considering buying one, then be confident that you're making an investment in a quality kitchen sink.
If you're planning to stay in your house for a long time then investing in a granite composite sink is probably the right thing to do! They are durable and great if you love to cook or have a big family.
If you're still on the fence, scroll back up and read through the pros and cons of granite composite sinks to see if these are right for you! If you take care of your sink well, then you can avoid most of the common granite composite sink problems.
If you can find a granite sink that's also an undermount sink – that's a real win! One of the biggest pros of undermount sinks are how easy they are to clean.