This post may contain affiliate links. If you use these links to buy something we may earn a small commission. Thanks.
Vessel sinks are a striking and stylish way to remodel your bathroom. But are they worth the hype?
We've done a lot of research on vessel sinks and would love to share what we learned! There are a bunch of different types of bathroom sinks, but this is one of the most popular for smaller bathrooms.
I'll do a deep dive on what a vessel sink is, the pros and cons of vessel sinks, and the different materials/types you can pick.
Let's get into it!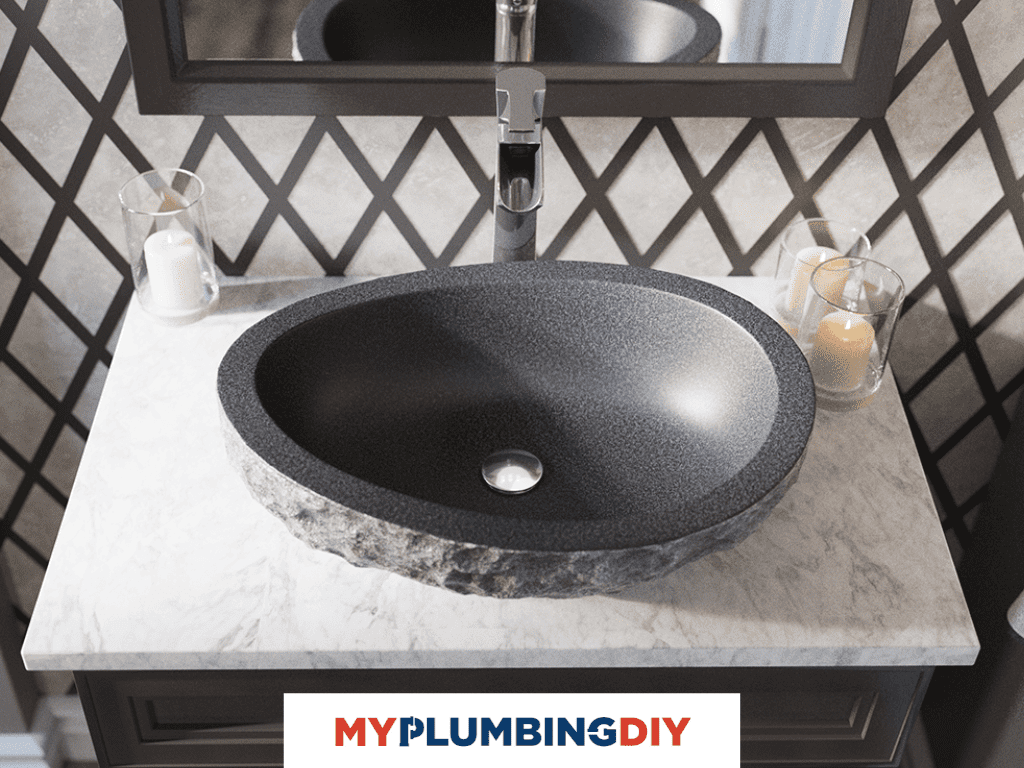 ---
What is a Vessel Sink?
Vessel sinks are basins that sit on the surface of the counter in your bathroom, as opposed to typical sinks built into the counter. They are usually smaller so they are a great fit for compact bathrooms or smaller double vanities.
They're typically chosen to give the bathroom a unique, stylish look, or make use of the storage space on and beneath the counter.
How do vessel sinks work?
Vessel sinks work in the same way as regular sinks, with the only real difference is they're mounted on top of the counter.
Once positioned over the drain, holes are drilled into the base for water to filter out through.
---
Pros and Cons of Vessel Sinks
If you're considering getting a vessel sink, it's important to consider all of the facts. There are many advantages of getting a vessel sink for your bathroom, but also some disadvantages.
Pros
Aesthetic appeal – Vessel sinks can be a relatively cheap way to add style and sophistication to your bathroom.
Versatility in design – There is a wide range of options when it comes to vessel sinks, from material to installation. They can also be changed out relatively easily, as they are not secured permanently in one spot.
Easy installation – Vessel sinks are quite easy to install and can be done at home, depending on the type of material and installation.
Accessibility and comfort – Since vessel sinks are mounted on top of the bathroom counter, they can be great for people who are unable to lean down to wash their hands).
Space-saving – Vessel sinks free up cabinet storage underneath your counter as well as on top of your counter. It's perfect for small bathrooms or bathrooms with smaller countertop space because it's mounted above the surface. You gain a little extra space around the sink for your hairbrush, toothbrush, or makeup.
Cons
High cost – Although the price of vessel sinks has been reduced, they're still not the most affordable addition to your bathroom. Name-brand vessel sinks can cost as much as $1,200, and that's not to mention potential installation fees.
Maintenance challenges – Since some materials used to make vessel sinks are prone to breakage, there's a high chance that you'll need to fix or replace it.
Incompatibility with existing plumbing – There's always a chance that your vessel sink won't be compatible with your existing plumbing and drainage. More reason to be extra careful when purchasing, and to make sure to tailor it to your plumbing situation.
Prone to water splashing – Depending on the bowl shape and depth, along with the faucet height and placement, vessel sinks can be prone to splashing water when used.
---
Two Types of Vessel Sink Installation Options
Vessel sinks have two types of installation options: above-counter and recessed.
1. Above-counter installation
You're more likely to picture this installation style when you think of a vessel sink!
In an above-counter installation, the basin rests entirely on the top of the counter, giving it a free-standing appearance.
2. Recessed installation
Recessed installation is a slightly different look, but it's typically chosen for better stability.
The basin rests partly in the counter, in a hole that is larger than the drain but smaller than the basin itself. This creates a slightly submerged look, where the basin appears to be built into the counter.
If space isn't an issue, you can also go with a drop-in sink! If you want something even more recessed, you may want to consider an undermount sink!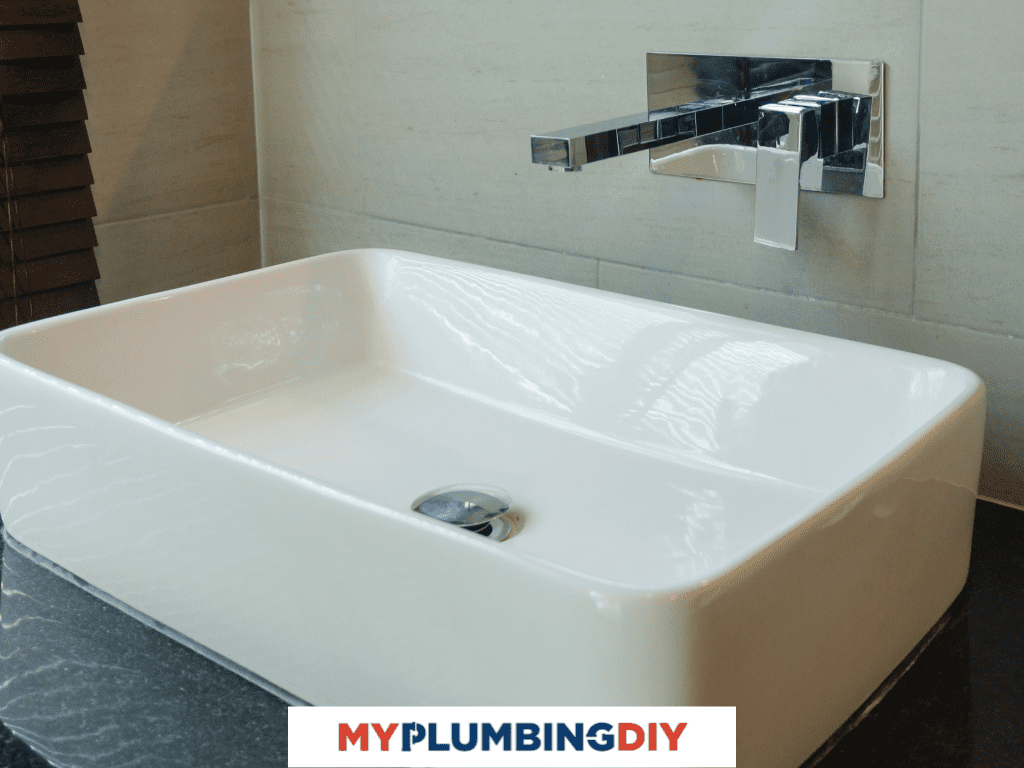 ---
Common Materials Used for Vessel Sinks
There's a wide variety of materials used for vessel sinks, just as there are for regular sinks. Which one you choose ultimately depends on functionality, aesthetics, and your personal preferences.
| | | |
| --- | --- | --- |
| Type of Material | Style | Durability |
| Porcelain | Comes in various colors and designs | Less durable |
| Glass | Modern | Less durable |
| Metal | Industrial | Most durable |
| Stone | Natural look | Above average |
| Synthetic material | Cheaper look | Less than average |
Porcelain
Porcelain is one of the go-to materials used when creating a vessel sink.
Extremely durable, it can also be glazed with various different colors and designs, making it a great choice for people looking to add a bit of flair to their bathroom.
It's worth bearing in mind that porcelain can stain easily, however, so it might not be the most practical choice for a sink that'll be facing a lot of wear and tear.
This wouldn't be so much of a problem with a traditional sink, but my experience has found that you need to be more careful with vessel sinks.
Glass
If you want a more modern and stylish look, glass can be a great pick.
There are many different types of glass that can be used for this, such as frosted or tinted.
Honestly, glass isn't our favorite material because it isn't very durable. It can be prone to scratching and chipping. However, if it's in a half bathroom where it doesn't get much use, it would be a great design choice!
Metal
Metal vessel sinks are a much more durable alternative to other sink materials.
While they may dent over time and with frequent use, they won't chip or scratch the way that other materials will.
Metal vessel sinks can be made from stainless steel, brass, or copper, and can be polished or left matte to suit your style and bathroom aesthetic.
Stone
Another very durable option for a vessel sink material is stone.
This is created from materials such as marble or granite, and mixed with other components like resin. I love stone features in a home, especially set against warm wood tones. It's a great way to bring nature into your design.
The only thing that you'll have to look out for with a stone vessel sink is the weight. These sinks can get heavy, and you'll likely need assistance when lifting and installing the sink.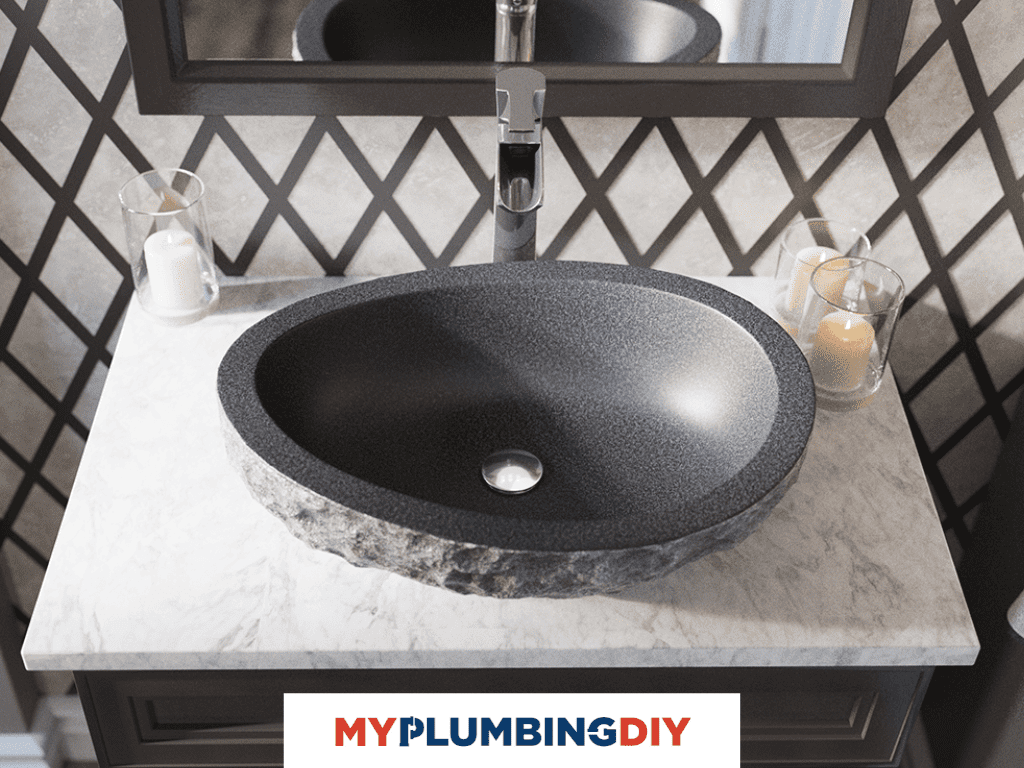 Synthetic materials
For a cheaper option, there are resin or acrylic vessel sinks available that give the same appearance of stone or porcelain at a more affordable price.
I find these sinks are much more practical when it comes to installation, as they aren't going to weigh a ton. However, a lower cost means slightly lower quality — vessel sinks made from synthetic materials aren't as durable and may need replacing over time.
Granite composite sinks are one of our favorite types of synthetic materials.
---
Top Things to Consider Before You Get a Vessel Sink
Before you invest in a vessel sink, take a moment to consider the following things to ensure that this won't be a purchase you regret!
1. Suitable applications
Consider if a vessel sink is suitable for your bathroom. There are many factors that may mean a vessel sink isn't the best choice for you.
Try to picture a vessel sink in the room, and think about your bathroom's aesthetic, space, and counter situation.
It's ideal for compact bathrooms – Vessel sinks generally work great in smaller bathrooms. As an eye-catching statement piece, they can instantly transform or revamp a compact space.
Versatile above and below-counter options – Depending on your countertop and storage needs, you can choose between above-counter installation or recessed counter installation. This means your vessel sink can work with high or low countertops, be installed to maximize storage space or be designed around your chosen aesthetic.
2. Maintenance
Keep in mind that to prevent damage such as scratching, staining, and water damage, vessel sinks require appropriate care and of course, regular cleaning.
Depending on what material you choose for your vessel sink, you'll need to tend to it correctly. This will ensure that your sink will last for a long time.
My best advice is to take note of the risks that come with each material of vessel sink and be sure to care for it accordingly.
3. Compatibility with different bathroom styles
Particularly relevant if you're installing a vessel sink solely to give your bathroom a makeover and make it more stylish, be sure to consider the overall aesthetic.
You probably aren't going to want a large, heavy stone sink in a bathroom that has otherwise very dainty, modern decorations.
Remember: trends only work well when you pair them with design.
4. Placement
Your vessel sink placement is going to be vital when it comes to tying everything together, so it might be worth asking a professional or several friends to make sure everything looks cohesive.
A. Sink Height
Be sure to take into account how the vessel sink is going to function on your countertop or vanity where it will rest.
Whether you have a pre-existing vanity or a new installation, your vessel sink will add on average 5–6 inches to its current height. This could be more or less depending on which sink you choose, so you'll need to be careful to choose a vessel sink that's still a comfortable height when mounted.
The best way to get an idea of this is to stand in front of your vanity and pretend to wash your hands in a mounted vessel sink. Think about how high off the counter is comfortable for you, then plan your purchase and installation accordingly.
This could mean finding a taller or shallower bowl, or even choosing a recessed installation.
B. Faucet Height and Placement
The placement of your chosen bathroom faucet is an extremely important part of the installation of your vessel sink. When installing, ensure the faucet and spout are placed directly over the drain — this will help prevent splashback.
You'll also need to make sure that the length and height of the spout are comfortable for you.
5. Installations and modifications
Before starting the installation process, make sure you consider the ins and outs of the whole thing (or hire a professional).
It's a bit of a process to install a brand new sink, so you'll want to take the time to plan it carefully and avoid any unnecessary expenses or drama.
Complexity of installation
Vessel sinks are not particularly difficult to install, but you may want to hire a professional, depending on the material and your own skill set.
While (obviously) I'm a big fan of DIYing it, I can tell you from experience that there are some jobs that are best left to the professionals unless you're willing to go through a bit of trial and error and potentially lose a bit of money in the process.
If you're confident, and you've tried your hand at various other DIY plumbing jobs before, then by all means. But if this is your first big project, call in the big guns — there's no shame in asking for help when you need it!
Top material
The top material of your vessel sink is the most important thing to consider when planning an installation.
The riskiest part of installation is drilling the holes that function as the openings of the sink.
For porcelain and glass vessel sinks, I would recommend hiring (or at least talking to) a professional when attempting this part of the installation, as these materials are prone to cracking.
On the other hand, installing a metal vessel sink is likely a project that you can tackle on your own, as long as you have the right tools.
Replacement
Over time, your vessel sink may sustain damage, or you may just want to switch things up. In that case, you'll need to consider replacing it.
Once you pick out your new vessel sink, be sure to check if the installation holes are the same or you need to adjust anything in your countertop.
At this point, I'd consider calling in the professionals, as the process can be a little tricky. But, of course, it'll depend on your countertop's material, as well as your familiarity with installation.
---
Is Getting a Vessel Sink Worth It?
While vessel sinks look great, my opinion is that vessel sinks are only worth it if you have your heart set on the style, or are desperate for under-counter storage space.
Unfortunately, both the cost and high maintenance nature of vessel sinks means that they don't make it as my top sink choice for bathrooms. However, if it's what you love, don't let my opinion stop you!
You'll just need to make sure that you choose the right material for the sink as well as an appropriate faucet.
My best advice? Go with something that lasts and that won't end up costing you more as time goes on. I always say buy quality and you'll buy once.
---
Vessel Sink Design Ideas That We Love
Vessel sinks come in a variety of designs. I've seen modern/minimalist vessel sinks that are sleek and clean looking with straight lines. I've also seen vessel sinks that are more high-end and luxurious looking.
Here are pictures of different vessel sinks so you can get a feel for what's out there!
1. Bohr 14 in. Handmade Nickel Bathroom Vessel Sink in Hammered Nickel
2. Alanna Large Matte Resin Vessel Sink
4. Vigo Glass Rectangle Vessel Sink
3. Hubble Copper Bathroom Sink
5. Vigo Montauk Stone Matte Circle Vessel Sink
---
Common Questions About Vessel Sinks
What material is best for a vessel sink?
The best material for a vessel sink tends to be granite or metal. Granite means that there is a far lower risk of water damage, and metals won't chip or shatter. Depending on the style of your bathroom, either of these materials is a great pick for a vessel sink. 
What does a vessel sink do?
Vessel sinks act in the same way that a regular sink does, but their above-counter placement adds a touch of style and frees up space beneath the counter for storage. This can be great for smaller more compact bathrooms. 
Why do vessel sinks drain slowly?
Vessel sinks can often drain slowly due to the grid drain. This is because water clings to the grid while draining out, causing surface tension across the small drainage holes.