This post may contain affiliate links. If you use these links to buy something we may earn a small commission. Thanks.
Designing a new kitchen remodel and need to decide on what kind of sink you want? A drop-in sink might be great option. They're deep, durable, and great for washing dishes.
I'll do a deep dive on what a drop-in sink is, the pros and cons of drop-in sinks, different types you can buy, and some design ideas.
Let's get into it!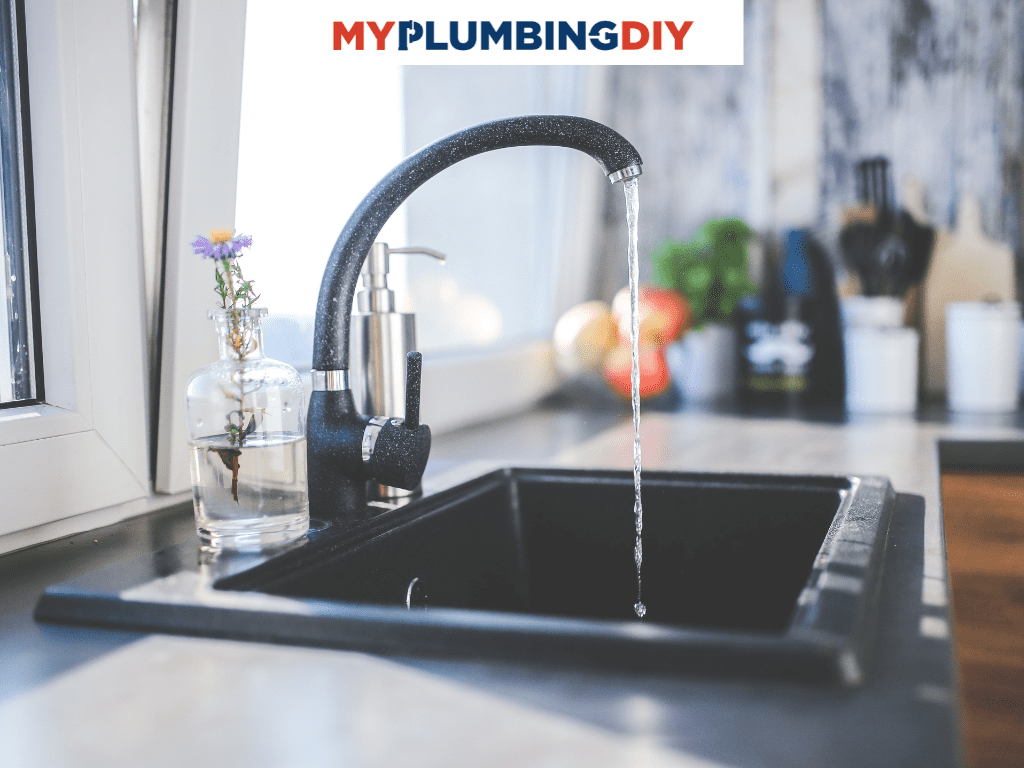 ---
What is a Drop-In Sink?
Drop-in sinks are easy to install sinks, typically found in kitchens and bathrooms. They're given that name because you "drop" them into place in your kitchen slab or bathroom vanity fixture.
Drop-in sinks rival undermount sinks, where you push them up into position. Drop-ins have a rim that sits a few millimeters above the countertop, making for an instant finished look.
Be sure to check out our guide on granite composite sinks if you want more sink options!
How do drop-in sinks work?
To install a drop-in sink, you "drop" it in from above. Not from a height, of course! The sink slots neatly into the space you've allocated for it – usually a hole in the countertop.
The sink's rim borders the hole that's been cut for it. You may need a bit of caulk to seal it, but beyond that, you're all ready to go.
Check out this step-by-step guide from Franke to see how installation works.
---
Pros and Cons of Drop-In Sinks
Pros
Easy to install – Drop-in sinks are designed to be simple, for both the installer and the user. The sink is all one piece, and it is placed in from above.
Affordable – Drop-in sinks are generally cheaper to purchase and install than other sinks. If you choose a relatively light material, then you won't need reinforcing below. They can be dropped into any countertop.
Versatile installation options – The common technique is to drop and go, but you can do more to secure these sinks. You can add caulk to ensure it's water-tight around the edges, and bracing underneath so it stays in place. If I were using an especially heavy material, I'd do this.
Wide variety of materials and styles available – There's no shortage of drop-in sink options. Pick one that's true to you – oval porcelain is my favorite.
Compatible with most countertops – An issue that crops up with undermount sinks is that they must be installed before the countertops are. If the countertops are not water-resistant or strong enough to support the weight of the sink, both have to go. That's a costly mistake.
Cons
Dirt and debris can accumulate – I don't like thinking about the grimy crevices of my kitchen. But if you're going to get a drop sink, be prepared for it. Where the rim meets your countertop, a thin line of grease, crumbs, and dirt may accumulate. This happens because you can't wipe the grime over the rim and into the sink.
Rims can get damaged or discolored over time – When you have a drop-in sink, a lot of pressure rides on the rim (literally). It can get stained, dented, scratched, or cloudy over time. The plus side of a drop-in sink: replacing it is easy.
Cleaning can be challenging – Remember that little crack between the rim and the counter? That's going to be your biggest enemy with your drop-in sink. Once you've mastered that, everything will be okay.
Limited sink depth in some models – Some drop-in sinks are too shallow – that's just how it is. We would all prefer a large, deep sink, but this isn't feasible in a tiny kitchen or on a tiny budget.
May require additional support or bracing for heavy or oversized sinks – If you opt for heavy material like cast iron or stone, you'll probably need some support underneath. A rim can't handle infinite weight!
If you want something smaller, check out our guide on the pros and cons of vessel sinks! It could be the right fit for a smaller kitchen or laundry room sink.
---
Four Types of Drop-In Sinks
I've seen many types of drop-in sinks in my time. They range in size and shape, so there's one to suit every home or workplace.
1. By basin and bowl
Single basin sink
These are often common in small kitchens and I find they have a useful rim. If I was working with a small kitchen, I'd use one of these sinks.
Due to its volume, it's suited for washing big loads of dishes and won't take up much storage space on or below the counter. They come in a variety of widths and depths, so you could fit one anywhere.
Depending on the sink you chose, the rim might extend to help the user with washing dishes. For instance, one-half of the sink might be covered with a built-in draining board.
Double-basin sinks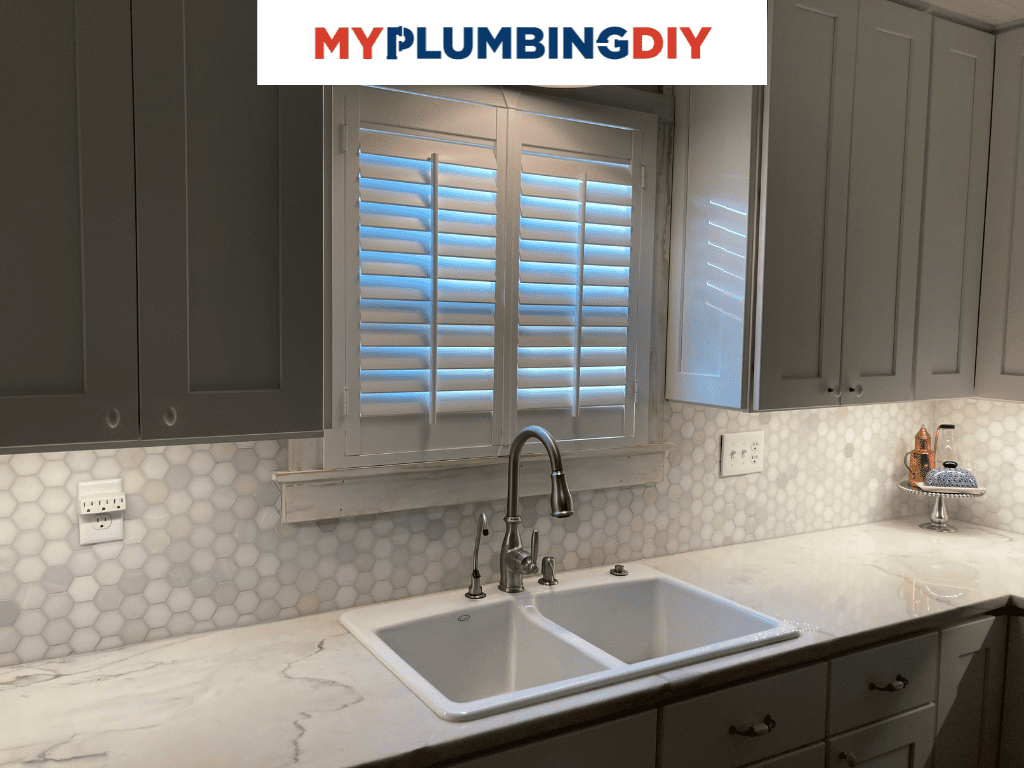 Double sinks have dual compartments, that make washing and rinsing dishes easier to separate. Personally, I'd only go with this sink if the overall space for a sink was large enough to house the double basin. We love this sink above because the basins are large and allow for easy cleaning.
Some double sinks have a smaller basin next to a large basin which makes rinsing dishes actually more difficult in my opinion. Yes, you do have two compartments instead of one, but the divider eats up valuable space.
This sink is useful if you have a lot going on in your kitchen at once. One side can be for rinsing dishes, the other for washing.
Three-bowl drop-in
These types of drop-in bowls are incredibly luxurious and you get triple-use out of them. However, unless you have a commercial kitchen or a large family to cook for, this sink isn't necessary.
Three basins are a luxury, if the overall sink is large enough. You can have three things going at once, like prepping veggies, rinsing dishes, and letting something dry.
2. By shape
Oval drop-in bathroom sinks (standard type)
I'll bet you have one of these sinks in your bathroom. Smooth oval sinks are preferred there because there is often less splashing out of the sink.
The smooth, round edges of an oval sink make cleaning it a breeze. Follow the shape with a scrubbing brush or a cloth.
Square and rectangular drop-in bathroom sinks
Rectangle and square sinks are great because they can often be deeper than a round sink. A deeper sink can sometimes mean less storage space underneath, but this really only matters if you have a smaller bathroom.
The look of square or rectangle sinks can add a little more character to your bathroom and give a more modern, clean look to your space.
Triangulated drop-in bathroom sinks with sloping sides
While these types of sinks are rare, you may find them in an upscale hotel. They feel luxurious are usually make great use of space in small bathrooms.
However, this style has a bit of compromised functionality. You'll need to choose your faucets carefully with this sink, as they're notorious for splashing water due to their irregular slopes and smaller size.
3. By material
Porcelain
Porcelain is a common material you'll see in sinks across the world. It has a tendency to chip or crack, but it usually holds up pretty well.
The smooth, white surface of porcelain is found in sinks, toilets, vanities, and tiles. It's very easy to clean.
Ceramic
I'm a personal fan of ceramic because it's durable and attractive.
However, ceramic can be very heavy. It's important to install extra support to hold it in place during the installation process.
Stone
Stone sinks help you achieve an earthy, natural feel to your bathroom. No two stone sinks are identical, so you get a one-of-a-kind piece.
The great thing about stone is how strong and long-lasting it is! It's very durable and can stand up to wear and tear.
Cast iron
Take it from me – a cast iron sink is not one you want to lift upwards to install! This material is extremely heavy, so if you're installing one, make sure it's a drop-in.
Cast iron – if you look after it – will last centuries. It keeps water in your sink warm, is ideal for soaking dishes, and is nearly indestructible!
Enameled steel
Steel with an enamel coating is one of the strongest materials out there for sinks. It won't chip or crack, even after years of heavy use.
4. By style, pattern, and color
White
Nothing beats a gleaming white sink. It's easy to acquire, easy to clean, and easy to look at.
There are two reasons to avoid choosing a white sink: if you prefer a pop of color, or if you are rough on your sink and will wash things that could show wear and tear over time.
Pro tip: for cleaning a white sink (or most other sinks!), my wife loves to use Bar Keepers Friend, the holy grail of all cleaning products!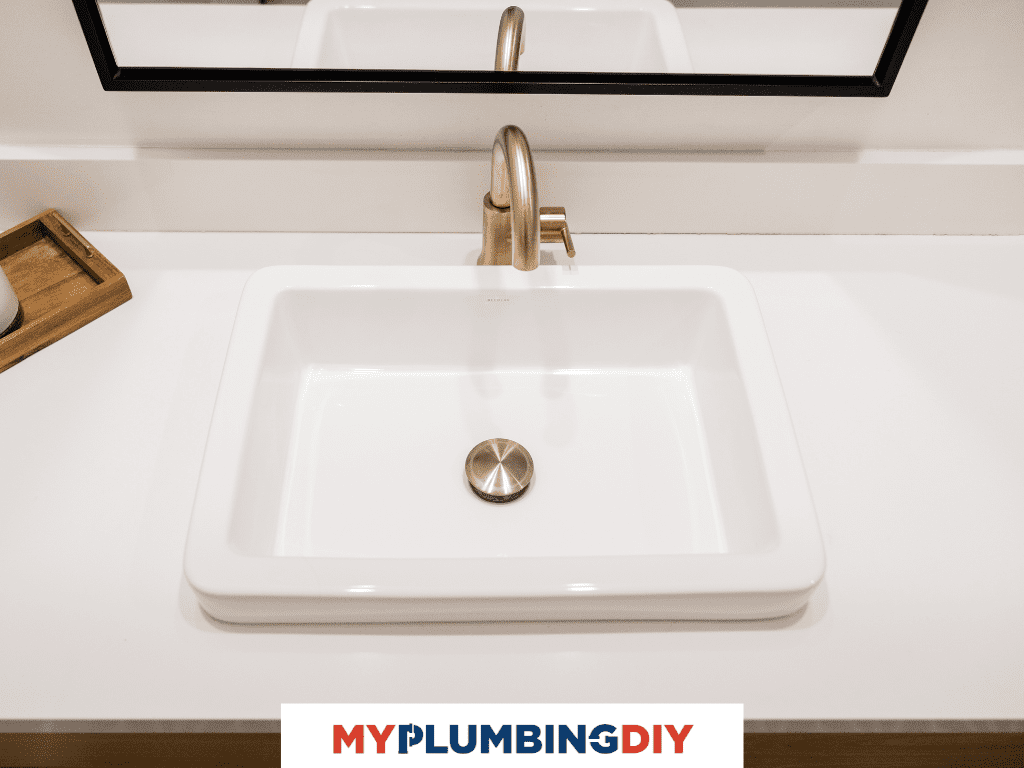 Floral or geometric glazed patterns
Floral patterned sinks give off a vintage feeling. It's classy and unexpected.
In your kitchen or bathroom, the sink might be the focal piece. In that case, geometric patterns done in paint or mosaic are a solid choice.
It's attractive without being too overcomplicated.
---
Undermount vs. Drop-In Kitchen Sinks
Drop-in kitchen sinks are easy to install and easy to use in everyday life. Some people don't like the look of drop-ins.
Undermounts look great in the end, but they require more thought when installing. They have to be pushed up and secured at counter-level, and they usually require braces or other supports underneath.
Undermount sinks sit under the kitchen counter while drop-in sinks are set into it and hang on the edges.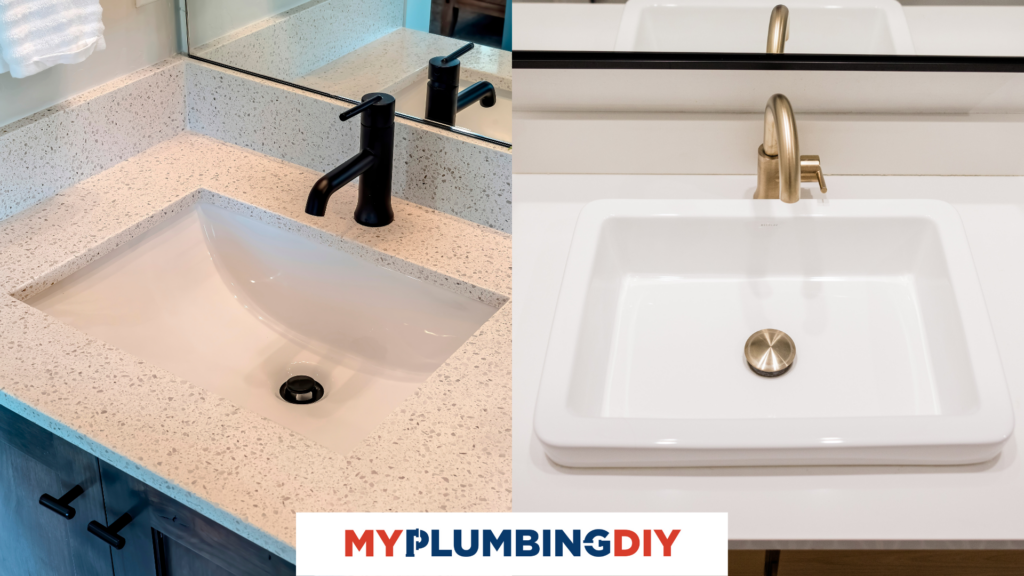 Also, undermounts have to be installed before the countertops. That makes the sink a permanent choice unless you remove the countertops altogether.
This is where drop-in sinks trump undermounts. However, if you're willing to spend more time and money for a certain look, an undermount sink could be optimal for you.
---
Top 3 Things to Consider When Choosing a Drop-In Sink
1. Consider your habits
Do you like a luxurious finish? Do you wash dishes by hand? Are you selling your home?
These are three of many questions to ask yourself when choosing a sink.
Your habits dictate which kind of sink is best. For example, a home chef will need a larger, deeper sink for lots of dishes. If you don't cook at all, the sink won't need to be too big.
Do you stack up dishes during the day? Do you eat most meals away from home? Think about what you do during the day, and where your sink comes into that.
2. Choose the right sink configuration
Once you've chosen how big of a sink you will need, pick your configuration.
Where will the taps sprout from? How thick will the rim be?
Choose your shape and your number of basins (one, two, or three). Also, consider the depth of your sink. Personally, I'd sacrifice a little storage space in the cabinet underneath in order to have a deeper sink.
3. Overall aesthetic and design
In terms of aesthetics, the shape and material are important factors.
From porcelain to stainless steel to stone, you can decide how you want your sink to look in relation to your home. Do you want a modern look, natural look, or rustic look? There are so many options to choose from!
---
Drop-in Sink Design Ideas That We Love
Drop-in sinks come in a variety of designs. I've seen modern/minimalist drop-in sinks that are sleek and clean looking with straight lines. I've also seen drop-in sinks that are more high-end and luxurious looking.
Here are pictures of different drop-in sinks so you can get a feel for what's out there!
1. Sinkology Parker 34″ Quick-Fit Drop-in Fireclay Farmhouse Kitchen Sink
2. Sinkology Angelico 33″ Drop-In Copper Sink
3. Sinkology Josephine 34″ Single Workstation Fireclay Sink with Cutting Board
4. Sinkology Josephine 34″ Quick-Fit Drop-in Fireclay Farmhouse Kitchen Sink in Summer Night Matte Black
---
Common Questions About Drop-in Sinks
Are drop-in sinks out of date?
Some people do consider drop-in sinks to be out of date. However, for those of us wanting an affordable, easy-to-install sink, drop-ins are as fashionable as ever. 
Are drop-in sinks standard size?
Drop-in sinks don't have a standard size, but you can order one in most of the popular sink sizes! Even if you purchase a sink labeled "standard size", measure the sink and the hole before installing.
What is the difference between a drop-in and drop on sink?
There is a big difference between drop-in and drop-on sinks. A drop-in sink is placed into a hole cut into a countertop. The rim of the sink balances on the counter. A drop-on sink is a combined sink and full countertop. The whole unit is placed down in one piece. 
What is the best material for a drop-in sink?
There is no definitive "best" material for a drop-in sink. Most options are durable and long-lasting. I recommend choosing a material that matches the room you are putting it in. That's the safest bet.  

Remember, if you choose an especially heavy material, you may need under-sink support.