This post may contain affiliate links. If you use these links to buy something we may earn a small commission. Thanks.
Picking a new faucet or sink is a big decision! They're expensive and the last thing you'll want to do is replace it in 2 years.
Finding the right faucet starts with finding the right brand. Each major brand will have different pros and cons.
Today I'll be comparing Kraus vs Vigo faucets so that you can pick the one right for you. I'll talk about their sinks a bit too.
The good news is that you can't go wrong. Kraus and Vigo are both decent brands and make quality products that are durable, beautiful, and perform well.
I'll tell you up front that you might not like our answer.
I wouldn't buy a faucet from either of these brands. They aren't bad! They're actually great for high-end bathrooms and kitchens.
But I'd rather buy a faucet from Moen or Delta if I'm going to drop serious money on a faucet.
If I had to pick between these two, I'd go with Kraus. They're more established, have more options, and a much better warranty.
Go check out our list of the best faucet brands and you'll see that Kraus and Vigo are the two brands we recommend avoiding.
Both brands are high quality, but they have different strengths and weaknesses.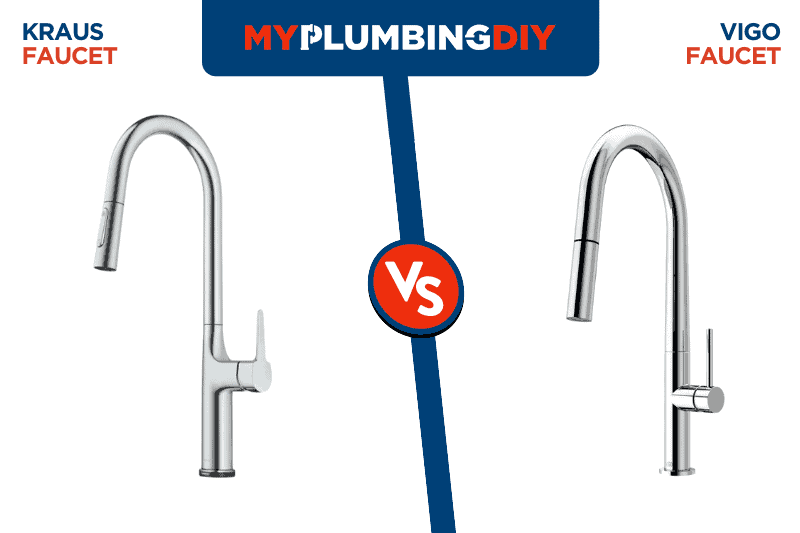 ---
Quick Summary: Which Brand is the Right Pick for You?
Kraus is best for…
Workstation sinks – If you love the idea of making your kitchen more functional, Kraus has you covered with their workstation sinks! These are great if you have a small kitchen to help you maximize usable space.
Eco friendly – Their bathroom faucets come with a built-in eco friendly aerator that has the faucet flow rate set to 1.2 GPM. This is a bit lower than average, but 20% better for the environment!
Waterfall bathroom faucets – In all of our research, Kraus is the only brand to offer these waterfall faucets!
Vigo is best for…
Faucet sets – You can view and buy the faucet and sink together so that you know exactly what kind of bathroom aesthetic you're going to have! No issues of figuring out later that your sink and faucet don't actually go together.
Shower products – While Vigo offers sinks and faucets, they specialize in shower doors and products.
Kraus
Vigo
Price
$$$
$$
Technology
Low-tech
Low-tech
Design
Medium variety
Limited variety
Finishes
Bathroom: 14
Kitchen: 9
Bathroom: 7
Kitchen: 7
Models
Bathroom: 140
Kitchen: 250+
Bathroom: 59
Kitchen: 63
Warranty
Limited lifetime warranty
Weak warranty
---
Kraus Overview
Kraus is a newcomer to the plumbing and faucet industry, but it's quickly becoming established as a household name. The company was founded in 2007 with the goal of revolutionizing affordable kitchen & bath design by making a wide variety of clean, modern, high quality products accessible to every consumer.
Their company headquarters is in New York. Most of their manufacturing takes places along the East coast. Kraus is a brand of Masco corporation which also owns Hansgrohe and Delta faucets.
They're known for the focus and attention they give to quality, creativity, and design. When it comes to all of their products, those three attributes stand out the most.
They might be the new kids on the block, but they are solely focused on developing the best possible products for sinks and faucets. They aren't going after every plumbing product possible. This has resulted in really high quality products.
They're most known for their workstation sinks which feature a built-in space for cutting boards and other cooking necessities. These stations are built with high quality 16 gauge stainless steel, which is the ideal thickness for durability.
This is just one way that they have tried to create products with the buyer in mind.
Pros and Cons of Kraus
Pros
Wide variety of faucets – The large range allows for you to choose any style you may like, while also getting what you want from the faucet.
Premium materials – Solid brass body and stainless steel finish not only look good but also mean your faucet is durable and trustworthy.
Available in faucet sets – Faucet sets allow you to buy two or three of the same style faucet. Some of these sets offered side sprayers and water filters.
Sensor activated – Some of the faucets from Kraus were hands-free and were turned on and off with a wave of the hand.
Cons
Warranty isn't great – Their warranty for faucets is the standard limited lifetime warranty, but warranties for their other products or accessories aren't as good.
---
Vigo Overview
Vigo is a smaller, luxury brand that isn't super well known. They're newer to the industry and have only been around for 10-15 years, but they are one of the fastest growing private companies in the Inc. 5000.
They are a bit more boutique and offer high-end plumbing products. They create faucets and sinks, but they are most known for their glass shower doors and shower enclosures
The only downside about Vigo's products is that they are made in China. However, this isn't unusual in the plumbing industry. Most brands manufacture overseas.
Even though they might be made in china, they still strive for excellent quality.
All Vigo kitchen sinks are either 16 gauge or 18 gauge, which is high quality. They also are made with type 304 nickel bearing stainless steel content.
All of Vigo's bathroom faucets are WaterSense® certified and all kitchen faucets are fully CALGreen certified.
One of the unique offerings of Vigo are their faucet-sink combos. You can buy a bathroom or kitchen set which comes with both the faucet and sink. Most brands sell these products separately, which Vigo does.
But if you buy a set, you can see how the different sink finishes pair with different sink offerings to find the perfect visual and aesthetic for your bathroom.
Pros and Cons of Vigo
Pros
Soap dispenser – Most of Vigo's faucet models had a soap dispenser included which is helpful.
Warranty for life – The warranty on the faucets guarantees to repair or replace parts based on faults with hardware and glass… forever.
Eco-friendly – 1.8 GPM flow rate helps to tackle climate change and prevent water waste.
Cons
Fewer features – A lot of the technological models from Kraus such as Touch and Sensor cannot be matched at Vigo.
Fewer finish options – Caters to fewer people and styles as there are limited color and finish options.
Not enough unique designs – Many of the styles found at Vigo could be found at Kraus too, as well as many more.
---
Kraus vs Vigo: Feature Comparisons
We've done a deep dive on Kraus vs Vigo features to compare for you. If you're at all interested in one of the big 3 brands, check out our comparison: Moen vs Delta vs Kohler faucets.
1. Price
When it comes to price, Kraus is the winner by a small margin. Both of these brands are aimed at higher priced ends of the market.
Kraus has a wider selection and will definitely have more options in a more affordable price range.
Kraus
After digging into the Kraus brand I was honestly expecting to see some high prices. I was shocked when I found that the average faucet price was in the $200-300 range with plenty of options around $150. Most of their bathroom faucets are only $1-200.
For a faucet with their sleek design and high quality manufacturing, this is a great deal. I would have guessed it'd be closer to $400 or so. Kraus is a luxury brand at an affordable price.
Vigo
Vigo might be a smaller company, but they can pack a punch on their prices. Their cheapest kitchen faucets will be in the $2-300 price range and their bathroom faucets aren't much more affordable.
2. Design
Kraus and Vigo are both higher-end brands and so they tend to put more emphasis on design and aesthetics.
Vigo has a VERY limited range of design options. They mostly offer single hole faucets for both their bathroom and kitchen options.
Kraus has a wider selection of different types of faucets to pick from.
Kraus
When it comes to kitchen faucets, Kraus has over 8 different kinds of faucets to pick from and each of those can come in multiple different styles and models. They've got pull-down, pull-out, commercial-style, and they've got touchless and touch-on faucets as well.
In the bathroom they've got anything you'd expect: centerset and widespread, single hole, vessel faucets, and basin faucets. They have super unique looking waterfall faucets that no other faucet brand offers.
They have a mix of traditional and modern style with a few farmhouse options for their sink selection.
Vigo
Vigo has a smaller selection of overall faucets so they naturally have a smaller set of design offerings. In the kitchen, they almost exclusively focus on pull-down or pull-out faucets. They also only offer single hole faucets so if you need a 3 hole, you'll have to look elsewhere.
The same is true for their bathroom faucets as well! About 90% of what they offer are single hole, but they have a few 3 hole faucets or wall mounted faucets.
3. Technology
Kraus is the winner when it comes to technology. They put more emphasis on technology than Vigo and really do their best to try to be environmentally friendly.
Kraus
Kraus is newer to the faucet industry but they're not wasting any time trying to catch up to the long-time industry leaders. They are cranking out new technology and product features all the time to offer the best possible faucet.
Durable ceramic cartridge – Helps to prevent leaks and consequently, water waste, which can lead to 10,000 gallons lost a year.
Eco friendly aerator – Their bathroom faucets come with an aerator that limits water flow to 1.2 GPM which saves 20% more water for the environment and your water bill!
Pre-attached waterlines – This makes installation incredibly easy!
Touch and touchless tech – In the kitchen you can get touchless (motion detected) or touch (barely tap) faucets! These are great for higher end kitchens.
Vigo
Vigo doesn't have a massive emphasis on technology, but they do their best to keep up with the rest of the industry.
Here are a few specific features you can expect:
1.8 GPM – Vigo's eco-friendly faucets all have a flow rate of 1.8 GPM which helps to conserve water.
Eternal Seal™ – Saves water by preventing leaking and dripping from the faucet thanks to a ceramic disc cartridge.
Brass
cFiber© shell – Means that each bathroom and kitchen faucet is durable and resilient.
4. Finishes and colors
Kraus surprisingly has one of the widest offerings of faucet finishes that we've seen in the industry!
Kraus
Kraus offers an extremely wide range of faucet finishes to customers. In fact, they offer the most of any faucet brand we've researched with a few unique options like Gunmetal, clear, frosted, and more.
You can be confident in the finish of your new kitchen or bathroom faucet as it is wear-resistant and can endure tarnishing and corrosion.
They offer 14 different bathroom finishes and 9 faucet finishes for your kitchen.
Vigo
Although Vigo faucets do have a less varied range of faucet finishes, that doesn't mean they've lost out yet. Vigo offers 9 different kitchen faucet finishes and they have 7 options for bathroom finishes.
They offer most of the standard stuff like chrome, stainless steel, and brushed nickel. They do offer a few unique finishes like graphite black or matte brushed gold.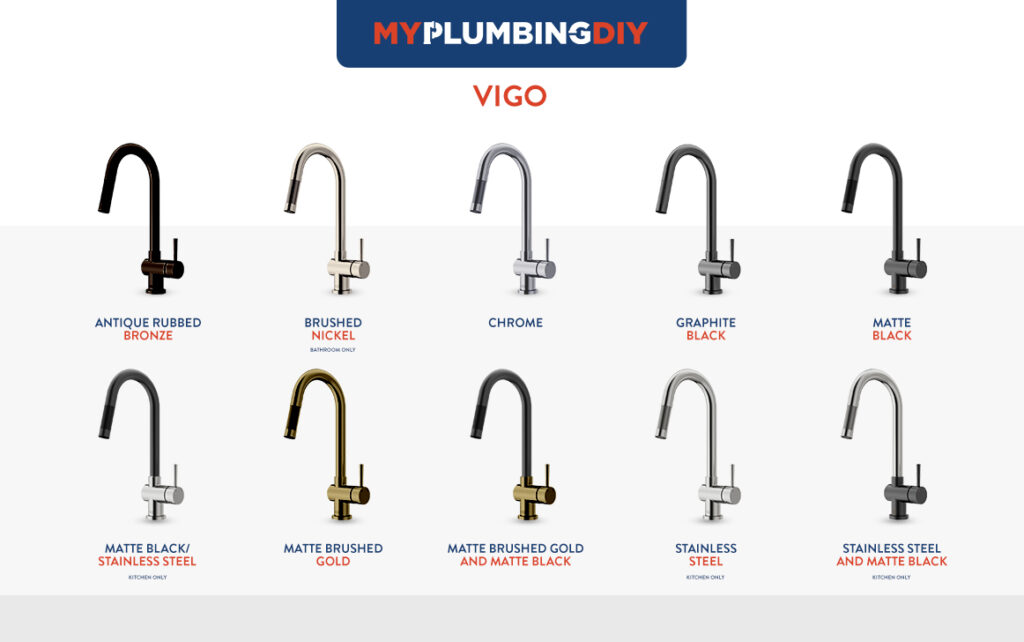 5. Models
Neither of these companies have been around long enough to have a massive selection of faucets or sinks to pick from. Kraus is slightly more established and they've got around 400 total faucets to pick from while Vigo only has around 120.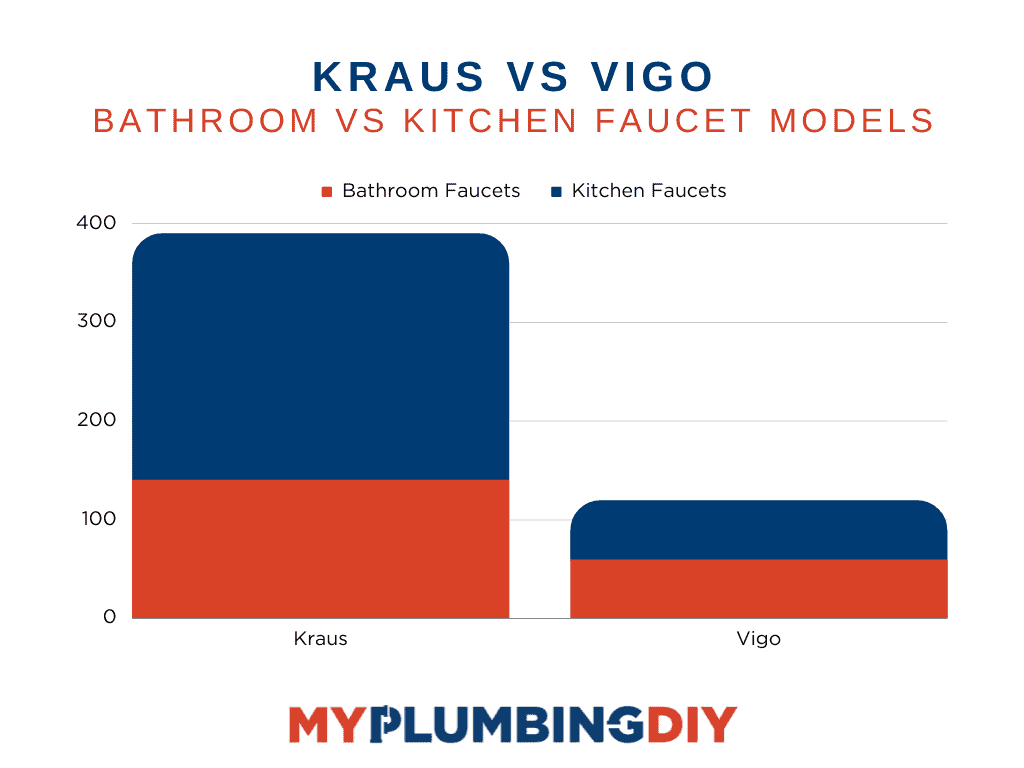 Kraus
Kraus offers over 250 kitchen faucets and they've got a growing collection of 140 bathroom faucet models to pick from.
The comprehensive color and style range from Kraus is also impressive. I honestly wouldn't have expected a high end brand to have this wide of a selection – especially a brand that's only 15 years old.
Vigo
Vigo is a smaller company and they don't offer as wide of a selection of faucets. They have around 60 kitchen faucets to pick from and they have the same amount for bathroom faucets (59).
6. Warranty
All of the warranties we've seen offered by different faucet companies are the exact same. Vigo is the one exception for offering a less quality warranty.
Kraus
The Limited Lifetime Warranty on faucets by Kraus guarantees repair or replacement on finish or workmanship faults. This warranty remains intact as long as you remain in the same residence as when the new kitchen faucet was fitted. The Kerox ceramic cartridge is also a part of this warranty for 5 years.
Replacing the cartridge on your Kraus brand faucet is straightforward and can be done any time up to 5 years after the purchase date. Any replacement parts for the head sprayer have a much smaller window of just 1 year after the original purchase.
Vigo
When it comes to faucets, Vigo has a fairly weak warranty compared to most faucet brands. They offer a "Limited Lifetime Warranty," but that only covers the finish of the product. They have a 1 year warranty on faucet parts and a 5 year warranty for the faucet cartridge.
---
Final Verdict: Should You Buy a Kraus or Vigo Faucet?
If we had to pick one brand to go with, we'd go with Kraus. They're much more innovative, creative, and even more affordable than Vigo!
Kraus – Higher-end faucets with great features that are still affordable for most people!
Vigo – Higher end, but less affordable. More
I hope this Kraus vs Vigo comparison helped you decide which brand is right for you!
If you want to see a couple more high end faucet brands, check out our Grohe vs Hansgrohe comparison!