This post may contain affiliate links. If you use these links to buy something we may earn a small commission. Thanks.
Picking a new faucet or bathroom appliance is a big decision! They're expensive and the last thing you'll want to do is replace it in 2 years.
Finding the right faucet starts with finding the right brand. Each major brand will have different pros and cons.
Today I'll be comparing Delta vs Kohler faucets so that you can pick the one right for you.
The good news is that you can't go wrong. Delta and Kohler are both fantastic brands and make high quality faucets that are durable, beautiful, and perform well.
I'll tell you up front that we're big fans of Delta. When we renovated our bathrooms we bought almost exclusively Delta products. You can't beat the combination of price and quality.
Both brands are high quality, but they have different strengths and weaknesses.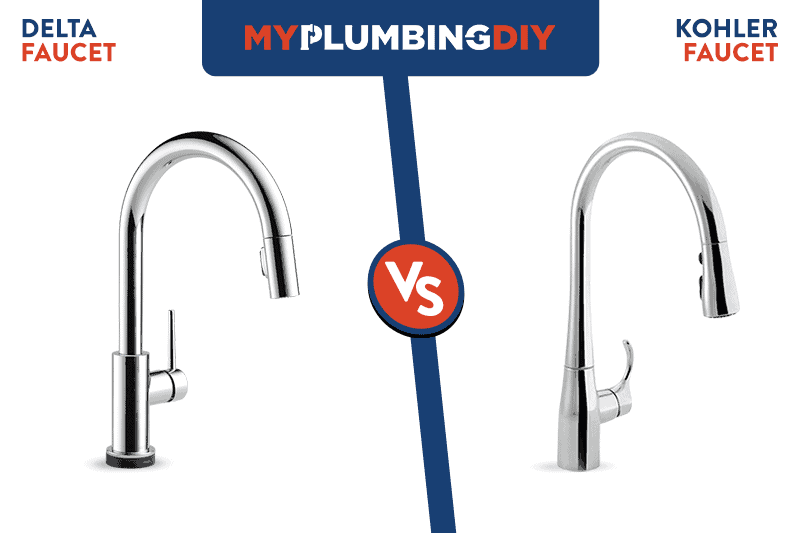 ---
Quick Summary: Which Brand is the Right Pick for You?
Delta is best for…
Budget conscious – Delta's faucets are slightly more affordable than other brands and they have more lower priced options.
Easy install – Delta products are known for being easy to install and you may be able to save money on paying for a plumber to install it for you.
Variety – Delta offers an insane amount of options to pick from whether its color, finishes, mount type, etc. They've got it all.
Kohler is best for…
Families with kids – Kohler products are some of the most durable on the market so they can hold up to the hard daily use of whole families.
Paying for quality – Kohler faucets aren't cheap, but they are known for being some of the highest quality you can get. Buy Kohler if you're willing to pay for quality.
Delta
Kohler
Price
$$
$$$
Technology
High-tech: Great touch technology
Average technology options
Design
Tie
Tie
Finishes
Bathroom: 15
Kitchen: 12
Bathroom: 12
Kitchen: 11
Models
Bathroom: 400+
Kitchen: 225
Bathroom: 97
Kitchen: 95
Warranty
Limited lifetime warranty
Limited lifetime warranty
---
Delta Overview
My wife and I are huge fans of Delta products and we use them all over our house. Our showerheads, bathtub faucets, and toilets are all Delta-made.
We renovated our bathrooms three years ago and went with almost entirely Delta products. They're the perfect blend of high quality + design + price.
Delta was founded in 1954 and is now a subsidiary of the Masco Family Corporation.
Over the years, Delta has produced many faucets offering simplicity, great functionality, durability, and elegance.
The driving belief behind Delta is that water has the power to transform the way people feel every day. They create simple solutions to bring a great change in the human view.
Delta has a history of innovation in the plumbing and faucet industry. They've had advancements like Touch2O®, MagnaTite® Docking, and H2Okinetic® Technologies. These technologies have consistently improved the function and performance of Delta faucets.
Pros and Cons of Delta
Pros
Affordable – Delta carries a line of faucets that go for as low as $70 and can go as high as several hundred.
Install – We've been using Delta products in our house and love how easy they are to install.
High tech – Delta's Essa model is one of the best touchless kitchen faucets on the market.
Cons
Complex – Delta actually has three different sub-brands within their product line: Delta, Brisso, and Peerless. This can make it tricky to actually know which one to get.
My wife and I are huge fans of Delta products and we use them all over our house. Our showerheads, bathtub faucets, and toilets are all Delta-made.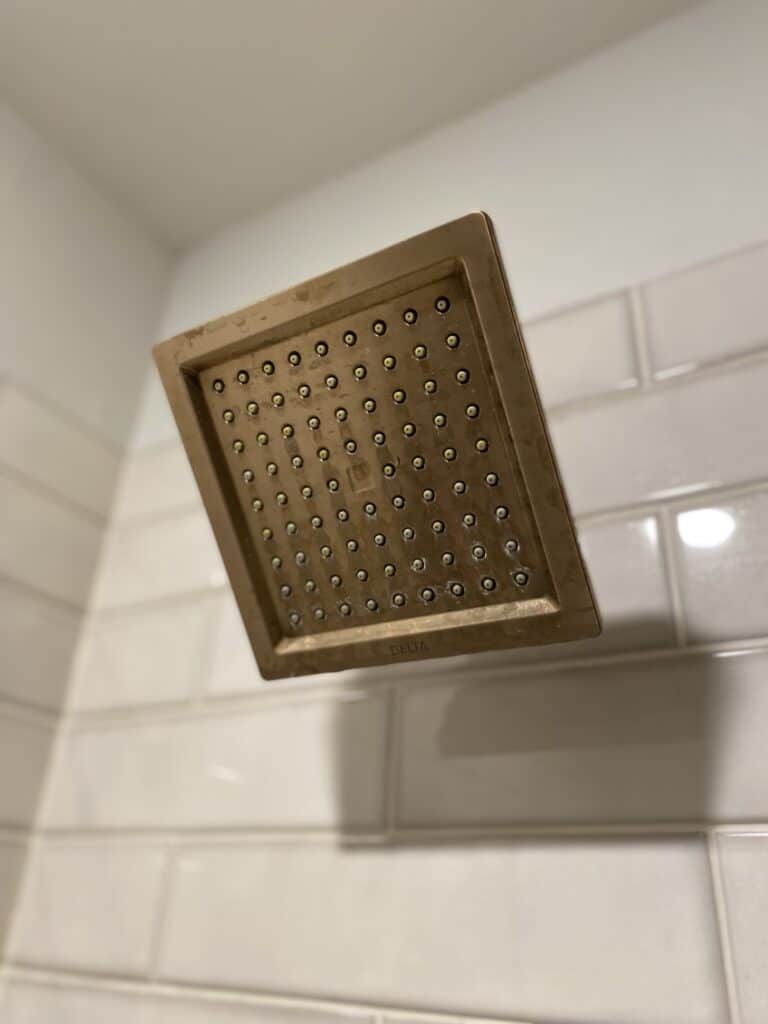 ---
Kohler Overview
I grew up using Kohler products. Everything in our house was Kohler: Sinks, faucets, toilets, showerheads.
I'm pretty sure my childhood home still has the same Kohler products that it came with when it was built in 1997.
Kohler is known for durable and high quality products.
Kohler is one of the oldest and largest plumbing companies in the world. They're one of the best American made faucet brands in the country. When it comes to bathroom and kitchen faucets, they're widely considered to be top of the line.
The company was founded by John Kohler in 1873. They were the first company to create a one-piece bathtub for everyday use. These days they offer absolutely every plumbing product you could ever need.
They are best known for their touchless technology in kitchen and bathroom faucets. That's one of the reasons they are super popular in commercial spaces. They also produce one of the most durable toilets.
Kohler is also one of the most innovative companies when it comes to being environmentally-friendly. They are working hard to create more products that use less water and energy while remaining effective.
Pros and Cons of Kohler
Pros
American Made – Kohler faucets are one of the few faucets made in the USA guaranteeing a higher quality faucet. 
Environmentally friendly – Many Kohler faucets are designed with an option to utilize less water making it better for the environment.
Variety – Kohler has a huge lineup of different faucet options from type of finish to design and installation type to handle type.
Cons
Less specialized – Kohler has one of the widest product offerings with plumbing products. They are less specialized on faucets compared to a company like Delta.
More expensive – Compared to other brands like Moen and Delta, Kohler is on the pricey side.
---
Delta vs Kohler: Feature Comparisons
We've done a deep dive on Kohler vs Delta features to compare for you. If you're at all interested in Moen, we also have a three way comparison if that would help you: Moen vs Delta vs Kohler faucets.
1. Price
When it comes to price, Delta is the winner. A higher percentage of their faucets are on the more affordable side compared to Kohler. Kohler has some faucets that are affordable, but just not as many.
Delta
Delta tends to be on the more affordable side. The vast majority of their faucets are $200-350.
Delta mainly focuses on budget-priced faucets that offer a range of functionality without breaking the bank.
However, they also operate a luxury brand known as Brizo faucets. Brizo faucets can compete with the best and are a great alternative to cheaper Delta faucets if you have the cash to spare.
Kohler
Kohler faucets tend to be on the more expensive side. Most of their bathroom faucets tend to range between $250-500 with most of those in the $3-400 range.
On the opposite side of the spectrum to Delta faucets, Kohler offers a range of incredible luxury styles.
Kohler mainly focuses on premium and high-end faucets, which means that their product range is a little limited for anyone on a strict budget.
2. Design
Both brands have great design and style options to pick from. Delta has four times as many faucets to pick from so they will have more options that you might like!
Delta
When it comes to design, Delta truly offers anything you could want. In the kitchen, they've got all the standard stuff: pull-down, pull-out, single handle, wall mount, etc. You can get them touch activated as well. If you want it with a built-in sprayer or soap dispenser, Delta has you covered.
The same is true for their bathroom faucets. You can get a single-hole or centerset. You can get pull-down or wall mounted.
Kohler
When it comes to design, Kohler has a number of options. You can pick from six different mount options for their bathroom faucets. The most popular ones are their widespread, centerset, deck-mount, and single-hole. The vast majority of their faucets are lever faucets.
Most of their kitchen faucets are single-hole set ups with one handle. Their most popular spout types are pull-down, pull-out, or a standard faucet with side sprayer.
3. Technology
Delta is the real winner when it comes to faucet technology. They offer touch technology in kitchen and bathroom faucets unlike Kohler and even have voice activation.
Delta
Delta is one of the most innovative companies when it comes to plumbing products. They're constantly trying to iterate and find ways to make their faucets even better.
Touch 2O Technology – Requires a simple touch on the faucet to open and close the water. They offer touch-activated or touchless bathroom faucets. Some other brands only offer that for their kitchen products.
MagnaTite® Docking – Helps keep their faucets docked in place when not being used. Lots of faucets have issues where the faucet or sprayer will pull out and have a hard time staying docked in place. We have an old Moen faucet in our kitchen right now that needs to be replaced and has docking issues.
ShieldSpray technology – Creates a powerful jet of water for easier cleaning purposes with less splash mess.
VoiceIQ – These faucets have voice activation technology. They are one of the only brands right now to offer this.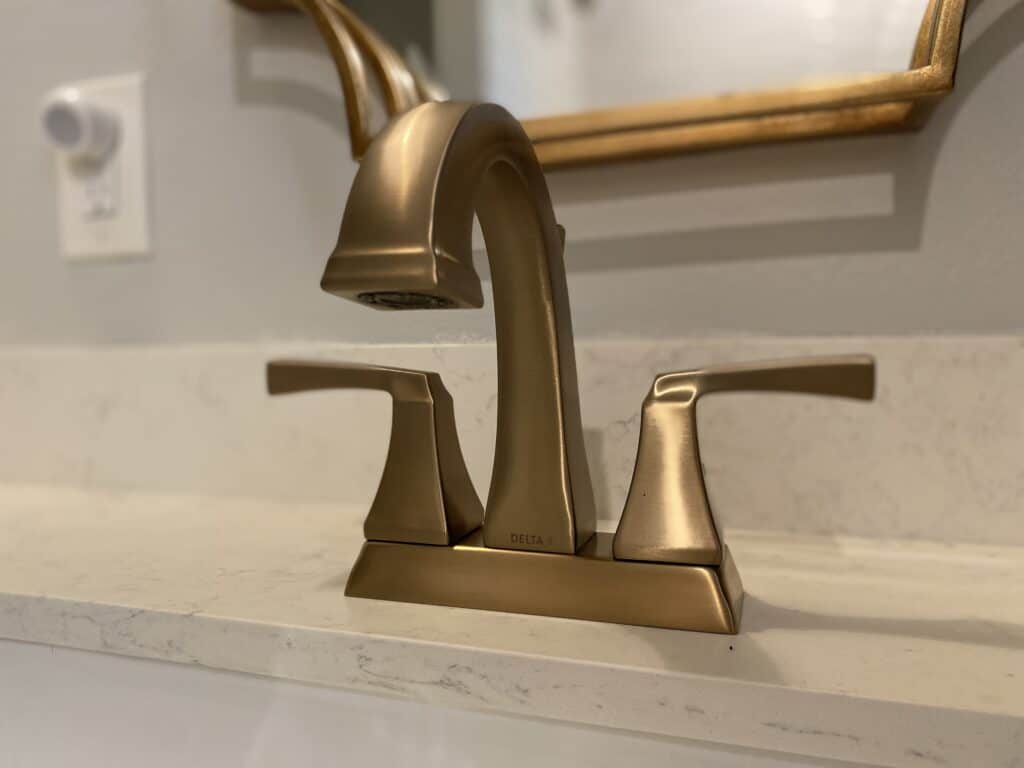 Kohler
When it comes to bathroom faucets, Kohler has been surprisingly un-innovative. They really don't have any fancy features or even touchless options for bathroom faucets.
In the kitchen though, Kohler has introduced a number of high tech features and faucet functions over the years.
The most popular features are…
Touchless faucet technology
2 or 3 function sprayheads
Innovative docking technology so that your sprayer or pulldown faucet will actually stay connected
Their ProMotion technology is available for their pulldown and pullout faucets.
4. Finishes and colors
Delta has more finish options to pick from for both bathroom and kitchen faucets! If you want more variety or color, they are your best bet. That's why they are one of the best bathroom faucet brands in the industry.
Delta
Delta has an industry leading number of color and finish options to pick from. They have 15 options for kitchen faucets and 12 for bathroom faucets.
A number of their finishes can also come with a Lumicoat coating. This helps repel liquid and keep the faucets cleaner for longer. It helps combat water spots and stains – making it easier to clean.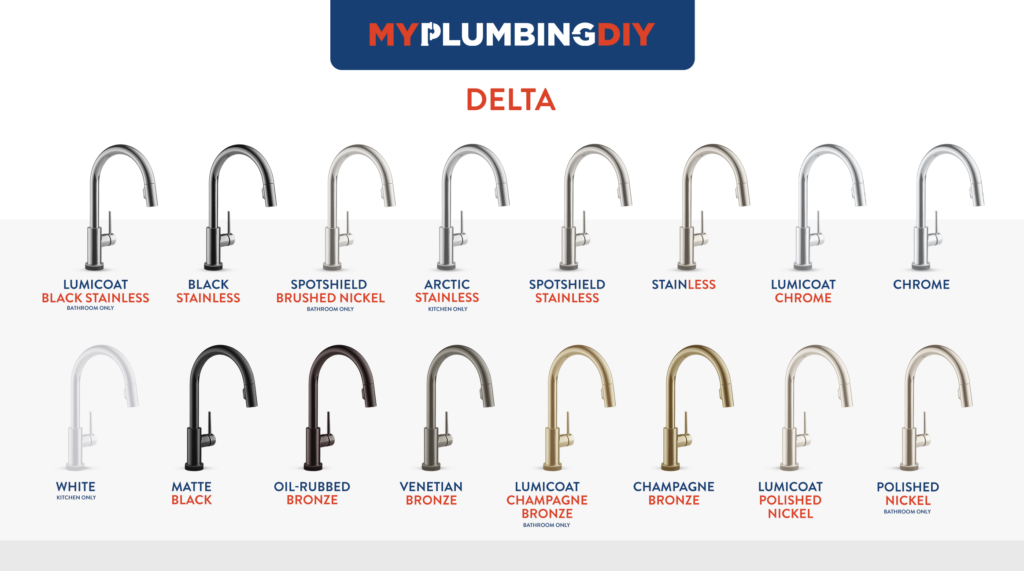 Kohler
Kohler has 12 different finish or color options for their kitchen faucets and 11 to pick from for their bathroom faucets.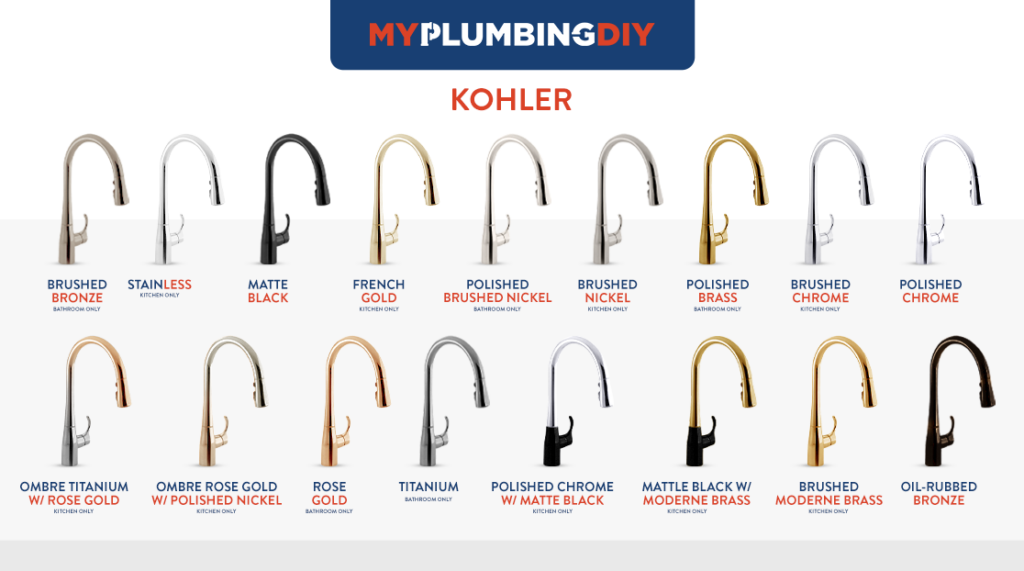 5. Models
Delta has over 2x as many kitchen faucets and 4x as many bathroom faucets as Kohler.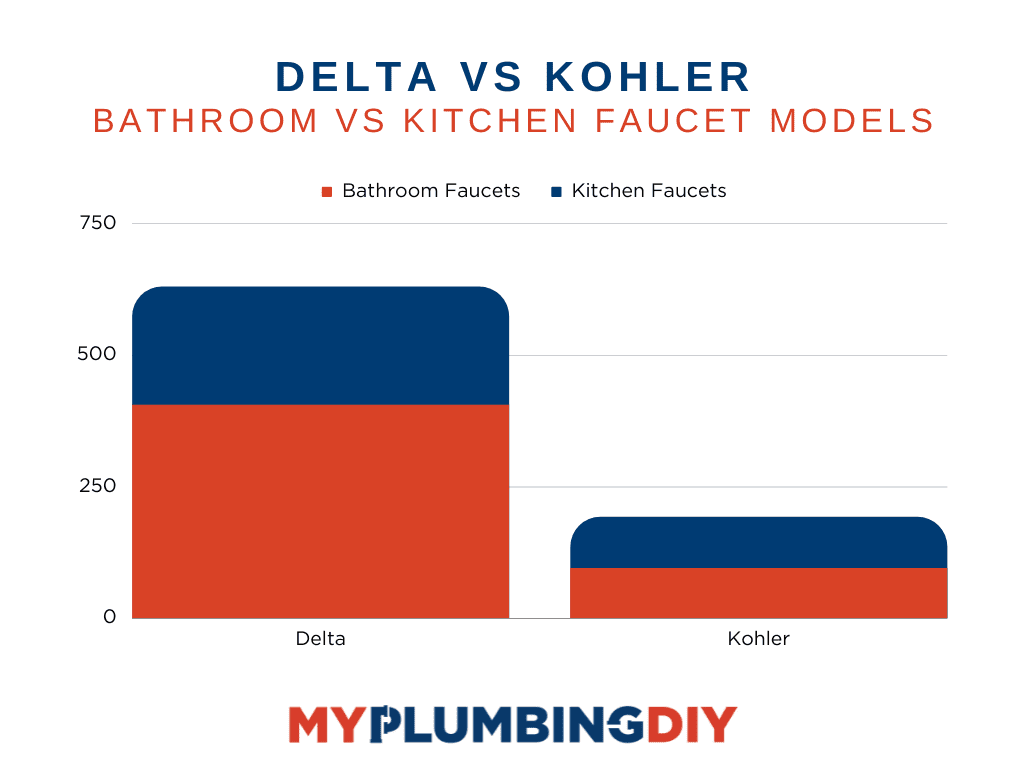 Delta
Delta has 225 kitchen faucet options to pick from and a staggering 400+ bathroom faucet models available. This is a testament to their innovation, creativity, and laser focus on creating faucets.
Kohler
Kohler has a pretty great variety of faucets with 97 different kitchen faucet models and 95 different bathroom faucets to pick from.
6. Warranty
Every faucet company we've researched or tested has the same warranty.
Delta
Delta provides a lifetime limited warranty on their faucets for regular wear and tear of the faucet. They have a separate warranty for the electronic parts. This warranty cannot be transferred from one owner to the next. It's only good for the original owner.
Kohler
Kohler faucets come with a lifetime warranty on their faucets for leaking, dripping, or other issues. This guarantee is only good for the first owner of the faucet. Improper care or cleaning can nullify the warranty.
---
Common Questions About Delta and Kohler Faucets
Is Delta as good as Kohler?
I believe Delta is as good as Kohler and actually better! Delta faucets are more affordable and are a much better value purchase.
Does Kohler own Delta?
No, Kohler does not own Delta. They are completely different companies.
Are Delta and Kohler the same?
No, Delta and Kohler are not the same brand or company. They each have their own separate lines of faucets and plumbing products.
---
Final Verdict: Kohler vs Delta Faucets
Delta and Kohler both create amazing faucets and shower heads with modern styles, technology, and design. Their products are also durable and perform well over time. I'm confident that if you purchase a faucet from either brand, you'll be satisfied.
If we had to pick one brand to go with, we'd go with Delta. But it really depends on what you're looking for.
Delta – Best for touch-on faucets and cheaper options, and easy install. They're also slightly more affordable.
Kohler – Great for high-end models and classic finishes like polished chrome.
I hope this Delta vs Kohler comparison helped you decide which brand is right for you!
If you're interested to see how Moen stacks up, check out our Moen vs Kohler or Moen vs Delta articles.